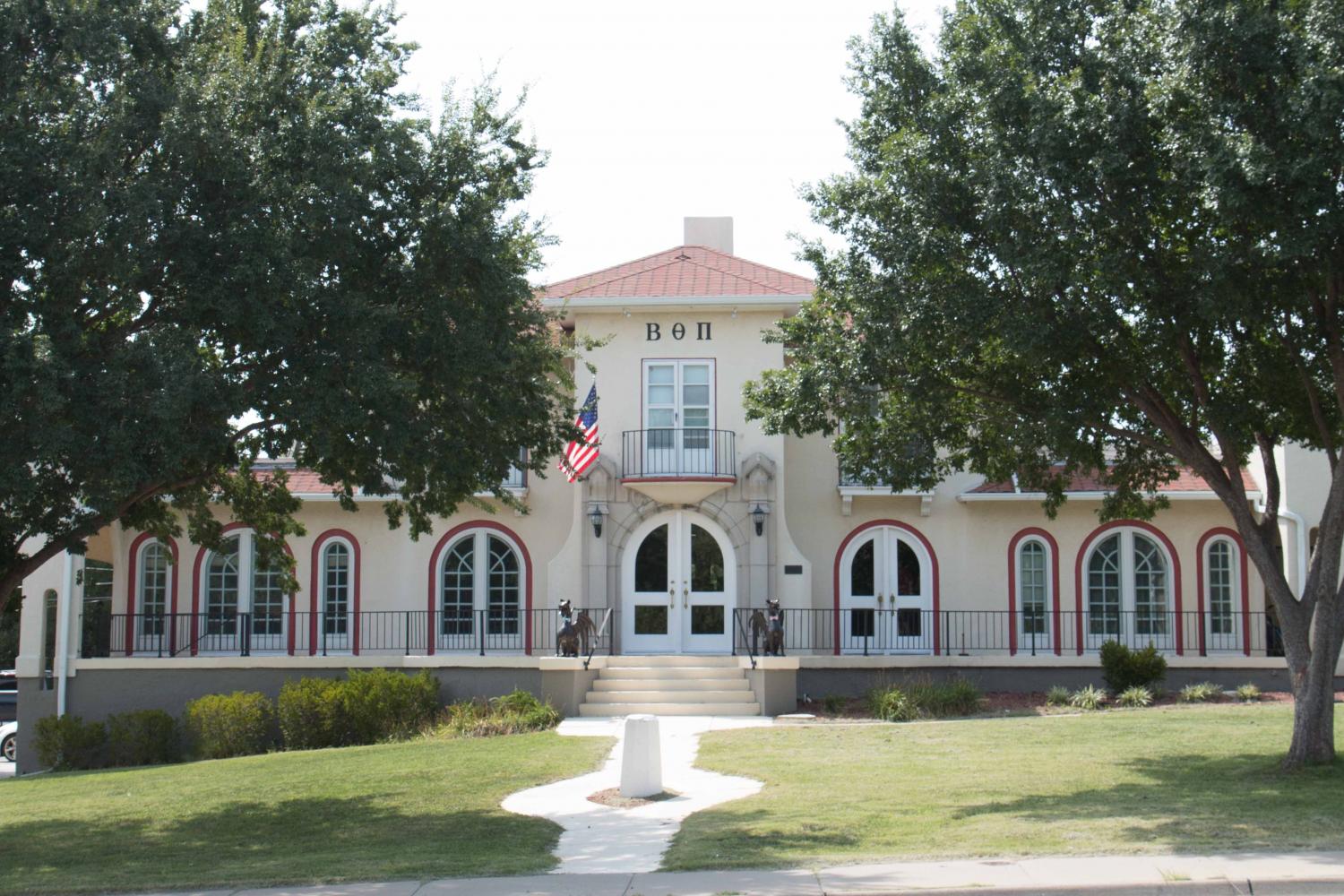 Selena Favela
Beta Theta Pi fraternity is on suspension until May 2020, per an email from Student Involvement sent today to fraternity and sorority leadership. The fraternity was already on suspension until May 2019 for five violations of Wichita State's alcohol policy.
Beta's new suspension stems from an underage, binge-drinking Snapchat video — filmed in Beta's fraternity house — that was reported to Student Conduct, Vice President of Student Affairs Teri Hall said Monday afternoon.
"I believe there was some rapid consumption of alcohol taking place," Hall said. "I want to say they were shotgunning [beers]."
Hall said the fraternity was violating university policy for a number of reasons: for underage drinking, for binge drinking, for having alcohol in a dry house, and for hosting an unofficial event in the house while on suspension.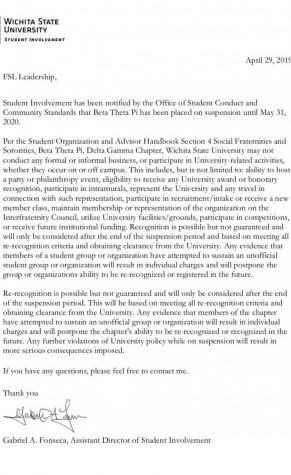 "From our perspective, it was a group of men in the Beta house putting pictures out of them having a function, consuming alcohol, all underage," Hall said.
"The only option was to increase their suspension."
Student Conduct began investigating Beta in early April.
Hall said that during the fraternity's hearing, "Beta was never able to establish it was an individual violation."
"They'd say, 'It was just a couple of guys,' but didn't present good arguments on why it was just a couple guys," Hall said.
Beta currently has 12 members living in the house, Hall said, "so when a quarter of them are involved — and I think at least one of them is an officer — it became a chapter issue."
Hall said she's hopeful "we're going to get to a place where there's some leadership that can stop this kind of behavior, but we just haven't seen that for a couple of years."
Beta's violations have been "misdemeanor things — but it's a continuation," Hall said.
"When will it be a number of these things add up? I don't know. I'd like us to have a Beta Theta Pi chapter on our campus."
Beta's 2018 suspension for alcohol policy violations, which was set to end in May, followed a deferred suspension for hazing and alcohol policy violations in 2017. The fraternity's suspension now ends May 31, 2020.
The suspension means the fraternity can't host parties or philanthropy events, participate in recruitment, maintain membership, or function in any way as a group on campus.
"Re-recognition is possible but not guaranteed and will only be considered after the end of the suspension period," Student Involvement's email said. "This will be based on meeting all re-recognition criteria and obtaining clearance from the University."
This story will be updated as more information and interviews become available.
Read Student Involvement's full email to Greek leadership about Beta's suspension here:
"Student Involvement has been notified by the Office of Student Conduct and Community Standards that Beta Theta Pi has been placed on suspension until May 31, 2020.
Per the Student Organization and Advisor Handbook Section 4 Social Fraternities and Sororities, Beta Theta Pi, Delta Gamma Chapter, Wichita State University may not conduct any formal or informal business, or participate in University-related activities, whether they occur on or off campus. This includes, but is not limited to: ability to host a party or philanthropy event, eligibility to receive any University award or honorary recognition, participate in intramurals, represent the University and any travel in connection with such representation, participate in recruitment/intake or receive a new member class, maintain membership or representation of the organization on the Interfraternity Council, utilize University facilities/grounds, participate in competitions, or receive future institutional funding. Recognition is possible but not guaranteed and will only be considered after the end of the suspension period and based on meeting all re-recognition criteria and obtaining clearance from the University. Any evidence that members of a student group or organization have attempted to sustain an unofficial student group or organization will result in individual charges and will postpone the group or organizations to be re-recognized or registered in the future.
Re-recognition is possible but not guaranteed and will only be considered after the end of the suspension period. This will be based on meeting all re-recognition criteria and obtaining clearance from the University. Any evidence that members of the chapter have attempted to sustain an unofficial group or organization will result in individual changes and will postpone the chapter's ability to be re-recognized or recognized in the future. Any further violations of University policy while on suspension will result in more serious consequences imposed."