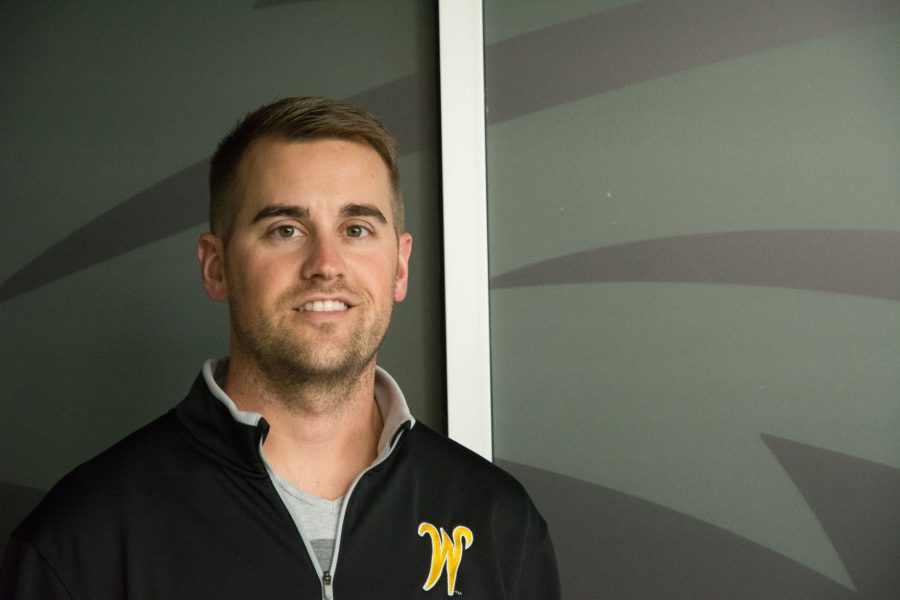 Assistant director of Facilities works to make game day happen
When most people think of Shocker basketball, the first images that come to mind are of the intense games with screaming fans, and the exhilarating feeling of the game-day atmosphere.
However, some key players have a vital role in making the excitement of game day happen who are not on the team roster.
Aaron Meier is one of them.
Meier is the assistant director of Facilities at Charles Koch Arena. Meier and his team are in the background keeping off-court activities running smoothly for fans and players. They perform daily maintenance tasks, from fixing seats to changing light bulbs.
Meier began working there when he was a student and worked his way up to the position he has now over the last several years. He said that being on the other side of game day is different from the experiences he had watching the games as a WSU student.
"I was one of those guys in the crowd with their face painted, so it's definitely a lot different seeing it from this side of the ropes," Meier said. "When you're out in the stands, you're having fun and cheering them on, but it's all business for us on this side. Half the time, when we're working the game, we don't even get to watch because we're doing other things in the facilities."
Meier said game days are all about preparation and setting things up for the big event.
"You probably won't see me on the sideline when you're watching on TV, which I'm OK with," Meier said. "I don't need to be on the screen. It's cool because we get to set up for everything. We get to say 'Hey, we set up those chairs that they're sitting on, we set up those tables, we scrubbed that floor.' It's just cool to be behind the scenes and not necessarily have to be in the spotlight."
Meier said working in the same environment as the basketball team creates a unique workplace atmosphere during the season.
"Everyone is kind of on the tip of their toes and getting ready," Meier said. "You can physically see people stressing out because the first game is coming up. Usually, even if they (Meier's coworkers) are not from here, they eventually get into it and start rooting for [the Shockers], which is really cool to see and be a part of. For me, I've always lived here and I've always been a fan of Wichita State, so it's fun to watch them win here."
Meier said one of his favorite and most unique experiences so far was when ESPN's College GameDay came to Koch Arena in February. He said that it was an incredibly hectic and stressful day for him and his team because of the massive amounts of snow they had to remove, but it was a great to be a part of once it started.
With the transformation of WSU basketball into a household name across the nation through the men's basketball team's 2013 appearance in the NCAA Final Four, Meier said the demand for tickets and for him and his team to do their job well has changed the most.
"We try not to change too much," Meier said. "The expectations are the only things that have changed for us. The spotlight is on us a lot more than it used to be, so we just have to make sure we're on top of our game. [The basketball program is] obviously growing and expanding and becoming kind of a powerhouse, and the recent success really enhances things around here, but it also adds pressure for us to perform well."
As far as Meier's overall favorite aspect about his job, he said he enjoys following the basketball team and watching the players make progress.
"I don't like to bug them [the basketball players] or get in their way, but being able to watch them from a distance is pretty cool," Meier said. "I like to see the changes they make, especially with the players when they come in as freshmen and nobody knows much about them. Being able to watch them grow is pretty fun…tagging along with them in their journey is exciting."