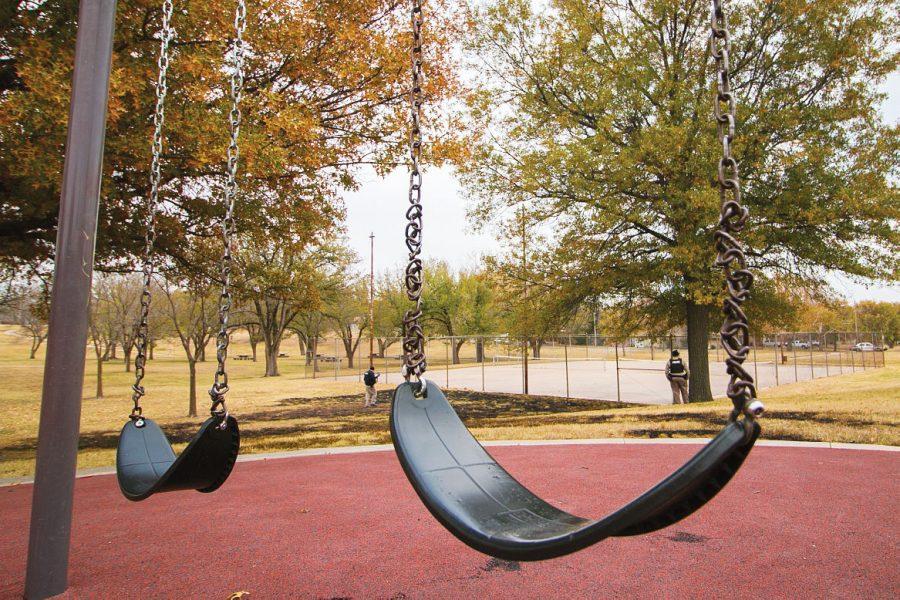 It was a night that would later shape the community's and university's attitudes toward campus safety and community engagement. Saturday is the one-year anniversary of the attack at Fairmount Park, and the effects are still felt by many. The brutal attack sparked a community-wide effort to improve the areas surrounding campus, with WSU as its leader. Here is a breakdown of events since the night of Nov. 14, plus what's to come of the Fairmount neighborhood south of campus.
Nov. 14: The attack happened on a frigid Friday night in November.
A cold front had blown in mid-week and temperatures dropped from the upper-70s on Monday to the mid-20s Friday evening.
That night, the Wichita State men's basketball team unveiled banners for their NCAA appearance and Missouri Valley Conference championship the year before, and easily defeated New Mexico State, 71-54, in their home-opener.
Hours after the basketball game, less than a mile from Koch Arena, a fire scorched the grass between the tennis courts and the swings at Faimount Park. Inside the fire was a woman named Letitia Davis, 36, mother of four.
Davis was nude, bloody and on fire, according to a court affidavit. Davis told firefighters she had been raped, beaten and set on fire by a man she did not know.
In the hospital, Davis acknowledged to Wichita Police the suspect was a black male, the affidavit said. Davis was unconscious and intubated at Via Christi St. Francis hospital in critical condition, where she was treated for second- and third-degree burns on more than 70 percent of her body. She also suffered a number of blunt-force injuries to her head.
Nov. 20: Based on evidence gathered at the scene of the crime — a damaged Keyocera phone — and DNA evidence taken from a Sexual Assault Evidence Collection Kit, police arrested Cornell McNeal, 27, the affidavit said, in connection with the crime.
Two days after McNeal's arrest, and eight days after the attack, Davis died from her injuries. An autopsy determined her manner of death to be homicide, the affidavit said.
Nov. 26: McNeal was charged with capital murder in the death of Letitia Davis. He has also been charged with rape and two counts of arson from fires at both the park and a detached garage seven blocks from Fairmount Park; the arson charges were later dropped.
McNeal's arraignment is Thursday, where he is expected to plead not guilty, according to a Wichita Eagle article.
Classroom effect
Natalie Grant remembered when it first happened. She was teaching a Women and Poverty class that semester, a class of 120 students.
"It wasn't what I would call a teachable moment," Grant said. "Just the opposite of that, actually. It was more of a serendipitous moment where I had go through that process with 120 students about learning what sexual violence means."
Grant said the Letitia Davis incident became a central focus of the discussion in her classes.
The night after the attack, Grant said she went to Kirby's Beer Store, where, the night before — the affidavit said — McNeal pocketed a pink lighter he had asked to borrow from a woman outside of the bar. Kirby's is only few blocks from Fairmount Park.
Grant's friend, Kali Kerr, was also at Kirby's the night after the attack. She and Grant were both deeply moved by the attack, even though neither of them knew Davis personally, Grant said. Together they started developing a plan of action.
Grant said she felt responsible to do something because the incident involved so many things she cared about: the prevention of violence against women, the northeast Wichita community — one of Grant's interests lies in the restoration of the Dunbar Theater at 9th and Cleveland Streets — and the neighborhoods around her university, where Grant has one of her classes, as part of a digital history project, interview residents from the neighborhoods around Wichita State.
"It hurt me," Grant said.
She said she took flowers every day after the attack and hung them on the fence surrounding the tennis courts near where Davis was found.
"We didn't know what we wanted to do," said Grant of she and Kerr, "but we knew if we came together we could do something powerful."
A fundraiser
Kerr organized a "Home Base: ICT Coming Together to Help One of Our Own" fundraiser at Kirby's Beer Store to raise money for Christmas presents for Davis' four children.
"It was hugely successful," Grant said.
Local artists auctioned their artwork, local businesses donated items for auction, bands played and donated tips, food trucks donated part of their proceeds, and $10,000 to 12,000 was raised in one day, Grant said.
Grant said she and Kerr are in the process of organizing another fundraiser before Christmas for Davis' children.
"We don't want this to be a one time thing," Grant said.
'Enough is Enough'
In late November, after Davis' death, WSU President John Bardo contacted retired General Counsel Ted Ayres, and the "Enough is Enough" task force was formed Dec. 2. Two days later, its formation was announced to the university and community, with Ayres as the head.
"Recent assaults and other crimes south of Wichita State's campus have led President John Bardo to direct the formation of a task force called 'Enough is Enough' to focus on creating safe, economically vibrant neighborhoods near campus," a news release said.
"We don't live in a bubble at Wichita State. Our success and future are tied in every way to the success of the surrounding area . . . Yes, we live in the largest city in the state, and yes, crime will happen. But, enough is enough," Bardo said in the release.
Ayres reached out to Darryl Carrington — president of the Fairmount Neighborhood Association, WSU student and on-campus plumber — to join the task force.
"He is — I would say — an activist resident of the Fairmount Neighborhood," Ayres said of Carrington.
Carrington said efforts to improve the community around Wichita State were already underway. The same day as the attack Nov. 14, Carrington had met with the new director of Parks and Recreation at Fairmount Park to discuss the neighborhood.
"It was just so shocking that something like that could happen despite all of our proactive efforts up to the day [of the attack]," Carrington said. "I mean, we were having efforts to come together in the park, we were having back-to-the-park festivals, we'd bring kids and music and beautiful trains — and just awesome stuff — cake walks — just cool stuff. Superman walking around, I mean, just the coolest stuff ever. And then this happens.
"And it felt like a shot in the heart."
During the spring semester, the Enough is Enough task force worked with the Wichita Area Sexual Assault Center to host a community conversation about the reality of sexual violence in Wichita at Fairmount Park and a "Take Back the Night Walk" in Fairmount neighborhood.
Community engagement
In July, the Kansas Health Foundation accepted a grant proposal from Wichita State that awarded the university $250,000 to be used by the Shocker Neighborhood Coalition, a group created by Ayres made up of university faculty, students and staff. The coalition focuses on law enforcement, health and well-being, community relations, social issues, economic development, education and infrastructure.
When the grant was awarded, Ayres became director of Community Engagement and Opportunity, a new department connected to the Enough is Enough task force.
Misty Bruckner, associate director of the Hugo Wall School of Public Affairs, wrote the grant proposal.
"The grant focus was on healthy outcomes, but based at the neighborhood level," Bruckner said. "It's an incredible opportunity that Kansas Health Foundation has provided to make a difference at the grassroots level."
Bruckner said the focus of the grant was on the long-term outcome in areas of increased active lifestyle, increased access to healthy food and student achievement.
Bruckner said safety was one aspect of the proposal, but there were several challenges facing the neighborhood, including challenges in infrastructure and home conditions.
"Statistically, when you look at [Fairmount] in comparison to other surrounding communities and neighborhoods … it has good safety numbers," Bruckner said. "But the healthier the neighborhoods around WSU are, the stronger WSU is; the stronger WSU is, the more involved we are in the community, the stronger the neighborhoods are," Bruckner said.
In many ways, life in the communities around the university has become the focus of the Shocker Neighborhood Coalition.
"Because that life is important and it's tied, in my opinion, to the future of the university, it's terribly important that we do what we can to use our human capital, and our expertise and energy to try to make a difference in working with the people that live around us to help them improve their quality of life," Ayres said.
Ayres said he has received vocal support and interest from Mayor Jeff Longwell, City Manager Robert Layton and the City Council, particularly First District Councilwoman Lavonta Williams.
Safety on campus, in neighborhoods
University Police assisted Wichita Police in the search the night of the Letitia Davis attack, said UPD Capt. Guy Schroeder, but they were not part of the arrest, as the incident happened off campus.
"Even so, we have been a part of the meetings headed up by Ted Ayres and Enough is Enough, as well as the town hall meeting here on campus to be good partners in the neighborhood that surrounds our campus," Schroeder said.
Since the attack, UPD has added officers and implemented on-foot patrols on the interior of campus to allow officers in cars to patrol the outer perimeter, Schroeder said.
"I think there genuinely is more of an awareness of safety [since the attack] and concerns being addressed around campus — the safety walk in September with students, faculty and staff as a good example," he said.
Schroeder said he believes UPD is making every effort to make the campus safer, including a meeting with Westar Energy that identified lights on the perimeter of campus to be added, replaced and redirected for better lighting overall in the area on and off campus.
Toni Loeffler, a poetry student, said Fairmount Park still makes her feel uneasy. This year she moved to Wichita from Oregon, and she has to go through Fairmount to get home.
"I heard about the attack in my poetry class," Loeffler said. "We were talking about the fact that I needed to get a car, and I was saying I needed to get a bike, and they told me that I shouldn't bike at night, and that's how I found out."
Loeffler said she doesn't necessarily feel safer on campus since a suspect has been arrested because of the other incidents on campus this semester.
"It creeps me out," she said.
Freshman Emily Hankins, who lives in the Fairmount neighborhood, said she feels similarly, but has yet to experience anything that has made her feel unsafe in the area near the park.
"The fact that it happened so near to where I live makes me worry," Hankins said.
She said she tries not to go out at night unless she absolutely needs to, and even then she prefers not to go alone.
"I would like to believe that events such as those are isolated ones, but sometimes it is hard for me to feel 100 percent safe when out at night," Hankins said.
In memoriam
The university will facilitate an evening to honor the life of Davis at 5:30 p.m. Nov. 20 at the Fairmount United Church of Christ. Karen Countryman-Roswurm, executive director of WSU's Center for Combating Human Trafficking, will provide commentary.
"One year later, I'm looking forward to seeing how the community comes together," Carrington said. "We remember how there was a community of benevolence that surfaced. There was money raised for Letitia Davis . . . there's been a rally around Letitia Davis and her family; that spirit has been ever present for the entire year. It's going to be really interesting to see how we come together and how we respond and go forward."