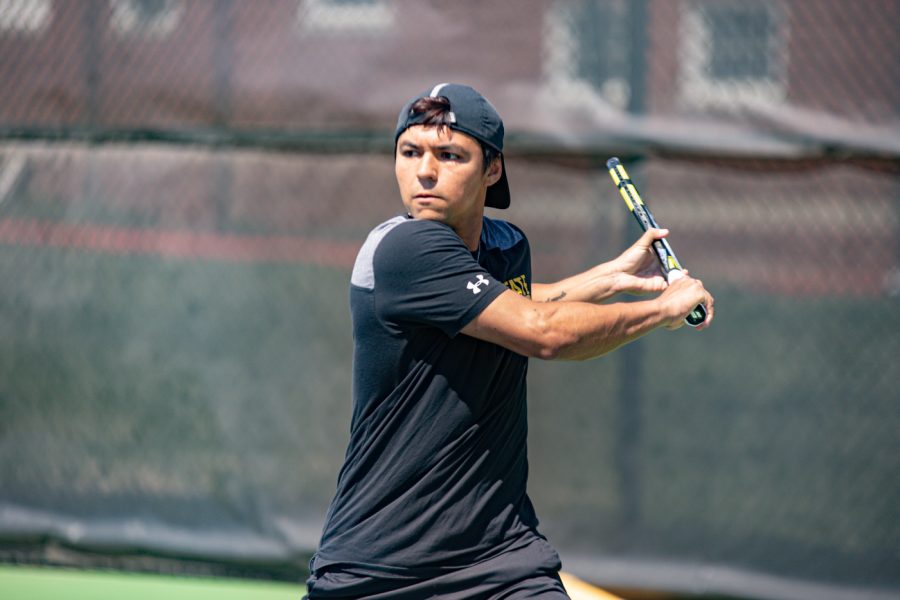 Monique Gaines/ The Sunflower
The Wichita State men's tennis team fell to Arizona State in the first round of the NCAA Tournament on Saturday, losing to the match 4-3 to the Sun Devils.
Doubles
The Shockers failed to get the doubles point against ASU but Murkel Dellien and Marius Frosa collected a 6-3  victory together.  Orel Ovil and Luka Mrsic dropped their match to the Sun Devils, 6-3, evening up the doubles matches. Ultimately, the pairing of Stefan Latinovic and Nicolas Acevedo were unable to win the final doubles match, dropping the match, 7-6.
Singles
The Shockers rebounded quickly as Murkel Dellien collected another ranked victory, this time over No. 84 Nathan Ponwith. The Sun Devils would respond by taking the next two matches over Orel Ovil and Stefan Latinovic to take a 3-1 advantage in the match.
WSU once again responded as Luka Mrisc and Marius Frosa picked up key victories to even up the match at three points apiece. Frosa's victory came in three sets by set scores of 1-6, 7-5, 6-2.
Nicolas Acevedo came up short in the final match, dropping the match to ASU's George Stoupe in three sets and a tiebreaker. The loss brings WSU's team season to a close. Murkel Dellien will still be competing in the NCAA Men's Singles Tournament from May 23-28, while him and Marius Forsa as the eight alternates to Men's Doubles Tournament.
Match Results
Singles 
No. 39 Murkel Dellien (WSU) def. No. 84 Nathan Ponwith (ASU) 6-2, 6-2
Marius Frosa (WSU) def. Makey Rakotomalala (ASU) 1-6, 7-5, 6-2
Tim Ruehl (ASU) def. Stefan Latinovic (WSU) 6-4, 6-2
George Stoupe (ASU) def. Nicolas Acevedo (WSU) 2-6, 7-6, 6-6
Max McKennon (ASU) def. Orel Ovil (WSU) 6-3, 6-3
Luka Mrsic (WSU) def. Christian Lerby (ASU) 6-3, 7-5
Doubles
Murkel Dellien/Marius Frosa (WSU) (def.) Tim Ruehl/Makey Rakotomalala (ASU) 6-2
Nathan Ponwith/Max McKennon (ASU) def. Orel Ovil/Luka Mrsic 3-6
Christian Lerby/George Stoupe (ASU) def. Stefan Latinovic/Nicolas Acevedo 5-6