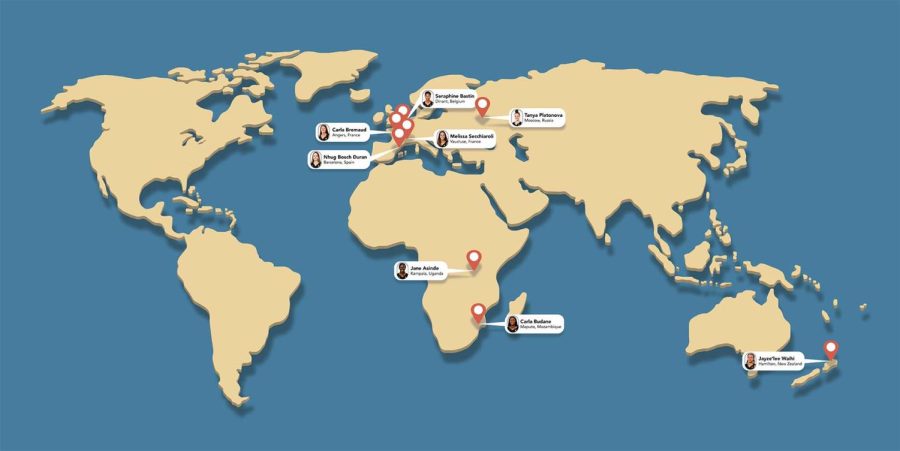 Thy Vo
The Wichita State women's basketball team is set to feature eight international players on its roster –Melissa Secchiaroli, Nhug Bosch Duran, Tanya Platonova, Carla Bremaud, Carla Budane, Seraphine Bastin, Jane Asinde, and Jayze'Lee Waihi – the most since Keitha Adams took over as head coach back in 2017. 
During Adams' tenure, she placed a focus on international recruiting and has had at least four international players each season at WSU. 
Ewa Laskowska has been the primary international recruiter, largely due to her experience as an international student-athlete. Laskowska, originally from Poland, started her collegiate career at Independence Community College under Adams. She played two seasons with the Pirates and was named NJCAA All-American and Kodak All-American twice during her playing career.
Laskowska moved on to play at Kansas State but would quickly join Adams' coaching staff as the top assistant coach after graduation. She followed Adams to the University of Texas – El Paso, where they continued their focus on international recruiting. Laskowska joined Adams' staff once again, when she took the job at Wichita State in 2017, continuing in her role as the primary international recruiter. 
Laskowska said that being able to recruit internationally has always been an important focus even during her playing days under Adams.
"Honestly, it's always been in the history of our coaching," Laskowska said. "Ever since I've played on her teams, we've always had international players so when I got on her staff, that was a big part of my role to recruit the best players from anywhere. Obviously me coming from Europe, it opened up connections to be able to recruit kids to our teams."
Laskowska said that recruiting international players is more difficult, because many are unfamiliar with the process of collegiate basketball in America.
"It's very different," Laskowska said. "They're not familiar with the process as much so you have to do a lot more explaining and helping them through the process. Plus, not every kid in high school wants to play in college. A lot of kids end up moving up and playing in the club system and when they're growing up, that's what they're surrounded by. That's what they know."
Laskowska said she can typically tell if one of these athletes is about to be homesick before the athletes even know it. She feels that her experience both as a player under Adams and as an international student athlete has been beneficial in recruiting.
"It's very helpful and I think the parents and the kids feel very comfortable to start with because they know I've been there and done it," Laskowska said. "Whatever they're baby is going to go through, I've already gone through. It definitely helps knowing when they're going to be homesick before they get homesick and being able to help them."
This season the Shockers are set to mix seven American players with the eight international players, giving them one of the most diverse rosters across the country. Laskowska said that it's a unique experience to see the cultures across the team blend over the course of the season.
"Everytime we recruit a player no matter where they're from, whether they're international or American, we always make sure to tell them 'our team is going to be diverse'," Laskowska said. "Because if you're not okay with the diversity, that's probably not the team for you. It's pretty fun to watch how we learn from each other and culture and food and everything else that comes with it."
Adams said the experience can be interesting for players up and down the roster, because of how much they can learn from different cultures.
"I think for the players, it's really what college is all about, learning about your own culture by being around people from different places and different backgrounds," Adams said. "There's a lot of things that are different from where you come from, but pick and roll in Europe is the same in the United States."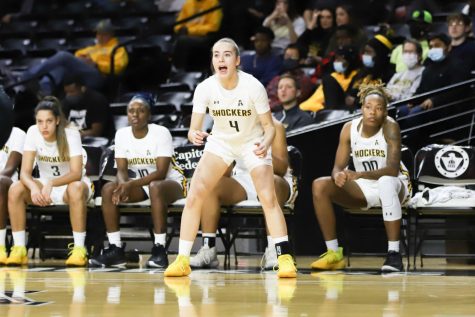 Nhug Bosch Duran, a Barcelona, Spain native, is one of the eight international players on this year's Shocker roster. Duran was a four-year starter and captain for her school INS Joan Coromines in Barcelona. She was also a member of the Spain U18 team, where Duran averaged 10.6 points and was named the Catalan League MVP.
Over the summer, Duran played for Spain in the U18 European Championships and averaged 5.0 points, 3.4 rebounds, and 2.2 assists per game, helping her country finish in third place.
Duran said having other international players on the roster has made getting accustomed to American culture easier.
"I'm from Spain, I'm European and American life is so different," Duran said. "Having other international students, other international teammates, it makes things easier. They're in the same situation as you."
Duran scored her first points in a Shocker uniform last Thursday, knocking down a three-pointer in WSU's exhibition game victory. She said that although basketball was key for her coming over to the U.S., gaining life experiences in a new country was also crucial to her.
"I want to learn the language, get to know this culture," Duran said. "It's a life experience not only for basketball, I came here for life experiences. I want to build some friendships and other stuff here and enjoy it."
Duran said that it has also been a cool experience to represent her country, like many of her teammates are doing.
"Here I am, I'm from Spain, I'm trying to represent my country," Duran said. "It's so cool that we are from different places. France, Spain, New Zealand, I'm bringing something from my country here."