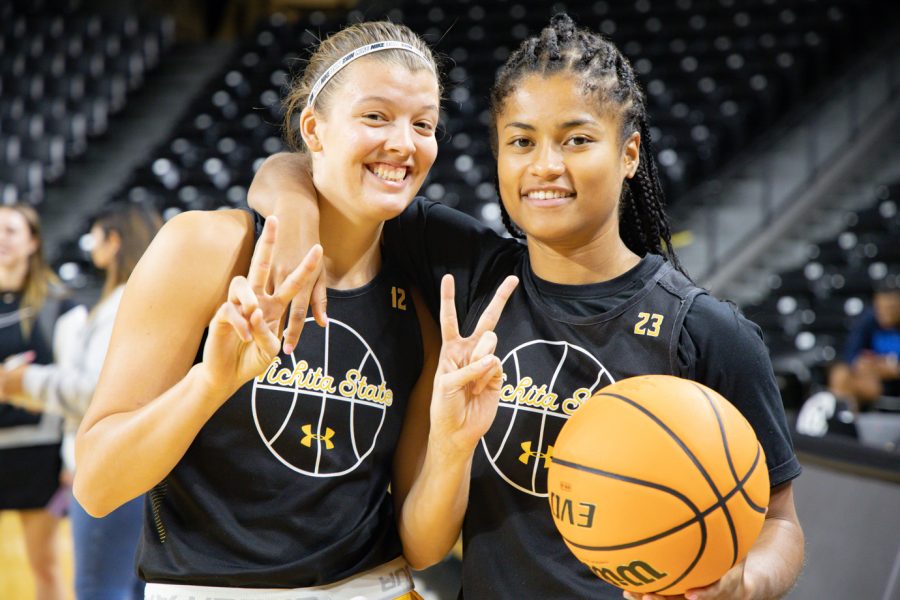 Monique Gaines / The Sunflower
Seraphine Bastin and Carla Bremaud came to Wichita State University together and found out that they both speak French. They now will finish their careers together on the court for the women's basketball program and leave Wichita State as best friends.
Bastin, who is known by her teammates as Fefe, is a senior guard for the Shockers and is from Dinant, Belgium. Her friend Carla Bremaud is also a senior guard for the Shockers and is from Angers, France. 
Bastin has been a starter for the Shockers since she was a true freshman. She led the team in assists, rebounds, double-doubles, and was ranked second in steals and third in scoring last season.
Bremaud has been a starter for the Shockers since she was a freshman as well. Last season, she led the team in three-pointers, and three-point percentage. 
The Shockers were picked to finish eighth in their conference in the 2021-2022 American Women's Basketball Preseason Coaches' Poll. Bremaud said the decision of the poll fuels their goals for the season. 
"We have a really high hope,"Bremaud said. "We really want to like prove everyone wrong because they told us we would be like eighth in the conference and we really want to show them that was like a mistake after the tough season we had last year."
Bastin agreed with that sentiment.
"Our goal this year is to really Be focused, and be prepared," Bastin said. "Cause right now we are underdogs."
Bastin is a point guard for the Shockers. A point guard is usually expected to be a leader on the court since they are the ones bringing the ball up the floor. Bremaud said Bastin has fulfilled this role as a point guard. 
"Fefe is like a really big leader,"Bremaud said. "She's like the one talking the most at practice and she's one of the leaders on the court so like FeFe's a big leader for us." 
Bremaud and Bastin said they feel confident that their leadership on the court and their friendship will continue to thrive in their last season at Wichita State. 
"That was really easy to like come together," Bremaud saud. "After three years of playing tougher we really know each other, we find each other really easy on the court. Sometimes she really know what I'm thinking about."