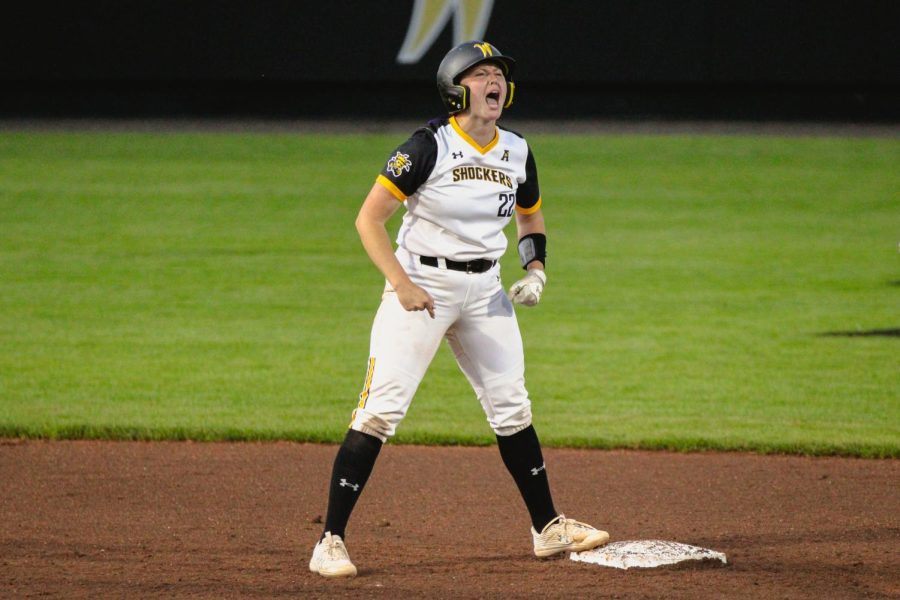 Thy Vo
With a conference title on the line, Shocker softball scored 11 unanswered runs to take the series opener over No. 21 UCF on Friday. The Shockers beat the Knights 11-4. The win moves WSU atop the American Athletic Conference standings and one game closer to a share of the regular season title. 
After only recording two hits through the first four innings, WSU trailed 4-0, heading into the bottom of the fifth. Despite the deficit to first place UCF, the Shockers remained confident in being able to mount a comeback.
"There was no panic in our dugout," Head Coach Kristi Bredbenner said. "You know we got down 4-0 nothing and you know you don't like getting down 4-0 nothing but at the end of the day like I said as long as there's outs to give we have a chance to play."
After the Shockers loaded up the bases in the fifth inning, senior Neleigh Herring stepped up to the plate, looking for a pitch to hit. Herring proceeded to launch a grand slam off the scoreboard in left center to tie the game up at four. 
"Before the at-bat I kind of just sat there and closed my eyes for a second and just visualized hitting the ball hard," Herring said. "I got in there and knew she was going to throw drop balls because (Associate Head Coach Elizabeth Economon)  Coach E and Coach B you know they had scouting reports and we worked on it all week and we were prepared for it."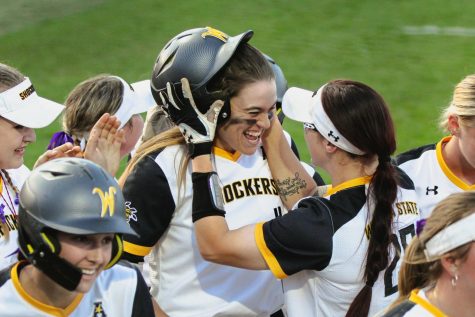 WSU relied on bunt hitting in the sixth. After a bases-loaded walk from junior Sydney McKinney, the Shockers offensive momentum went up. They ended the sixth with seven runs on the board, including a pinch-hit three-run double from Lauren Mills to give WSU a seven run advantage heading into the final inning.
"You definitely don't see it a lot but we still practice it you know even if it's not as glamorous of course as a home run or anything like that," Herring said of the bunts. "Those were key. Those were crucial to move those runners and get that run in and then the next or five seven or you know however we ended up scoring."  
Senior pitcher Erin McDonald came in to relieve freshman Alison Cooper in the third. McDonald allowed two hits and had four strikeouts, while helping to seal the series opener. 
UCF put two runners in the seventh but Bredbenner said senior pitcher Erin McDonald started off the inning strong by striking out UCF's Jada Cody. Cody has a .358 batting average so far this season. 
"That has to be a confidence booster because she's easily one of the best hitters in our league," Bredbenner said. "Really really tough kid to strike out and I thought she had a good battle against her."
WSU will play game two of their series with UCF Saturday at 1 p.m. If the Shockers win, they will clinch the series and a share of the regular season title for the second straight season. 
"Getting that first win really kind of puts you in a good spot," Herring said. "You're going into tomorrow knowing 'Hey, we beat this team yesterday that doesn't mean we take them lightly of course.'"