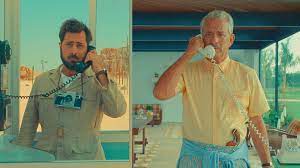 I don't know if I've ever walked out of a movie being more confused by something I completely understood. But that is how Wes Anderson's latest feature, "Asteroid City," left me after two viewings.
To put it simply, "Asteroid City" is about a youth astronomy convention that irreversibly changes the life of a grieving family.
The film is structured as a play within a movie, a trope I become more fond of the more I see it. The viewer simultaneously follows the actions of the play and the lives of the artists who created it.
In watching Anderson's previous films, it seems that this framing was inevitable. From the curtain transitions between months in "Rushmore" to the storybook beginning in "Grand Budapest Hotel." Anderson finds ways to make his stories bigger, brighter and more artificial.
Artificial is certainly not an insult here. "Asteroid City," more so than any other Anderson film I've seen, feels like what you would imagine if someone asked you what a desert town looked like in 1952. A retro diner, a never-ending highway, exactly three cacti, a hotel with bright white and turquoise bungalows, and, of course, a secret government facility harboring the secrets of outer space.
It is beyond picturesque and works well with the serial sci-fi situation our main crew ends up in. Know that if Wes Anderson ever wants to do sci-fi on a larger scale, I will be there on opening night.
The whole cast bought in hard to the offbeat nature of each character. Jake Ryan as Woodrow plays the squirrely adolescent with charm. As someone who grew up in the Marvel whirlpool, it's nice to see Scarlett Johansson using her talents for the greater good.
She plays Midge Campbell, an actress that has come to Asteroid City with her daughter, Dinah. Her character has lived a far longer life than her age would tell and Johansson carries that inescapable weight with the grace of a ballerina.
Jason Schwartzman was the standout here. He has these deeply emotional eyes that he uses so effectively. Despite the consistent hardness on their surface, the real magic happens beneath where he harbors the ultimate grief between holding on and letting go.
I don't know what I expected going into "Asteroid City," but what I got was an hour-and-45 minutes of a saturated desert town, the black-and-white playwright that created it, and a sense that I simultaneously had no clue what was happening and understood everything.
Asteroid City is playing in theaters and will be released on Video On Demand (VOD) on July 11.