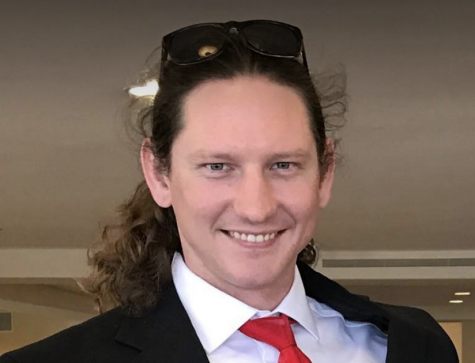 Chance Swaim is the Editor in Chief of The Sunflower.
Swaim is a graduate student in the English Department working on his Master's of Fine Arts in Creative Writing at Wichita State University.
Swaim is from Wichita, Kansas.
After graduation, Swaim plans to continue his journalism career and write novels, stories, and poems.
Chance Swaim, Editor in Chief
Jun 05, 2018

Conflict of Interests on Innovation Campus and at Wichita State, July 21

(Story)

May 15, 2018

Column: Questions about conflicts of interest on Innovation Campus set the tone for this year

(Story)

May 03, 2018

Kansas Legislature passes bill requiring open student fees deliberations

(Story)

May 03, 2018

Farewell from Swaim: I don't do goodbyes

(Story)

May 03, 2018

Farewell from Hayes: Sad boi hour starts now

(Media)

Apr 25, 2018

#SaveStudentNewsrooms

(Story)

Apr 23, 2018

Ad wars: Innovation Campus developers, donors, Koch exec, others buy counter-protest ad

(Story)

Apr 23, 2018

'Bitter or better': Rowell rises through tragedies to leadership role

(Story)

Apr 22, 2018

Wichita State gave more than $7.1 million to Innovation Campus nonprofit in its first 3 years

(Story)

Apr 19, 2018

UPDATE WITH EDITOR'S NOTE: Tax documents shed light on Wichita State's financial investment in nonprofit

(Story)

Apr 18, 2018

'Friends of the University' protest Wichita State leaders

(Story)

Apr 13, 2018

Nondisclosure agreement limits what Wichita State employees can say about Innovation Campus projects

(Story)

Apr 13, 2018

Wichita State charges $1,605 for heavily redacted public records

(Story)

Apr 13, 2018

Wichita State charges $1,500 for Innovation Alliance financial transaction documents

(Story/Media)

Apr 13, 2018

'No recourse to say no' — Wichita State faculty question Innovation Campus development

(Story)

Apr 04, 2018

Student Affairs had extra funds available when it requested large student fees increase

(Story)

Mar 30, 2018

Student Senate approves cutting The Sunflower

(Story)

Mar 28, 2018

Tonight's the night Student Senate votes on student fees

(Story)

Mar 28, 2018

Wichita State expects to pay regent's company more than $2.5 million next year to lease The Flats

(Story)

Mar 28, 2018

Wichita State said these records "do not relate to the legitimate concern to the public." You decide.

(Story)

Mar 25, 2018

Former WSU volleyball assistant coach arrested

(Story)

Mar 15, 2018

Hungate calls Faculty Senate support for The Sunflower 'really not the faculty's place'

(Story)

Mar 14, 2018

Hungate expects Bardo to sign SGA fees recommendation

(Story)

Mar 09, 2018

Administrators abstain from voting to cut The Sunflower

(Story)

Mar 08, 2018

Innovation Campus development moving forward out of the public eye

(Story)

Mar 05, 2018

Editorial: Student Affairs and SGA should lead with generosity, not greed

(Story)

Mar 03, 2018

Student Fees Committee deliberations date set, organizations can give 'supplemental presentations'

(Story)

Mar 01, 2018

Want to see the entire student fees committee binder? Here it is.

(Story)

Feb 28, 2018

Bardo calls for public student fees deliberation

(Story)

Feb 27, 2018

FACT CHECK: Reasoning for Student Fees Committee cutting The Sunflower's funding in half

(Story)

Feb 26, 2018

How threats to The Sunflower's funding have closely followed coverage of the university, Innovation Campus

(Story)

Feb 26, 2018
Feb 26, 2018

Experts comment on closed door student fee deliberations: 'I think they did the wrong thing'

(Story)

Feb 23, 2018

Wichita State student government closes door on student fees deliberations

(Story)

Feb 21, 2018

Kansas Governor orders state agencies closed Thursday, deletes tweet, runs correction

(Story)

Feb 15, 2018

Judge says retaliation lawsuit against WSU can move forward

(Story)

Feb 08, 2018

10 things you should know about Koch family-funded private school coming to Wichita State

(Story)

Feb 04, 2018

Koch-funded private elementary school coming to Wichita State's campus in September

(Story)

Feb 01, 2018

Wichita State plans to use local, national newspaper fund for security cameras

(Story)

Feb 01, 2018

Where'd the paper go? Student government ends newspaper program

(Story)

Jan 29, 2018

ODI's Phenomenal Women Awards open for nominations

(Story)

Jan 29, 2018

Wichita State leads country in industry-funded research

(Story)

Jan 29, 2018

Kobach takes down government ethics database

(Story)

Jan 24, 2018

Brownback confirmed as international religious freedom ambassador at-large

(Story)

Jan 23, 2018

ALERT: Two men pulled over, asked female student to 'come with us' on 17th Street

(Story)

Jan 13, 2018

Wichita State's provost will continue to receive $297,353 salary while on leave "to focus on his professional goals"

(Story)

Jan 11, 2018

Wichita State joins 'industry partners' supporting Brownback's budget proposal

(Story)

Jan 05, 2018

Bardo: Provost takes paid leave to 'focus on his professional goals'; Muma moves into position

(Story)

Dec 15, 2017

3 leaders leaving after this semester

(Story)

Nov 26, 2017

Vizzini named Washington State Tri-Cities chancellor search finalist

(Story)

Nov 16, 2017

WSU requests housing rate increase

(Story)

Nov 12, 2017

Six years after Les Anderson's death, his work lives on

(Story)

Oct 27, 2017

Dean Ron Matson announces retirement

(Story)

Oct 23, 2017

Faculty senate to address policy changes at Monday's meeting

(Story)

Oct 19, 2017

How Wichita State boosted enrollment leading up to the official headcount

(Story)

Oct 09, 2017

Speaking out: Wichita State paid KC law firm to investigate Shepard

(Story)

Oct 05, 2017

Proposed student housing increases presented to SGA

(Story)

Oct 05, 2017

Wichita State officials decline interviews, defer to letter about enrollment

(Story)

Oct 02, 2017

Headcount Padding: Wichita State reports largest student increase in state

(Story/Media)

Sep 14, 2017

Koch money moves institute forward

(Story)

Sep 09, 2017

'This is part of my job.'

(Story)

Aug 28, 2017

The Sunflower Medallion hunt clues explained

(Story)

Aug 19, 2017

Move-in day at Wichita State: frustrations, excitement, extra beds

(Story)

Aug 19, 2017

UPDATE: More clues emerge from 'trashed' studio

(Story)

Aug 18, 2017

Vandals 'ransack' Wichita State student's painting studio, leave signatures, shoeprint

(Story)

Aug 12, 2017

What it means to be a Shocker

(Story)

Aug 04, 2017

Wichita State water tank gets university's name wrong

(Story/Media)

Aug 02, 2017

Regents approve WSU lease with regent's private company, terms of agreement undisclosed

(Story/Media)

Jul 24, 2017

Lease numbers flat for new private apartment complex, university steps in

(Story/Media)

Jul 17, 2017

UPDATE: Wichita State to use financial aid money to lease from private company

(Story)

Jul 14, 2017

Wichita State to move students from university housing to private apartment complex, demolish Fairmount Towers

(Story)

Jun 29, 2017

Rigg released without prejudice, 'remains under investigation'

(Story)

Jun 27, 2017

Former editor arrested for electronic solicitation

(Story)

Jun 23, 2017

The cost of a degree at Wichita State continues to climb, tuition and fees increase

(Story/Media)

May 24, 2017

District Attorney: "Evidence presented is insufficient to support the filing of charges" in alleged racial incident

(Story)

May 24, 2017

Construction to begin on 2 unnamed additions to Innovation Campus this summer

(Story)

May 05, 2017

Student Body President Hungate's parents subject of alleged racial incident directed at former Student Body President Shepard

(Story)

May 04, 2017

10 seniors awarded Senior Honor Men and Women distinction

(Story)

May 01, 2017

Tomblin gets another raise

(Story)

Apr 24, 2017

Christine Schneikart-Luebbe honored — questions remain

(Story)

Apr 21, 2017

Best of Wichita: Saul gravy at Doo-Dah Diner

(Story)

Apr 19, 2017

Linnabary accepts SGA nomination, no longer with The Sunflower

(Story)

Apr 13, 2017

Female allegedly sexually assaulted by 2 males on WSU campus

(Story)

Apr 05, 2017

Two killed, two hurt in Oklahoma crash

(Story)

Apr 03, 2017

SGA Debates: A disappoinment

(Story)

Mar 30, 2017

Azad reinstated as student body vice president, suspension lifted

(Story)

Mar 30, 2017

WATC affiliation document presented to faculty senate

(Story)

Mar 30, 2017

The Revolving Door

(Story)

Mar 17, 2017

How Student Senate voted on the YMCA fees increase

(Story)

Mar 17, 2017

WSU Supreme Court decision reveals SGA election tickets

(Story)

Mar 16, 2017

SGA no-confidence vote count

(Story)

Mar 16, 2017

Faculty Senate letter confirmed, sent to President Bardo

(Story)

Mar 16, 2017

SGA passes vote of no confidence in President Bardo

(Story)

Mar 14, 2017

Students stage sit-in protest at President Bardo's office

(Story)

Mar 09, 2017

Director of Campus Recreation Eric Maki resigns

(Story)

Mar 09, 2017

Tourney coming to Wichita next year

(Story)

Mar 09, 2017

The Shockers' place in the history of the bracket phenomenon

(Story)

Mar 08, 2017

Experiential Engineering Building floor cracking, GoCreate set to open

(Story)

Mar 07, 2017

Wallace Hall closes after mercury spill

(Story)

Feb 25, 2017

Regents report recommends president's executive team disclose conflicts of interest

(Story)

Feb 15, 2017

County official: Innovation Campus building plan breaks law

(Story)

Feb 13, 2017

New landlords: Who runs The Flats at WSU

(Story)

Feb 09, 2017

Nathan Davis memorial service to be held Sunday

(Story)

Feb 07, 2017

Breaking the Silence

(Story)

Feb 02, 2017
Jan 29, 2017

WSU staff plans 'Refugee Solidarity gathering' at airport Sunday

(Story)

Jan 26, 2017

Swaim: Monkeys aren't pets

(Story)

Jan 26, 2017

'Hate crime' artist steps out of the shadows at SGA meeting

(Story)

Jan 25, 2017

How Brownback's higher education budgets affect Wichita State

(Story)

Jan 23, 2017

As funding deadline approaches, a look at last year's cuts

(Story)

Jan 19, 2017

Quick and Dirty Guide to Innovation Campus

(Story)

Jan 10, 2017

Brownback issues challenge to Kansas universities

(Story)

Dec 10, 2016

Wichita State more transparent than KU, K-State on sexual assault investigation records — but still unclear

(Story)

Nov 21, 2016

Koch influence questioned at Faculty Senate, will be revisited

(Story)

Nov 21, 2016

'Nothing is sacred': Town Hall meeting addresses 6 percent cuts

(Story)

Nov 18, 2016

Donald Trump selects Kansas Rep. Mike Pompeo as CIA Director

(Story)

Nov 15, 2016

Braced for injury: Athletic trainers stay on their toes to prevent, treat basketball injuries

(Story)

Nov 14, 2016

Rescue dog trains to rescue stressed veterans

(Story)

Nov 03, 2016

Scariest movies of the last five years

(Story)

Oct 27, 2016

Student leaders plead for help from regents president

(Story)

Oct 25, 2016
Oct 13, 2016
Oct 11, 2016

Bat spotted on side of campus building

(Story/Media)

Sep 23, 2016

Trump's secret weapon

(Story)

Sep 22, 2016

Cody Herrin, American hero

(Story)

Sep 20, 2016

'Floated_Couture'

(Story)

Sep 20, 2016

Title IX reaches out to students

(Story)

Sep 20, 2016

Amid budget cuts, administrators' salaries swell

(Story)

Jun 07, 2016

Bardo signs off on Law Enforcement Training Center

(Story)

Jun 07, 2016

Amid budget cuts, administrators' salaries swell

(Story)

May 05, 2016

Education major lands dream job in Goddard

(Story)

May 05, 2016

Budget woes: State budget lifts cap on tuition

(Story)

Apr 28, 2016

Wichita school district to close early, will impact one WSU education major

(Story)

Apr 25, 2016

Parking closure eliminates 240 free parking spaces

(Story)

Apr 14, 2016

Food festival draws diverse crowd

(Story)

Apr 12, 2016

ISU hopes to raise awareness, funds with food from around world

(Story)

Apr 04, 2016

Candidates voice platforms in debate, question format

(Story)

Apr 01, 2016

Title IX forum first step in campaign; coordinator calls it 'mission-critical'

(Story)

Mar 22, 2016

New York City is not a place

(Story)

Mar 03, 2016

Noted speaker on college hook-up culture to lead discussion Friday

(Story)

Feb 29, 2016

Monk-Morgan to discuss being the 'only one in the room' Monday

(Story)

Feb 29, 2016

WATC merger to pose obstacles, benefits for both sides

(Story)

Feb 25, 2016

WSU South Campus recognized for support of breastfeeding moms

(Story)

Feb 22, 2016

WSU celebrates 50 years since Ginsberg's visit to Wichita

(Story)

Feb 17, 2016

Anti-racist speaker Tim Wise fills the Metroplex

(Story)

Feb 16, 2016

Student Health Services to offer free STI testing

(Story)

Feb 12, 2016

Faculty Senate talks raises, guns

(Story)

Feb 12, 2016

UPD asks for extra vigilance in response to stolen car

(Story)

Feb 08, 2016

WSU alumnus recognized in reputable graphic design book

(Story)

Feb 08, 2016

New campus resources seek to lift mental health stigma

(Story)

Feb 07, 2016

Ending the ban: Students, faculty weigh in on issue of concealed handguns at Kansas universities

(Story)

Feb 01, 2016

WSU study: Food sales tax hurting Kansas

(Story)

Jan 28, 2016

Student housing questioned in survey

(Story)

Jan 21, 2016

King's influence remains strong in Wichita

(Story)

Jan 21, 2016

Defendants in killing of WSU student enter pleas

(Story)

Nov 23, 2015

Wichita State celebrates the life of Letitia Davis

(Story)

Nov 20, 2015

Westboro Baptist Church exits protest early, virtually ignored by Wichita State

(Story)

Nov 19, 2015

Foot-patrol officers working to change perception of police

(Story)

Nov 12, 2015

One year later: Remembering the Fairmount Park attack

(Story)

Nov 05, 2015

Active shooter training provides options for potential situations

(Story)

Nov 02, 2015

Suspect charged with murder in student's death

(Story)

Nov 02, 2015

Supporters of bidet installation continue discussion despite controversy

(Story)

Oct 22, 2015

Lights around Wichita State upgraded to improve safety

(Story)

Oct 01, 2015

After recent bike thefts, WSU reminds cyclists to use proper locks

(Story)

Sep 24, 2015

Petition for Muslim handheld bidets clogged by questions

(Story)

Sep 21, 2015

Campus Safety Walk raises student awareness

(Story)

Sep 16, 2015

InterFest attracts hungry crowds despite wind

(Story)

Sep 14, 2015

UPD: 'Bible study' van considered 'suspicious activity,' didn't warrant crime alert

(Story)

Sep 14, 2015

University police to add new officers, respond to concerns at town hall meeting

(Story)

Sep 09, 2015

500 students petition for inclusion of Muslim showers

(Story)

Sep 09, 2015

UPD gives tips on how to stay safe

(Story)

Sep 09, 2015

Police: Arrive early, leave early in Old Town

(Story)

Sep 08, 2015

Recent on-campus robbery prompts change

(Story)

Sep 03, 2015

WSU professor informs decision on Wichita's next police chief

(Story)

Sep 03, 2015

University Police reminds students of its patrols, services

(Story)

Aug 26, 2015

Second robbery attempt reported after crime alert Monday

(Story)

Aug 17, 2015

Vigil reflects on four recently killed near campus

(Story)

Aug 08, 2015

UPDATE: Arrest made in fatal shooting at Fairmount Towers

(Story)