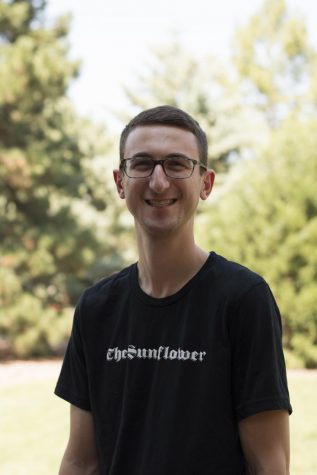 Evan Pflugradt is the former Sports Editor of The Sunflower.
Pflugradt past served as the publication's Editor in Chief, Opinion Editor and a reporter. He joined The Sunflower in 2015 and worked with the publication through his graduation in May 2019.
He holds both a bachelor of arts and master of arts from the Elliott School of Communication. In spring 2017, Pflugradt was recognized as the Elliott School's Most Outstanding Journalism Graduate of the graduating class.
Evan Pflugradt plans to work for Gannett in Florida following graduation. To keep up with Evan Pflugradt, follow him on Twitter @evpflu or on his personal website at evpflu.com.
Evan Pflugradt, Sports Editor
May 08, 2019

Wichita State extends Adams' contract through 2024

(Story)

May 07, 2019

UPD responds to aggravated arson at Ablah Library

(Story)

May 05, 2019

Softball locks No. 4 seed in AAC Conference Championship

(Story)

May 03, 2019

Through fire, flames and perseverance, Josh Cable is still running

(Story)

May 02, 2019

Pflugradt: Take it from me, living life on a whim isn't all bad

(Story)

May 02, 2019

Barringhaus: Snap back to Texas

(Media)

Apr 29, 2019

Baseball's reported attendance is a far cry from actual attendance numbers

(Story/Media)

Apr 27, 2019

Former Shocker golfer lands Newman head coaching position

(Story)

Apr 24, 2019

No. 1 Oklahoma shuts out Wichita State softball

(Media)

Apr 16, 2019

Prized 4-star recruit Grant Sherfield picks Wichita State

(Story)

Apr 16, 2019

Wichita State lands junior college transfer Trey Wade

(Story)

Apr 15, 2019

'Self Made' Jayhawks join loaded field to compete in Koch Arena this summer

(Story)

Apr 13, 2019

PHOTOS: Wichita State baseball drops series to Houston Cougars

(Story)

Apr 11, 2019

Rod Brown will enter NCAA transfer pool

(Story)

Apr 10, 2019

Report: Ricky Torres will leave Wichita State

(Story)

Apr 10, 2019

Gregg Marshall holds player meetings to discuss future season

(Story)

Apr 02, 2019

'I wanted to make sure that I'd be loyal to this school and this community': Markis McDuffie reflects on 4-year career

(Story)

Apr 02, 2019

Lipscomb's late rally ends Wichita State's season in NIT semifinals

(Story)

Apr 01, 2019

Wichita State is having its best practices at the right time

(Story)

Mar 24, 2019

Haynes-Jones hits late 3-pointer, advances Wichita State to NIT quarterfinals

(Story)

Mar 23, 2019

Koskei shatters 31-year-old track record

(Story)

Mar 20, 2019

Gregg Marshall collects win 500; Shockers advance in NIT

(Story)

Mar 20, 2019

Wichita State seniors are shooting more 3-pointers than ever before

(Story)

Mar 17, 2019

Wichita State to play Furman on Wednesday in the National Invitation Tournament

(Story)

Mar 16, 2019

McDuffie, Haynes-Jones lead Wichita State to final push; Shockers fall one possession shy of AAC Championship

(Story)

Mar 16, 2019

'We're a whole different team': How Wichita State went from 1-6 in conference to the semifinals of the AAC tournament

(Story)

Mar 16, 2019

'We're not really freshmen anymore': Gregg Marshall is counting on freshmen experience for AAC tournament push

(Story)

Mar 15, 2019

Wichita State advances to semifinals thanks to McDuffie's career-best 34 points

(Story)

Mar 15, 2019

'That's been a bitter taste in our mouths for some months': Players seek to avenge devastating loss against Temple

(Story)

Mar 14, 2019

'He's poised': Erik Stevenson's 3-pointers lead Wichita State up to a first round win

(Story)

Mar 14, 2019

Shockers enter AAC tournament looking for a fresh start

(Story)

Mar 14, 2019

Shockers to play short-staffed East Carolina in AAC tournament first round

(Story)

Mar 13, 2019

President Bardo left this one sports project on the table

(Story)

Mar 12, 2019

Ron Matson remembers President Bardo as an agent of change

(Story)

Mar 09, 2019

Dennis beats buzzer with miracle 3-pointer

(Story)

Mar 08, 2019

Tulsa ends Wichita State's season in AAC first round

(Story)

Mar 07, 2019

Shockers in position to draw the six seed in the AAC tournament

(Story)

Mar 03, 2019

Shamet shatters Clippers' franchise rookie record for 3s

(Story)

Mar 03, 2019

If the season ended today, who would Wichita State play in the AAC tournament?

(Story)

Mar 03, 2019

Shockers move into sole possession of sixth place behind strong play from Dennis, McDuffie

(Story)

Feb 26, 2019

No. 2 UConn obliterates Wichita State in first-ever Koch Arena visit

(Story)

Feb 26, 2019

Udeze to have season-ending shoulder surgery

(Story)

Feb 25, 2019

Debate: Zion Williamson wants to play college basketball. With potential for injury, should he rethink his plans?

(Story/Media)

Feb 23, 2019

'It's on me': Gregg Marshall defends players after Wichita State surrenders 16-point lead

(Story)

Feb 20, 2019

Dennis, Shockers steamroll Golden Hurricane with near-perfect offense

(Story)

Feb 20, 2019

Gregg Marshall's keys to victory? 'Scoring more points than the other team'

(Story)

Feb 17, 2019

Shockers misfire on 26 three-pointers in loss to Cincinnati

(Story)

Feb 17, 2019

Shocker softball wins 5 games — 3 by run rule — in invitational

(Story)

Feb 13, 2019

Bring your own beer to Eck Stadium? Not anymore, Wichita State says

(Story)

Feb 11, 2019

VanVleet to miss 3 weeks with thumb injury

(Story)

Feb 07, 2019

VanVleet scores career-high 30 points

(Story)

Feb 07, 2019

Wichita State extends Boatright's contract through 2022

(Story)

Feb 06, 2019

Midtgaard, Echenique combine for 21 rebounds in Wichita State's first road win of the season

(Story)

Feb 06, 2019

76ers trade Shamet to Clippers

(Story)

Feb 05, 2019

Gregg Marshall gives update on Asbjørn Midtgaard

(Story)

Feb 03, 2019

Shockers continue to move up from the bottom of the American

(Story)

Jan 31, 2019

PHOTOS: Losing streak ended, Haynes-Jones makes game-winner

(Story)

Jan 29, 2019

Wichita State will host regional games for a $2 million winner-take-all tournament this summer

(Story)

Jan 26, 2019

What happened to Jaime Echenique?

(Story)

Jan 26, 2019

50 days until Selection Sunday, reality is setting in for Wichita State

(Story)

Jan 25, 2019

Todd Butler: 'There's no confidence bucket at Walmart you can buy'

(Story)

Jan 24, 2019

Here's what you missed in Shocker sports

(Story)

Jan 19, 2019

'I'm not afraid of you' comment earns Stevenson a technical foul as Cincinnati handles Wichita State

(Story)

Jan 16, 2019

'Nothing has gone our way for a while': Shockers knock off UCF, celebrate first win in 28 days

(Media)

Jan 17, 2019

PHOTOS: Losing streak snapped

(Story)

Jan 16, 2019

Wichita State to debut new hype video

(Story)

Jan 08, 2019

Shamet breaks 76ers' franchise rookie record with 8 threes

(Story)

Jan 07, 2019

Shocker claims spot on bowling's Team USA

(Story)

Jan 07, 2019

Washington Wizards waive Ron Baker

(Story)

Jan 06, 2019

Wichita State expected to name Mike Pelfrey as next pitching coach

(Story)

Jan 06, 2019

PHOTOS: Shockers heartbroken at home, Temple wins overtime thriller

(Story/Media)

Jan 06, 2019

Temple shuts down Wichita State in overtime

(Media)

Jan 03, 2019

Mike Steele out as Wichita State pitching coach

(Story)

Jan 02, 2019

Provost Muma to serve as acting president

(Story)

Dec 31, 2018

Ex-Shocker Chance Moore commits to Washington State

(Story)

Dec 30, 2018

The Best of 2018, Sports Edition

(Story)

Dec 20, 2018

Wichita State reignites tumultuous rivalry with VCU Saturday

(Story)

Dec 19, 2018

PHOTOS: McDuffie, Echenique blast Oral Roberts for third consecutive win

(Story/Media)

Dec 19, 2018

McDuffie leads Shockers to dominate second-half, WSU downs Oral Roberts

(Media)

Dec 16, 2018

Gregg Marshall: "I watch this team at some points and I think, 'Man, how are we winning any games?'"

(Story)

Dec 15, 2018

Shockers hold on despite fumbling 17-point second-half lead

(Story)

Dec 15, 2018

Wichita State inducts Gene Stephenson into the Hall of Fame

(Story)

Dec 13, 2018

Sophomore Abby Pugh to transfer

(Story/Media)

Dec 13, 2018

Ron Baker released by Knicks

(Story)

Dec 12, 2018

What led to Wichita State's 32-point loss to Oklahoma

(Story)

Dec 08, 2018

Gregg Marshall assessed technical foul in blowout loss

(Story)

Dec 08, 2018

Wichita State suffers worst loss in Gregg Marshall's tenure

(Story)

Dec 05, 2018

Sunflower Staff Predictions — Wichita State travels to OKC for Oklahoma

(Story)

Dec 04, 2018

Gregg Marshall doesn't mind Ricky Torres shooting 0 percent from three

(Story)

Dec 04, 2018

Wichita State adds $10 fee to ADA parking on game days

(Story)

Dec 02, 2018

Haynes-Jones sinks five first-half threes in first career double-double

(Story)

Dec 01, 2018

Stevenson, Haynes-Jones combine for 39 as Shockers dismantle Baylor

(Story)

Nov 30, 2018

Shockers' season comes to a close

(Story)

Nov 29, 2018

Sports in brief — Nov. 29

(Story/Media)

Nov 29, 2018

Sunflower Staff predictions — Wichita State versus Baylor

(Story)

Nov 29, 2018

Baylor series continues at Koch Arena

(Story)

Nov 27, 2018

President John Bardo hospitalized for chronic lung condition

(Story)

Nov 19, 2018

Decision time for Teddy Allen closing in

(Story)

Nov 15, 2018

Shockers on verge of ending 15-year streak

(Story/Media)

Nov 15, 2018

Sunflower staffers predict Davidson outcome

(Story)

Nov 11, 2018

PHOTOS: Mustangs trample Shockers in three sets

(Story)

Nov 09, 2018

Why Wichita State will finish eighth or lower in the AAC

(Story)

Nov 09, 2018

Shockers will sport Under Armour uniforms this season

(Story)

Nov 09, 2018

Keitha Adams sells players on WSU's tradition, potential

(Story)

Nov 09, 2018

Wichita State's WuShock is one of a kind

(Story)

Nov 08, 2018

Shocker players, coaches meet President Trump

(Story)

Nov 07, 2018

Gregg Marshall fills the void of departed assistants

(Story)

Nov 06, 2018

High school dropout turned junior college standout Ricky Torres prepares to lead Wichita State

(Story)

Nov 06, 2018

Erik Stevenson is a 'Ron Baker type' with brash competitiveness to match

(Story)

Nov 06, 2018

'Free Teddy' Snapchat filter on display at Koch Arena

(Story)

Nov 05, 2018

Early storylines in this year's Shocker rotation

(Story)

Nov 05, 2018

Keitha Adams: 'We've got a lot of growing to do on the court'

(Story)

Nov 05, 2018
Nov 01, 2018

Four observations from Wichita State's exhibition victory versus Division-II Catawba

(Story)

Oct 30, 2018

Dean of the Barton School of Business, Anand Desai, to retire

(Story)

Oct 23, 2018

Why Teddy Allen might soon be declared NCAA eligible

(Story)

Oct 21, 2018

Wichita State volleyball loses third straight after five sets against league's worst

(Story)

Oct 20, 2018

Wichita State No. 72 in KenPom preseason rankings

(Story)

Oct 17, 2018

Wichita State picked in bottom half of AAC coaches' poll

(Story)

Oct 17, 2018

WSU's Kali Eaken likely out for season, Taflinger day-to-day

(Story)

Oct 11, 2018

Shocker Quidditch to compete in first tournament of the season

(Story)

Oct 11, 2018

Chris Lamb demanding attention to winning ahead of volleyball's tough weekend skid

(Story)

Oct 08, 2018

Freshman under concussion protocol after video shoot-related injury

(Story/Media)

Oct 08, 2018

Sports in brief — Oct. 8

(Story)

Oct 07, 2018

Veteran major leaguer Mike Pelfrey hits the books

(Story)

Oct 04, 2018

AAC rival, Memphis, reportedly sells out all 18,000 tickets for Memphis Madness

(Story)

Oct 03, 2018

What ever happened to that football helmet?

(Story)

Oct 03, 2018

Shamet signs shoe deal

(Story)

Oct 02, 2018

PHOTOS: University holds memorial service for victims of 1970 plane crash

(Story)

Oct 02, 2018

Wichita State memorializes plane crash that left 31 dead

(Story/Media)

Sep 30, 2018

Volleyball out of first place for the first time since joining AAC

(Story)

Sep 30, 2018

Sports briefs — Sept. 30

(Story)

Sep 28, 2018

PHOTOS: Softball falls short to Oklahoma State

(Story)

Sep 26, 2018

Lamb questions Wichita State's ceiling on offense

(Story)

Sep 23, 2018

Sports in brief — Sept. 24

(Story)

Sep 20, 2018

Wichita State's conference schedule includes home CBS broadcast

(Story)

Sep 20, 2018

Lamb's long road trip to build 3 years of competitive scheduling

(Story)

Sep 16, 2018

5-foot-11 point guard commits to Wichita State

(Story)

Sep 16, 2018

Volleyball still searching for signature win

(Story)

Sep 16, 2018

Stop the madness: Shocker Madness replaced with Black and Yellow Scrimmage

(Story)

Sep 12, 2018

Volleyball works through growing pains in midst of four-game losing streak

(Story)

Sep 10, 2018

Wichita lands Triple-A affiliated baseball team

(Story)

Sep 09, 2018

Volleyball falters, extends losing streak

(Story)

Sep 09, 2018

Bohm back in town

(Story)

Sep 05, 2018

Volleyball still receiving votes after two losses

(Story)

Sep 05, 2018

Pflugradt: This is the last straw

(Story)

Sep 05, 2018

Topham's year off shaped WSU cross country for an impressive one-two punch

(Story)

Sep 01, 2018

Topham wins in return, Shockers take top spots at J.K. Gold

(Story)

Aug 30, 2018

Star distance runner to return in cross country season-opener

(Story)

Aug 29, 2018

Wilkins Stadium upgrades nearing completion

(Story/Media)

Aug 29, 2018

Volleyball prepares for No. 1 Stanford

(Story)

Aug 26, 2018

Volleyball wins first two of weekend series

(Story)

Aug 25, 2018

Wichita State bankrolls Bredbenner into a five-year extension

(Story)

Aug 23, 2018

Selection committee will no longer favor RPI system

(Story)

Aug 23, 2018

Volleyball starts season Friday

(Story)

Aug 21, 2018

Ready Freddy: 93-year-old father of custard returns to college

(Story/Media)

Aug 14, 2018

Outfield viewing may be a thing of the past with new softball fences

(Story/Media)

Aug 14, 2018

Frankamp signs overseas pro deal

(Story)

Aug 13, 2018

Shocker volleyball favored to win American

(Story)

Aug 10, 2018

Here's when Freddy's Frozen Custard and Steakburgers opens at Wichita State

(Story)

Aug 10, 2018

Freddy's Frozen Custard and Steakburgers at Wichita State won't have this item on the menu

(Story)

Aug 10, 2018

Shocker Sports Grill and Lanes plans to expand menu with opening of Freddy's

(Story/Media)

Aug 10, 2018

Here's when Panda Express opens at Wichita State

(Story/Media)

Jul 25, 2018

President Bardo speaks before U.S. House subcommittee

(Story)

Jun 25, 2018

Wichita State to add Freddy's Frozen Custard & Steakburgers, Panda Express in the Rhatigan Student Center

(Story)

May 03, 2018

Where to whoop-diddy scoop poop at WSU

(Story/Media)

Apr 25, 2018

Co-founder Dan Carney welcomes visitors to Pizza Hut Museum

(Story)

Apr 24, 2018

Markis McDuffie enters NBA Draft

(Story)

Apr 23, 2018

Pflugradt: Austin Reaves' departure prompts unnecessary comments calling for more oversight

(Story)

Apr 19, 2018

22 schools have reportedly contacted Wichita State release Austin Reaves

(Story)

Apr 19, 2018

Austin Reaves granted release

(Story)

Apr 17, 2018

Pflugradt: Wichita State drives an unreasonably high price for open records

(Story)

Apr 09, 2018

Pflugradt: How The Sunflower and others are already feeling the effects of budget cuts

(Story)

Apr 03, 2018

Wednesday's softball game versus Kansas cancelled

(Story)

Apr 03, 2018

Landry Shamet forgoes junior, senior seasons; eyes pro career

(Story)

Apr 02, 2018

Pflugradt: Vote like you mean it

(Story)

Mar 30, 2018

Student Senate approves cutting The Sunflower

(Story)

Mar 27, 2018

Pflugradt: Wichita State wants to 'guarantee applied learning to all students.' Why is The Sunflower being threatened?

(Story)

Mar 17, 2018

NCAA Tournament: Jayhawks advance to the Sweet 16

(Story)

Mar 15, 2018

NCAA Tournament: No. 3 Michigan rolls past No. 14 Montana

(Story)

Mar 15, 2018

Made in March: Houston's Rob Gray leads Cougars into second round of NCAA Tournament

(Story/Media)

Mar 15, 2018

NCAA Tournament: Seton Hall advances to second round game with Kansas

(Story)

Mar 15, 2018

NCAA Tournament: Jayhawks top No. 16 Penn

(Story)

Mar 15, 2018

Kansas advances to second round of NCAA Tournament

(Story/Media)

Mar 15, 2018

Pflugradt: Rowing draws big money. Why?

(Story)

Mar 12, 2018

Who's who in the Wichita region for March Madness

(Story)

Mar 11, 2018

NCAA Tournament: Shockers seeded No. 4 in East region

(Story)

Mar 10, 2018

UConn fires head coach Kevin Ollie

(Story)

Mar 08, 2018

Pflugradt: Do what is right, not what is easy

(Story)

Feb 22, 2018

Wichita State can clinch top spot in the American if they win out

(Story)

Feb 21, 2018

Pflugradt: Athletic Department's decision could wipe out college tradition

(Story)

Feb 21, 2018

Bank of America adjacent to Wichita State campus robbed

(Story)

Feb 21, 2018

How Wichita State can clinch The American title

(Story)

Feb 21, 2018

Pflugradt: Give Caramel deLites the recognition they deserve

(Story)

Feb 18, 2018

#JusticeForBrian opens dialogue on the parking garage's odd class of rules

(Story)

Feb 08, 2018

Editorial: We stand with The Lantern

(Story)

Feb 05, 2018

Former Shocker turns ball-spinning hobby into career with Harlem Globetrotters

(Story)

Feb 01, 2018

Pflugradt: When the world slows down

(Story)

Feb 01, 2018

Pflugradt: Time for Terrible Tom to meet Father Time

(Story)

Jan 29, 2018

Grading Wichita State at midway through conference play

(Story)

Jan 28, 2018

Frankamp ends three-point streak at 40 games

(Story)

Jan 24, 2018

Pflugradt: Wichita State's emphasis for online-only degrees is moving too quickly

(Story)

Jan 22, 2018

Pflugradt: In-game promos are crowd killers, detrimental to Shockers' home success

(Story)

Jan 22, 2018

Pflugradt: Wichita State, Oklahoma slide in latest poll

(Story)

Jan 20, 2018

Tacko Fall to miss remainder of season

(Story)

Jan 17, 2018

Wichita State's Shamet, SMU's Emelogu among best from three

(Story)

Jan 15, 2018

Pflugradt: Trae Young delivers, Oklahoma jumps to No. 2 in latest poll

(Story)

Jan 11, 2018

Wichita State commits nominated to McDonald's All American team

(Story)

Jan 11, 2018

Landry Shamet named Wooden Award midseason finalist

(Story)

Jan 08, 2018

Pflugradt: Two Big 12 teams jump into the top 5 amid major weekend shake-up

(Story)

Dec 26, 2017

Kansas Board of Regents approve online degree in homeland security

(Story)

Dec 09, 2017

Shamet saves Shockers in Stillwater

(Story)

Nov 29, 2017

Pflugradt: C'mon with the custard—Wichita State needs a Freddy's

(Story)

Nov 28, 2017

Samajae Haynes-Jones scores career-high as Shockers battle injury-plagued backcourt

(Story)

Nov 28, 2017

Savannah State continues laborious road schedule at Wichita State

(Story)

Nov 26, 2017

Pflugradt: Examining the tax provisional that could bankrupt graduate students

(Story)

Nov 20, 2017

The Sunflower picks the Maui Jim Maui Invitational

(Story)

Nov 20, 2017

Shockers stay at No. 6 in AP poll

(Story)

Nov 20, 2017

Pflugradt: My walking tour of Innovation Campus

(Story)

Nov 15, 2017

Pflugradt: AP voter drops Wichita State 11 spots after winning 109-57

(Story)

Nov 12, 2017

Liberal Arts and Sciences needs a hero

(Story)

Nov 09, 2017

Shamet named to Naismith Trophy watch list

(Story)

Nov 08, 2017

Pflugradt: Conference realignment—How do teams typically fare in their inaugural season?

(Story)

Nov 08, 2017

Pflugradt: Will Gregg Marshall ever leave Wichita State?

(Story)

Nov 08, 2017

Two stress fractures won't define Shocker point guard Landry Shamet

(Story)

Nov 08, 2017

5 players poised for a breakout season

(Story)

Nov 08, 2017

Shockers score four-star point guard Alex Lomax, five others in early signing period

(Story)

Nov 02, 2017

Optimism is hurting Tobacco Free Wu & Me

(Story)

Nov 01, 2017

NCAA Tournament favorite? ESPN's BPI probability rankings say so.

(Story)

Oct 29, 2017

Cross country finishes middle of the pack in Shockers' first AAC Tournament

(Story)

Oct 29, 2017

The Sunflower recognized as second in Best of Show by Associated College Press

(Story)

Oct 25, 2017

Tobacco Free? Maybe.

(Story)

Oct 25, 2017

Shockers appear in top 5 of ESPN, CBS preseason polls

(Story)

Oct 22, 2017

Greeks can slide through the cracks with a little loophole

(Story)

Oct 22, 2017

Shockers tabbed No. 4 in Ken Pomeroy's rankings

(Story)

Oct 18, 2017

One-year-old LeBron James didn't win MVP; three-year-old Innovation Campus isn't the nation's leader in innovation

(Story)

Oct 18, 2017

Expect metal detectors, bag policy enforced at Koch Arena for Shocker Madness

(Story)

Oct 18, 2017

Markis McDuffie included on Forward of the Year watch list

(Story)

Oct 12, 2017

Dining disaster: Students who live at The Flats next year will be required to purchase a meal plan under housing proposal

(Story)

Oct 05, 2017

Why The Sunflower is livestreaming

(Story)

Oct 02, 2017

KBOR, Wichita State need to be mindful of conflicts of interest

(Story)

Sep 27, 2017

6-8 forward Morris Udeze picks Wichita State

(Story)

Sep 27, 2017

Robert Hinshaw named interim police chief

(Story)

Sep 25, 2017

Why can't WSU figure out The Flats?

(Story)

Sep 25, 2017

Squandering the First Amendment is inappropriate

(Story)

Sep 21, 2017

Not accusations, just stating the claims

(Story)

Sep 15, 2017

Multiple Wichita State campus art pieces vandalized

(Story)

Sep 15, 2017

UPDATE: Hut relocation will affect Monday traffic

(Story/Media)

Sep 14, 2017

Pflugradt: I'm not in love with your signs

(Story)

Sep 14, 2017

Stop letting the cable companies screw you

(Story)

Sep 07, 2017

You like that?! Sunflower editors give their picks for the 2017 season

(Story)

Sep 07, 2017

Response: Concerning free expression and a bulletproof vest

(Story)

Aug 31, 2017

Want to be a good roommate? Just do the damn dishes

(Story)

Aug 28, 2017

Wichita State names new Associate VP for Student Affairs

(Story)

Aug 28, 2017

Pflugradt responds: Chick-fil-A, you can stay

(Story)

Aug 24, 2017

New RSC tenant has a queso problem

(Story)

Aug 24, 2017

Don't blink on this free ink

(Story)

Aug 18, 2017

Kamron Doyle leaves Wichita State, joins pros

(Story)

Aug 09, 2017

Is worth it to be 'All American?'

(Story)

Jul 29, 2017

Shocker point guard Landry Shamet injured in summer camp, will undergo surgery Monday

(Story)

Jul 27, 2017

Thank Trump for ridding us of Gov. Brownback and his 'real live experiment'

(Story)

Jul 26, 2017

Trump appoints Gov. Brownback as religious freedom ambassador

(Story)

Jul 17, 2017

Lyston Skerritt resigns from Wichita State

(Story)

Jul 14, 2017

Wichita State to move students from university housing to private apartment complex, demolish Fairmount Towers

(Media)

Jul 14, 2017

Wash station installed in RSC

(Media)

Jun 27, 2017

Adiós, Doritos Locos: New food options coming to Wichita State

(Story/Media)

Jun 03, 2017

Fresh off a camel, Brian Regan heads to Wichita, preps for Netflix specials

(Story)

May 10, 2017

Student Body President Hungate issues statement of response, protestors continue sit-in

(Story)

May 10, 2017

Students protest Wichita State Student Body President Paige Hungate

(Story)

May 10, 2017

Letter to the Editor — 'Diversity is more than just a pamphlet'

(Media)

May 08, 2017

Shepard to press charges for alleged discriminatory incident

(Story)

May 08, 2017

University issues statement on hate speech, discriminatory behavior

(Story)

May 08, 2017

Bird found hung in Azad family's yard

(Story)

May 05, 2017

Student Body President Hungate's parents subject of alleged racial incident directed at former Student Body President Shepard

(Story)

May 04, 2017

The Sunflower year in review

(Story)

May 04, 2017

There's a lot of beauty in ordinary things

(Story)

May 01, 2017

Where is President John Bardo?

(Story)

Apr 27, 2017

President John Bardo discusses shared governance, campus changes

(Story)

Apr 21, 2017

Best of Wichita: Do not miss out on these doughnuts

(Story)

Apr 20, 2017

Daishon Smith announces transfer from Wichita State

(Story)

Apr 20, 2017

Starbucks' Unicorn Frappé is a thing of beauty, until you drink it

(Story)

Apr 19, 2017

Wichita State student named Collegiate Bowler of the Year

(Story)

Apr 18, 2017

NCAA selects Wichita to host NCAA Tournament in 2021

(Story)

Apr 17, 2017

Wichita State signs on with Under Armour

(Story)

Apr 15, 2017

Two Shockers to test NBA Draft

(Story)

Apr 13, 2017

Gov. Brownback signs bill to join WSU, WATC

(Story)

Apr 07, 2017

Wichita State ticket prices expected to increase with AAC move

(Story)

Apr 07, 2017

Boatright: 'We expressed a desire to go now and avoid the lame duck round around the Missouri Valley'

(Story)

Apr 07, 2017

American Athletic Conference unanimously approves Wichita State to join league

(Story)

Apr 06, 2017

Results of the 2017 SGA election

(Story)

Apr 05, 2017

Hungate elected Wichita State Student Body President

(Story)

Apr 04, 2017

With conference realignment pending, Wichita State waits on final word for AAC

(Story)

Apr 04, 2017

'There has been no invitation offered': Wichita State awaits probable invitation from American Athletic Conference

(Story)

Mar 30, 2017

Wichita State could make AAC move ahead of 2017 season

(Story)

Mar 29, 2017

Election Commission settles on debate moderator

(Story)

Mar 29, 2017

Sophomore Eric Hamilton granted release from Wichita State

(Story)

Mar 27, 2017

Pflugradt: Administration feuds continue to riddle the legacy of SGA

(Story)

Mar 23, 2017

Sources report Wichita State leave for the AAC could be pending

(Story)

Mar 19, 2017

Landry Shamet blocked at the buzzer, Wichita State falls to Kentucky

(Story)

Mar 19, 2017

'We are trying to be elite one day too': Wichita State's development compared to Kentucky's one-and-done system

(Story)

Mar 19, 2017

Seeking validation, Gregg Marshall prepares for personal battle Sunday

(Story)

Mar 19, 2017

Pflugradt: Nothing is impossible, Wichita State is 3-0 against No. 2 seeds for a reason

(Story)

Mar 19, 2017

Wichita State looks to stay undefeated against No. 2 seeds

(Story)

Mar 18, 2017

'I don't know anything about that': Kentucky players tout success, shamelessly ignore Wichita State

(Story)

Mar 18, 2017

In the battle of the mid-majors, Wichita State comes out on top

(Story)

Mar 17, 2017

Wichita State rallies, upsets Dayton

(Story)

Mar 17, 2017

Halftime: Wichita State trails No. 7 seed Dayton

(Story)

Mar 17, 2017

Vegas oddsmakers have No. 10 seed Wichita State projected to upset No. 7 seed Dayton

(Story)

Mar 17, 2017

Man who goes 0-16 in bracket challenge has Wichita State winning it all

(Story)

Mar 17, 2017

Arizona head coach Sean Miller doesn't have advice for Dayton's Archie Miller in planning for Wichita State

(Story)

Mar 17, 2017

Breaking down the Dayton Flyers

(Story)

Mar 17, 2017

How Gregg Marshall transformed Shaq Morris to be NCAA Tournament ready

(Story)

Mar 16, 2017

Dayton's frontcourt isn't as settled as their veteran backcourt

(Story)

Mar 15, 2017

Gregg Marshall may give Dayton head coach Archie Miller the sweats

(Story)

Mar 15, 2017

President Bardo issues response to sit-in

(Story)

Mar 12, 2017

'We're definitely underrated': Wichita State selected 10-seed in South region

(Story)

Mar 12, 2017

Bracket released: Wichita State earns a 10-seed in the South region

(Story)

Mar 12, 2017

Accuracy check: Joe Lunardi's 'Bracketology' success

(Story)

Mar 11, 2017

Seeding conundrum: Gregg Marshall's notorious battle with the selection committee

(Story)

Mar 09, 2017

Sleep easy, the Shockers are in the NCAA Tournament

(Story)

Mar 09, 2017
Mar 09, 2017

Pflugradt: If you're reading this, student fees affect you

(Story)

Mar 08, 2017

Students protest student fees increase for YMCA

(Media)

Mar 08, 2017

Experiential Engineering Building floor cracking, GoCreate set to open

(Media)

Mar 08, 2017

Shocker Safe Ride teaming up with Uber

(Story)

Mar 02, 2017

We're a nation divided on hate crimes

(Story)

Feb 28, 2017

Shamet named MVC Freshman of the Year

(Story)

Feb 28, 2017

Shamet, McDuffie land on All-Valley first team

(Story)

Feb 27, 2017
Feb 20, 2017

Koch Arena nears funding goals

(Story)

Feb 20, 2017

Wichita State: Please put students back in the student section

(Story)

Feb 17, 2017

Ron Baker living NBA dream, relishing in rookie season

(Story)

Feb 13, 2017

Pflugradt: The rent is too damn high

(Story)

Feb 11, 2017

Rematch with Kansas? ESPN thinks so.

(Story)

Feb 10, 2017

Former Shocker reaches nationally televised bowling championship

(Story)

Feb 10, 2017

The Flats at WSU announces leasing options, students weigh in on prices

(Story)

Feb 02, 2017

Farewell, friend.

(Story)

Jan 30, 2017

Want to break ground on Braeburn Square? Here's what it takes.

(Story)

Jan 30, 2017

Wichita State prepares for immigration ban

(Story)

Jan 25, 2017

How Brownback's higher education budgets affect Wichita State

(Story)

Jan 23, 2017

Wichita State's porcelain thrones: The top spots to poop on campus

(Story)

Jan 19, 2017

SGA campaign spending cap proposed

(Media)

Jan 17, 2017

Experiential Education building opens at Wichita State

(Story)

Jan 14, 2017

Illinois State claims top spot, Shockers suffer first MVC loss

(Story)

Jan 14, 2017

Halftime: Shockers trail Illinois State, hot shooting numbers fall in final minutes

(Story)

Jan 11, 2017

Could Wichita State run the table in conference play? An answer could come this week.

(Story)

Jan 07, 2017

Baker, VanVleet secure guaranteed contracts

(Story)

Dec 20, 2016

Pflugradt: Billy Willson challenged college. Here's what we can learn from his viral social media antics.

(Story)

Dec 17, 2016

Pflugradt: Wichita State's winning recipe left buried in the snow

(Story)

Dec 12, 2016

'They want everyone to get along and work for the common good': Race relations discussed from all sides

(Story)

Dec 09, 2016

Jyar Francis transfers out of women's basketball program

(Story)

Dec 09, 2016

University Police Chief releases statement on controversial chalk drawings

(Story)

Dec 03, 2016

Pflugradt: Daishon Smith is Wichita State's only true point

(Story)

Nov 17, 2016

Teri Hall named Vice President of Student Affairs

(Story)

Nov 15, 2016

Brown, McDuffie compete for starting role

(Story)

Nov 15, 2016

Meet Austin Reaves: The freshman who 'catches a lot of people off guard'

(Story)

Nov 15, 2016

Family support guides Landry Shamet for take two

(Story)

Nov 15, 2016

Meet Rauno Nurger: Gregg Marshall's do-it-all forward

(Story)

Nov 14, 2016

Pflugradt: It's time we unite; accept the results

(Story)

Nov 14, 2016

'America was always great': WSU students and local activists protest President-elect Donald Trump

(Media)

Nov 09, 2016

Donald Trump elected 45th president of the United States

(Story)

Nov 07, 2016

Campus going tobacco-free in 2017

(Story)

Nov 03, 2016

Five tips to vote the right way

(Story)

Nov 03, 2016

Pflugradt: 'You're all gonna die' from boredom watching horror movies

(Story)

Nov 03, 2016

Donald Trump: From media-centric business mogul to presidential frontrunner

(Story)

Oct 27, 2016

'There's been challenges': Assistant superintendent discusses Wichita Public Schools

(Media)

Oct 22, 2016

VanVleet scoops final roster spot

(Story)

Oct 21, 2016

Zach Brown: new season, new dew

(Story)

Oct 10, 2016

'It's part of the heart': grieving takes time

(Story)

Sep 25, 2016

Monday's debate expected to polarize nation

(Story)

Sep 22, 2016

Peyton Allen announces departure

(Story)

Sep 22, 2016

Online student on a road to rave

(Story)

Sep 22, 2016

Cleared for takeoff

(Story)

Sep 15, 2016

Campus braces for leaky structures; community shares concerns

(Story)

Sep 12, 2016

Young claims Gold in Rio

(Story)

Jul 11, 2016

No fireworks yet, Wichita State ready to start talking football

(Story)

Apr 28, 2016

Campus closes Tuesday in advance of threatening severe weather

(Story)

Apr 21, 2016

Professional experience prepares Wesley Low, Wichita State for bowling's national spotlight

(Story)

Apr 19, 2016

Players receive postseason awards in farewell ceremony

(Story)

Apr 11, 2016

Shocker Sound tuned out of student fees budget

(Story)

Apr 01, 2016

Campus printers victim of off-site hacking

(Story)

Mar 31, 2016

Freshman guard Ty Taylor transfers from Wichita State

(Story)

Mar 19, 2016

Angel Rodriguez steals second half comeback, seniors reflect on career end

(Story)

Mar 18, 2016

Don't call it an upset

(Story)

Mar 18, 2016

VanVleet, team-defense eliminates Arizona, Shockers advance to Round of 32

(Story)

Mar 17, 2016

Baker, VanVleet block out thoughts of possible college finale

(Story)

Mar 17, 2016

Baker matches up with Pan-American teammate in Providence

(Story)

Mar 17, 2016

Adrenaline rush fuels WSU, players quickly prepare for Arizona

(Story)

Mar 17, 2016

VanVleet ready to play now, players quickly prepare for Thursday game

(Story)

Mar 16, 2016

Nurger sparks new life in Shockers' post play, Shockers thrash Vanderbilt in Dayton

(Story)

Mar 16, 2016

Nurger sparks new life in post-play, Shockers thrash Vanderbilt in Dayton

(Story)

Mar 15, 2016

Shocker fans make 800-mile journey to Dayton

(Story)

Mar 15, 2016

Shocker fans go the distance

(Story)

Mar 15, 2016

Big men to challenge Shockers in First Four

(Story)

Mar 15, 2016

Gregg Marshall's thrill of defying the odds carried into First Four

(Story)

Mar 10, 2016

Bubble Watch: Shockers' hope of making field of 68 may rely on eye test

(Story)

Mar 05, 2016

Shockers fall in semifinals of Arch Madness

(Story)

Mar 04, 2016

Shockers draw Northern Iowa in semifinals

(Story)

Mar 04, 2016

Baker leads second half rally, Shockers survive quarterfinals

(Story)

Mar 04, 2016

Bring on the madness, Frankamp ready for favorite month

(Story)

Mar 04, 2016

Shockers get Ramblers in Arch Madness

(Story)

Mar 03, 2016

VanVleet named Player of the Year, McDuffie Freshman of Year in Valley awards

(Story)

Mar 03, 2016

Shockers head to Arch Madness

(Story)

Feb 28, 2016

Seniors raise trophy, jerseys in emotional farewell

(Story)

Feb 25, 2016

Seniors prepare for emotional finale

(Story)

Feb 25, 2016

Baker, Grady lead as Shockers roll past Loyola in final road game

(Story)

Feb 22, 2016

Shockers claim back-to-back-to-back MVC titles

(Story)

Feb 19, 2016

Sophomores post career-highs; Shockers slam their way to victory

(Story)

Feb 18, 2016

Missouri State Bears to battle Wichita State on Thursday

(Story)

Feb 16, 2016

Shockers' improved shooting numbers hold off New Mexico State

(Story)

Feb 14, 2016

Eck Stadium adds luxury scoreboard; more upgrades on the way

(Story)

Feb 14, 2016

Sam Tewes tips his cap to Wichita State loyalist

(Story)

Feb 13, 2016

Panthers break nation's best home winning streak at Koch Arena

(Story)

Feb 12, 2016

Balanced offense ignites, Shockers down Bulldogs

(Story)

Feb 08, 2016

Redbirds break the streak, Shockers record first conference loss

(Story)

Feb 08, 2016

NFL closes half-century of football, Broncos win Super Bowl 50

(Story)

Feb 04, 2016

Marshall eclipses program milestone, Shockers stay undefeated in the Valley

(Story)

Feb 01, 2016

The Sunflower's Missouri Valley Conference mid-season awards

(Story)

Feb 01, 2016

Wichita State survives defensive battle, VanVleet leads with career night

(Story)

Jan 28, 2016

Shockers blast Ramblers for 10-straight victories

(Story)

Jan 25, 2016

Student upgrades his ride after hitting miracle shot

(Story)

Jan 25, 2016

Student upgrades his ride after hitting miracle shot at halfcourt

(Story)

Jan 25, 2016

Shockers capture first conference win, victorious in back-to-back home games

(Story)

Jan 23, 2016

Shockers trounce young Braves, stay undefeated in Valley

(Story)

Jan 20, 2016

McDuffie leads second-half rally in UNI road game

(Story)

Jan 17, 2016

VanVleet shows off scoring versatility in win over Indiana State

(Story)

Jan 07, 2016

Anton Grady revitalizes post-play as Shockers outlast Evansville

(Story)

Dec 14, 2015

Shockers topple Utes at Intrust Bank Arena

(Story)

Dec 04, 2015

Anton Grady recovering from spinal concussion

(Story)

Nov 29, 2015

Grady to be released from hospital

(Story)

Nov 27, 2015

Grady sidelined with spinal concussion; fans to celebrate 'Grady Day' Saturday

(Story)

Nov 27, 2015

Alabama hands Shockers second straight loss; Anton Grady hospitalized

(Story)

Nov 26, 2015

Shockers stunned in Orlando

(Story)

Nov 23, 2015

Marshall earns 400th win as Shockers trounce Hornets

(Story)

Nov 19, 2015

Hurricanes top Shockers in road loss

(Story)

Nov 16, 2015

Cross country ends season with two top 10 finishes

(Story)

Nov 12, 2015

Nonconference play opens with game against Charleston Southern

(Story)

Nov 11, 2015

Coaches look for 'diamonds in the rough,' character

(Story)

Nov 11, 2015

Evan Wessel: Essential to the winning formula

(Story)

Nov 11, 2015

Young team lands women in fifth

(Story)

Nov 11, 2015

How the men will shape up in the MVC

(Story)

Nov 08, 2015

Freshmen showcased in 91-57 exhibition win

(Story)

Nov 08, 2015

Shockers rally fourth-quarter exhibition win

(Story)

Nov 05, 2015

Men's, women's bowling teams travel to Lawrence for weekend tournament

(Story)

Nov 02, 2015

Cross country finishes on top in conference tournament

(Story)

Oct 29, 2015

WSU cross country to compete in MVC conference tournament

(Story)

Oct 26, 2015

Shocker Madness kicks off official start for men's, women's basketball

(Story)

Oct 19, 2015

Cross country teams compete in Pre-National Invitational

(Story)

Oct 15, 2015

They've made it this far: Royals win ALDS game 5

(Story)

Oct 05, 2015

Cross country surpasses school record at Chile Pepper Festival

(Story)

Oct 01, 2015

Shocker cross country to kickoff first all-team event this weekend

(Story)

Oct 01, 2015

Westar Energy CEO talks internships, employment

(Story)

Sep 23, 2015

Sports Management alumni take center stage in NFL

(Story)

Sep 23, 2015

Students find success with internships

(Story)

Sep 21, 2015

Shockers take first in Nebraska cross country tournament

(Story)

Sep 09, 2015

Shocker Safe Ride provides peace of mind

(Story)

Sep 06, 2015

Men's, women's cross country finish first in J.K. Gold Classic

(Story)

Aug 30, 2015

Large crowds turn out for weekend cricket tournament

(Story)