Art show rallies community around refugees
According to one famous fictional Kansan, there's no place like home. For many refugees relocated to the Sunflower State, however, that home is halfway around the globe, and Kansas is still a strange and intimidating place.
WSU Shift Space gallery has teamed up with the International Refugee Committee and Episcopal Migration Ministries to present "#WelcomeHome," an exhibit featuring the artwork of 60 refugees adjusting to their new lives in Kansas.
June 20th—World Refugee Day—Shift Space hosted a public event showcasing the work and celebrating the artists' culture with a day of music and dancing. Gallery director Lisa Rundstrom said the show presented an opportunity for the refugees to share their unique stories with the community.
"We tried to build on a narrative of home so they could tell a story or share some of their experiences or something from their culture or something here that means home to them," Rundstrom said.
Roughly 50 of the artists are children, and the walls of the gallery are covered in crayon drawings made in the unmistakable and universal style of children's art.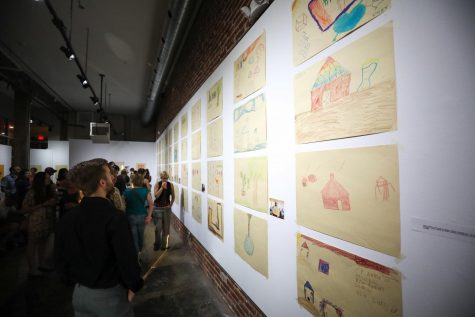 Rundstrom said that the World Refugee Day event became a community bonding experience for everyone involved.
"At first, everyone was very reserved and shy, but as the day went on we had musicians and activities happening, and girls were dancing African dances and the police officers who were a part of the community invite representing the Wichita Police Department started dancing with them," Rundstrom said.
Rundstrom said that such experiences that break down barriers between cultures are necessary in a time of politically-charged rhetoric when refugees are often misunderstood.
"You have to understand that these people are in very severe crisis," Rundstrom said. "They've had terrible trauma but they want to work, they want to be successful, and they want to assimilate into the culture."
Rundstrom said that oftentimes political ideology gets in the way of understanding refugees, leading people to mistrust or even fear them.  Meeting face to face offers a chance for people to do away with misconceptions and humanize each other.
"This isn't about ideology—this is about people, and that's why I think it is very important for us to have a platform where people can have the opportunity to make those connections or even just be in the same proximity as one other," Rundstrom said. "They can see the children and understand, oh, they're just like my child and they draw the same kind of picture."
Art on its own has always been a powerful form of communication, and community events such as the World Refugee Day celebration can open a dialogue and make Kansas a more inviting place for everyone who calls it home.
"The more polarized our country is, the more of a need we have to communicate and to break down stereotypes and assumptions about these people and to actually get to know them," Rundstrom said. "It's very easy to dislike someone you don't know, but when you know someone and you meet them, it's a very different story."
About the Contributors
Matthew Kelly, Former Editor in Chief
Matthew Kelly is a former editor in chief and managing editor for The Sunflower.  Kelly graduated in 2020 with a bachelor's degree in political science...
Matt Crow, Former Sports Editor
Matt Crow is the Sports Editor for The Sunflower. Crow is a senior at Wichita State majoring in communications with an emphasis is electronic media. He...