Project Run-a-way winner shows at Shiftspace
Downtown Wichita was crawling with nightlife last week the first Final Friday of the fall semester. Commerce Street boomed with people coming from all over the city to see the galleries, including WSU Shiftspace.
The art pieces shown at Shiftspace were from contestants who won in Project Run-a-way last fall. Not only were collaborative pieces displayed, but artists were allowed to exhibit their stand-alone pieces.
"I have another piece – my hand drawn pieces – I spend months at a time working on and it represents more where my head's at," senior Marian Crook said. "I post progress pictures, which lets people into my world."
Since Shiftspace is WSU-owned, it gives an outlet to students for sharing their artwork.
"The teachers and art department are awesome," Crook said. "They encourage you to take art to the next level."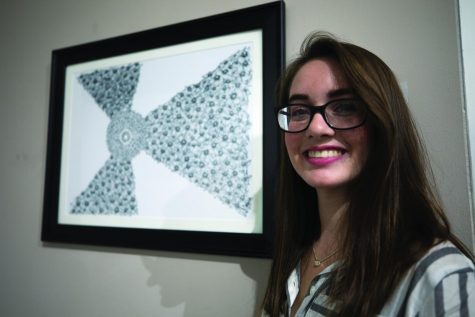 Since the resignation of Lisa Rundstrom, former Shiftspace gallery director who accepted a position at the Savannah College of Art and Design, Interim Gallery Director Tanna Burchinal has helped to curate exhibits.
"We will miss her [Rundstrom] dearly," Burchinal said. "We are in the process of finding a new gallery director."
"I will be in this position until we find one," Burchinal said. "I don't know who yet, because we have just started the process."
Burchinal works for the studio at WSU, too, and is just as passionate about art as the artists in the show are.
"Art is just another way to communicate, at its base form," Burchinal said.
Burchinal said that Final Friday is a way for the Wichita community to come together, try something new, and explore art.
About the Contributor
Brian Hayes, Former Photo Editor
Brian is the photo editor at The Sunflower. Hayes is a junior majoring in mass communication with an emphasis in journalism. He is from Wichita. Hayes enjoys...