French play fosters community, cultural partnership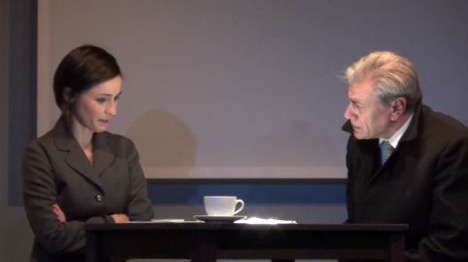 Germany 1925 — a country in fear as Nazi ideas gain prominence. Jewish student Hannah Arendt studies philosophy from professor Martin Heidegger. Quickly their relationship moves beyond the classroom, passion replaces fear, and Arendt finds new hope.
Here lies the beginning of an award-winning story — "Un rapport sur la banalité de l'amour," translated to "A Report on the Banality of Love" — by Maio Dianette, coming to campus Thursday.
The play features two French actors, Maïa Guéritte and André Nerman, both from the Compagnie Caravague, Paris. Although it will be performed in French, the play will include English subtitles.
Baldrige Wilson, department chair, explained how the play brings together the community.
"We feature French theatre every year as a recruitment activity," Barrington said. "Anyone in the area is invited … it's about recruitment and community."
As a partnership with different French theater companies, Wilson said the Department of Modern and Classical Languages and Literature has brought different French shows to campus for over 25 years.
Wilson said he hopes the play conveys the significance of the culminations of cultures like language, and that political subtexts can speak to audiences of today's society.
"We talk a lot about applied learning, the sciences and humanities," Wilson said. "As a writer, you have affinities with philosophy, religion.
"The play encapsulates lots of relevance for history … philosophical thinking, and literature because these philosophers wrote about the importance of the basics to the humanities."
Recently performed in New York, the actors will showcase the performance at 7:30 p.m. tonight in the CAC Theater. Tickets are free to the public. The show runs for about 80 minutes.
Leave a Comment
About the Writer
Abigail Faflick, Reporter
Abigail Faflick is a reporter for the Sunflower. Faflick is a freshman studying Music Education and Vocal Performance, with a minor in Spanish. She is...