48 years: Matson reflects on his time at Wichita State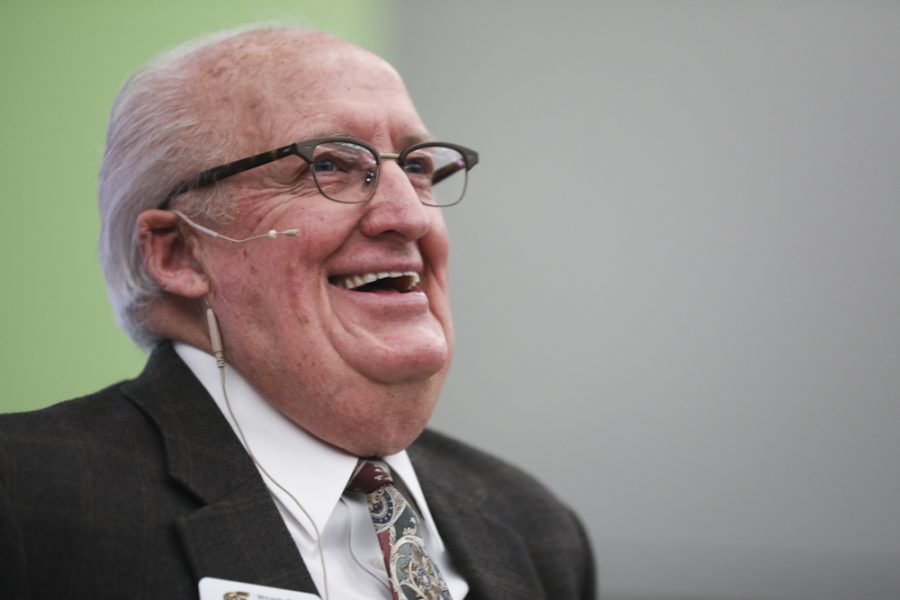 Though his classes average a couple hundred students, Ron Matson has a knack for making each person feel as if he speaks directly to them.
"He can take a room full of 300 people and make you feel like he's talking to you personally," said Chuck Koeber, who works alongside Matson as an associate dean in the college of liberal arts.
Last month, Matson, who is the dean of the college of liberal arts and sciences, announced he will retire after 48 years at WSU. In that time, he has taught 35,000 students.
The classroom was never just about teaching, Matson said. Through questions and observation, Matson said students gave knowledge back to him in every lesson.
"It's a ludicrous idea to have 60, 80, 100, 200 people in a classroom and you be the only one who knows anything," Matson said. "There's always something to learn."
Matson was honest and open about his own life with students. That made students feel comfortable sharing stories about themselves.
Rick Parkhurst, a freelance copywriter who took classes from Matson in the '90s, said, "He always made sure that you knew your voice was heard."
Parkhurst said it's been two decades since he took Matson's courses, but he can clearly remember many of them. And the lessons resonated with Parkhurst, beyond tests and quizzes.
"Many of the things he said, I've applied as a parent," Parkhurst said. "To this day, I use his teachings, and I feel that I'm a better parent and have a great relationship with my sons because of that.
"When their lessons stand the test of time, that's the sign of great instructor."
Matson's influence was strong enough to make some students change their whole career trajectory.
Lori Knight, who took his classes in the late 2000's, said Matson was the reason she decided to major in sociology.
"I learned so much in his class — not just about the subject, but about life."
'Living in the here and now'
Matson's approach to teaching was not something he was born with, he said. It came from meditation early in his career focused on "living in the here and now."
"When you can bring your whole self into a moment like that, with all the energies that you have — physical, emotional, social, intellectual, spiritual — phew. You don't get tired or bored."
Each year of teaching was a challenge of getting students to listen and learn from what he was saying, Matson said.
"If I were an artist, it would be like painting a picture," Matson said. "There's a profound sense of challenge, accomplishment and creativity that it takes to do teaching the way I like to do it."
Transitioning to dean presented new challenges, Matson said. One of those challenges was going from working largely with students to working largely with faculty.
"I miss students greatly in this position," Matson said. He still teaches as dean, but it's just one class instead of four a semester.
Matson said being dean taught him to depend on others in a whole new way. One man can't run an organization the size of Fairmount College on his own. There are over 350 employees in the college, with 17 departments.
"It's a huge conglomerate of activity … and I thrived in this."
Matson said he still feels he's thriving, but at 75 — which he'll turn in June — "sounds like long enough," he said.
"I know people who have outlived their legacy and weren't doing well by the time they left," Matson said. "Maybe they didn't have a good relationship with the institution and felt like they weren't appreciated. I don't want to be like that. I want to leave when it's the right time for me."
Matson said retirement wasn't something he mulled over or contemplated.
"I wasn't one of that people that 20 years ago set a retirement date," Matson said. "I always felt like if I was enjoying it, and I thought I was doing a good job, then I'd just keep working."
He could have retired a decade ago, he said, but he's been pushing it out, two years at a time.
"I was thinking about that this fall and thought, 'June of '19, how does that sound?' And then I thought, 'I could do this in June of '18.' And at that point, when I just entertained the idea, there was this sense of freedom and exhilaration that came over me.
"So I knew it was time."
Retirement was inevitable, but finishing the job at an institution so attached to Matson's spirit was never going to be easy. He loves Wichita State, he said.
"We all come and work together, and that somehow makes up Wichita State University at each moment," Matson said. "And so, over 40 years, there have literally been thousands and thousands of people who created this mystique that I think of as 'Wichita State University.'
"Whether that's a basketball coach or whether it's an assistant professor or distinguished professor, dean, president, we're all contributing something that enriches the fabric of the institution."
The classroom has kept Matson young, motivated and excited about teaching for years, he said.
When he walks into a classroom full of students who are there "because they want to listen to something I have to say," Matson said he still feels humbled.
Come the end of the spring semester, Hubbard Hall will be missing one of its longest reigning lecturers.
"It'll be a bittersweet moment when I walk out of my last class next spring after being in the classroom for 52 years. I hope I can look in the mirror the next day and say, 'Job well done, Ron. Job well done.'"
Men and masculinities
Part of Matson's legacy will be defined by his Men and Masculinities course, created and first taught by him in 1979.
Matson said he formed the course at a time in his life when he was having personal growth issues stemming from his masculinity, which got in the way of him being the person he wanted to be.
"I discovered that, to become the person I wanted to become some day, I was going to have to get rid of a lot of my masculinity. I was going to have to set it aside."
Through this increased personal awareness of gender, and an awareness of the second-wave feminism of the '60s that increased academic legitimacy to the study of gender, the class was born.
"We who study men in men's study classes really stand on the shoulders of our feminist sisters who went before us," Matson said. "We didn't do anything that they didn't teach us how to do."
Five presidents
Four presidents — Beggs, Armstrong, Ahlberg and Hughes — came and went from the university during Matson's 42 years. All had different visions for the institution, but none, Matson said, have moved the university as rapidly as the fifth, President John Bardo, who came to the university in 2012.
"The institution has changed more in the last five years than it did in the previous 40," Matson said. "I'll go to the bank with that."
Before Bardo, there were years of growth, and there were years of decline, but there wasn't anything "new," Matson said.
"We weren't moving the institution in a new direction in hopes of embracing the future," Matson said. "I think Bardo's vision and leadership has put us in that direction."
Still, all the presidents were good people who did good things for the university, Matson said. It's all about leaving something behind, Matson said.
"This institution is going to outlive all of us. It's been here for 120 something years now, and it's going to be here 200 years from now. All we're doing as we unfold our lives and our careers here is leaving something behind. We're creating a wake as we move through here that will probably have some kind of permanency.
"Hopefully what you do in your time is add to, rather than take away from."
About the Writer
Andrew Linnabary, Digital Managing Editor
Andrew Linnabary is the 2018-2019 Digital Managing Editor of The Sunflower.

He is a senior studying journalism and minoring in English. Linnabary is...