'Art That Touches Your Heart' brings campus communities together
Members of the WSU community gathered around the Cadman Art Gallery in the RSC last Friday as ODI sponsored the seventh annual Art That Touches Your Heart event. The event, co-sponsored by an organization of the same name, serves as a platform through which African-American artists can showcase their art.
The art on display extended beyond just the Cadman itself, covering all of the tabling space in the RSC, and featured art from a variety of different mediums including collage, sculpture, textiles, watercolor and traditional painting.
For some artists, the work extended to represent their family, culture, lifestyles and more.
"I drew this in specific because that's the Oklahoma State flower and my mother and my grandmother were born in Oklahoma," painter Dominique Joiner said.
Another artist, Anthony Dozier, described his art as being abstract and took pride in its non-traditional elements.
"We have pieces that are 100 percent green and interactive. They don't just hang on your wall," Dozier said.
He said he likes that he can take something which was once thrown away and turn it into something that you would want to show people.
For Mohamed Sharif, he made it clear that what he had on display was not his creation.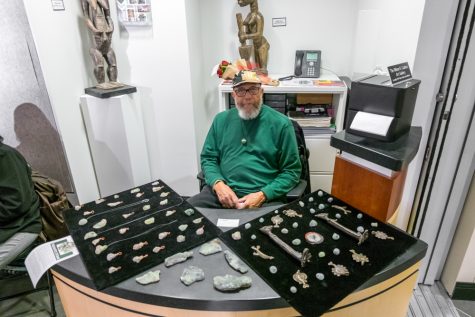 "This is traditional African art from West Africa, so how can I make it?" Sharif said. "I go to West and Central Africa and collect this artwork, bring it back and preserve it, educate people about it."
To Sharif, education is an important part of the event and what he does.
"It's important to help provoke people to know not only about the history but about the presence of what's going on inside these countries where this tradition is," Sharif said. "And what it does for young people is it provokes their interest so they can research and study so they can understand about it for the future."
Joiner said the event not only provided an opportunity for artists to express themselves "but also to enjoy the beauty of someone else's mind and everyone's individuality."
Dozier said he is thankful that the university gives him the chance to "let the nation know" about his art.
"This is history in the making," he said. "I heard this lady say that Wichita art is the best-kept secret in the nation. But we're gonna change that."
About the Contributor
Tanat Maichan, Photographer
Tanat Maichan (Tat) is a photographer for The Sunflower. Tat is a junior majoring in aerospace engineering with a minor in mathematics. He is from Bangkok,...