President of Ambassadors for Diversity and Inclusion selected as a 'Phenomenal Woman' of 2018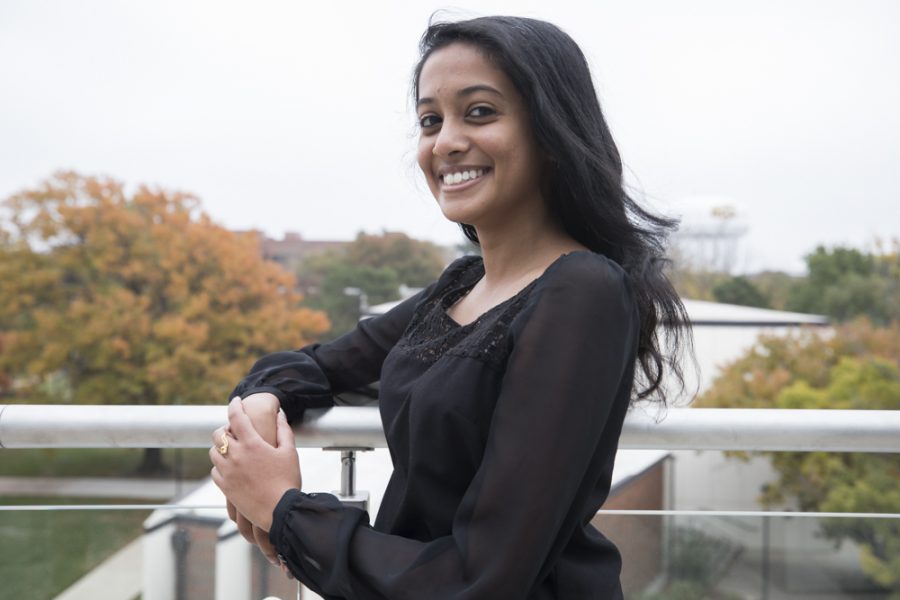 Kavya Natesan, president of the ambassadors for diversity and inclusion, is one of the Office of Diversity and Inclusion's three "Phenomenal Women" of 2018.
As a senior biology major at Wichita State, Natesan is studying with a pre-medical emphasis, and aspires to practice medicine.
"When they announced my name, I couldn't believe it," Natesan said.
Natesan described her experience with student groups like ODI, the Pre-Medical Student Association and the Student Ambassadors Society as "diversified."
"My experience at Wichita State has truly been transformative," Natesan said. "I came into Wichita State wanting to be a doctor, and that's the only that I was focused on, getting my clinical experiences, not really looking at extracurricular involvement."
After becoming involved with several student organizations, Natesan said she "really understood the importance of leadership, but also the scope of involvement."
Natesan served as a student senator during her second and third years at Wichita State. In 2015, she was crowned Miss Black and Gold during Alpha Phi Alpha's annual pageant.
"It's essentially a pageant that helps women understand how to . . . embody the confidence that they already have," Natesan said. "To help you understand how critical it is to be an empowered woman and what exactly that means."
Natesan now helps out with the Miss Black and Gold pageant every year.
Through her work with ODI, Natesan said she developed a better understanding of "the scope of diversity," and how that could be important as a physician.
"If I'm helping treat marginalized populations, helping their communities and sustaining them, [diversity] is a really important part of that," Natesan said. "I wouldn't have even recognized that if it wasn't for the office."
ODI Program Coordinator Danielle Johnson said that Natesan has "really helped mold the mission of the organization."
"As far as her presence at the office, she has come in daily, and really showcased her leadership with other students," Johnson said. "She really walks her talk by being a leader in several capacities."
Natesan said she ultimately hopes to practice intersectional medicine, which "[combines] community engagement and advocacy" with standard medical practice.
"I think of [the ODI Phenomenal Women Award] as not just a representation of what I've accomplished thus far, but more of an emblem of what I need to continue doing," Natesan said.
Natesan said there is a "huge discrepancy between the administration's perception of the student body, and how exactly the student body wants that to be addressed."
"There's a lot that's happening that students don't have a say in," Natesan said. "We have bodies like SGA, but I think the scope of that is somewhat limited."
For this reason, Natesan said that it was important for the WSU administration to be open to the student body in all of its decisions.
Natesan described issues of transparency with the WSU administration, citing a Sunflower article about heavily redacted records obtained through the Kansas Open Records Act.
"In the case of transparency, truly working towards making this a student-focused institution and being able to involve students in all facets of administrative decision-making is the most important part," Natesan said.
About the Writer
Daniel Caudill, Editor in Chief
Daniel Caudill is the editor in chief for The Sunflower. A staffer at the paper since 2017, Caudill first covered Student Government Association and general...