'The Color Line' photography project brings the face of North Wichita into focus
On Final Friday, Jan. 25, a diverse crowd packed the Kansas African American Museum for the opening reception of "The Color Line: Faces from North Wichita." Organized in collaboration with the non-profit organization Horizontes, the exhibit included portrait, audio, and video interviews featuring residents from Wichita's North End and Northeast neighborhoods. The show opened with a galley that defined "The Color Line" as: exploring "the axis of neighborhood stratification as defined by labor, migration, and racialized identities in North Wichita's most iconic neighborhoods."
Horizontes hired four photographers to capture the portraits — Alexis Rivierre, Xavier Leija, Ashwin Govindarajan, and Juan Garcia. These portraits offer "living testimonies" of people who have been systematically neglected by city resources, yet overcame adversity to become pivotal members of their communities.
Keeping with Horizontes' mission to facilitate social change through public art, the photographs were paired with personal stories that aimed to break down stereotypes. The project represented the organization's stance that social change can be initiated by transforming a historically oppressive dividing line into a deepening connection of community.
It was almost too crowded to view the vibrant portraits that lined the walls. The positive energy was palpable — animated discussions and a sense of optimism filled the room. Every photograph displayed held a story; each portrait was unique and powerful. The art felt like a celebration of self-determination and empowerment of disenfranchised individuals.
Carol Cole was not only an attendee, but also a subject in one of the portraits. She led me by the hand to a large photograph of laughing people with a sun setting behind them.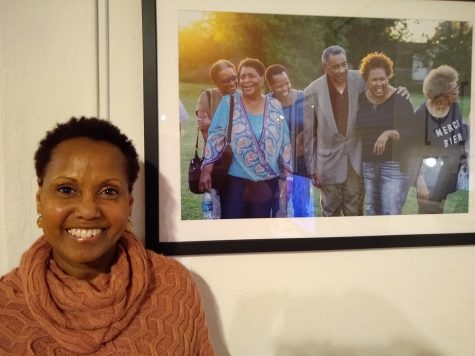 "Horizontes contacted my sister (Carla) and asked if we could all come together again in our old neighborhood," Cole said. "I said, 'You know, I bet we could get together.'"
From there, 15 to 20 people gathered on the corner of 27th and Fairmount. Their images were captured before they walked down the street, holding hands. Cole hadn't seen some of her old neighbors in over 40 years. She lived in that neighborhood from age eight to eighteen — 1967-77.
"It wasn't just a neighborhood — it was a family," Cole said. When asked if the neighborhood had changed, she nodded vehemently. "Yes, there was nobody outside … It's just a different world now."
What did this night represent for her? "[It showed] that we're all the same," Cole said. "I'm just so grateful for the opportunity to be a part of this project and proud of the young people who put it together. The tentacles are going to be far-reaching. We can all appreciate every bit of it."
I left the art opening with Cole's words in my head — ​the tentacles are going to be far-reaching. ​With an attendance of 200 people at the reception, the project has confidently begun moving toward the end it seeks.
The Kansas African American Museum is located at 601 N. Water Street in Wichita, Kansas. The exhibit is open through May 18.
Leave a Comment
About the Contributor
Becca Yenser, Writer
Becca Yenser is a writer for The Sunflower.