'Tis the season for tattoos
The holiday season has come and you've decided to treat yourself to your first tattoo. But consider some things before you put some ink on your skin.
There's a lot to think about when you decide to get a tattoo. What shop do you go to? What design you get? Where do you have your tattoo painted?  How much does it hurt? How do I take care of it after?
Think before you ink
Everyone has his or her own process. Some people will think about it for years and impart deep meaning into their tattoos. Others will impulsively tattoo any rad design they see, sticking it on their body forever as easily as they stick a fresh sticker on a MacBook.
There's no right answer for this. It's just however you feel.
Elliott School of Communication lecturer Michelle Dreiling has several tattoos.
"I would warn against making a rash decision," Dreiling said. "I would encourage first time tattoo getters to really think about it, think about the concept, think about placement and all of those things for a good chunk of time."
Another thing to think about before getting a tattoo is money. The adage "you get what you pay for" is resoundingly true when applied to a tattoo purchase. You can't keep the receipt and take it back if you don't like it.
"Don't be scared to pay money for a good tattoo," Dreiling said.  "I think a lot of people starting out look at just getting something cheap, and it's going to be on you forever. So you just gotta suck it up and pay extra."
Pain is another factor. Everyone has unique pain tolerances. What may hurt someone else may not even register to you. Ottawa University student Emma Hickey was about to get her second tattoo and suggested not overthinking the pain.
"Go in telling yourself it's not that bad," Hickey said.  "I was much calmer this time. Don't psych yourself out about it."
Pick your shop
When picking a tattoo shop consider the style of tattoo you want and the vibe you're comfortable with.
Jordan Hall, an accounting major at WSU, makes it sound simple.
"Go with your gut, it if you walk into a shop and immediately get a bad vibe, turn around and don't waste your time, find somewhere else," Hall said.
Most shops have several artists, each specializing in different styles of tattoos.
Chris Edwards has worked at the front of the Artist At Large tattoo shop for six years said to shop around and don't be afraid to ask questions.
"Go into shops, check out portfolios, see whose style you like, because not everyone does the same stuff," Edwards said. "Go to whoever makes you comfortable."
When you finally do find the artist and shop for you, Edwards recommended bringing designs you like and work with your tattoo artist. They want you to be happy with the result.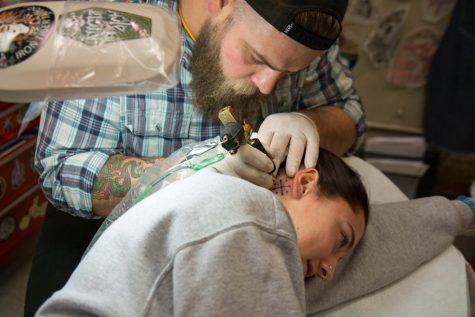 Get that tat
You've thought about what you want to get tattooed. You've picked a shop and artist that you vibe with. Go for it. After you've gotten your new tattoo take care of it. Everyone's skin reacts differently. There are dozens of varying ways to take care of your sweet tattoo. General rules include keeping it out of the sun and don't go swimming or lounge in a hot tub for hours. Your tattoo artist will guide you through their recommended way for tattoo care. If there's excessive irritation or redness contact them immediately or return to the shop. You've got your new tattoo and you couldn't be more pleased, but you still have to prepare to explain your new tattoo to grandma over Christmas dinner.
About the Writer
Brian Hayes, Former Photo Editor
Brian is the photo editor at The Sunflower. Hayes is a junior majoring in mass communication with an emphasis in journalism. He is from Wichita. Hayes enjoys...