Pflugradt: Billy Willson challenged college. Here's what we can learn from his viral social media antics.
Billy Willson, a 4.0 GPA student a Kansas State University, challenged the concept of college by dropping out. Did his move do any favors at answering the age-old question?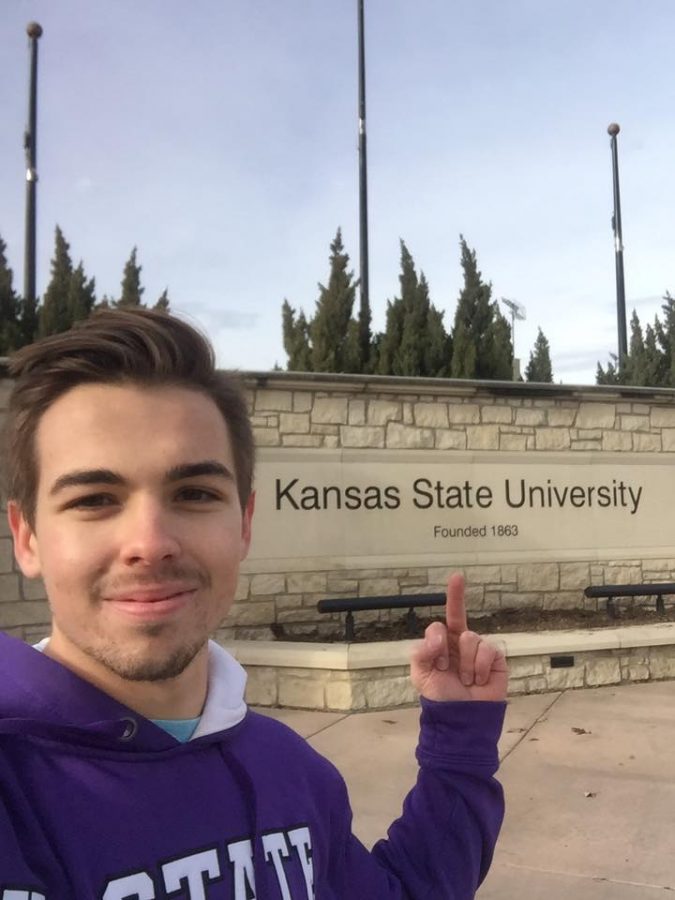 I can't hold back. I'm joining the conversation.
This week, Billy Willson, a student at Kansas State University, decidedly pushed the question concerning the value of a college education with a statement that's now gone viral.
Willson posted on Facebook a photo with himself giving a middle finger to a Kansas State University sign with a caption explanation to why he's dropping out of college despite earning a 4.0 GPA through one semester.
"YOU ARE BEING SCAMMED," Willson said in the post. "You may not see it today or tomorrow, but you will see it some day. You are being put thousands into debt to learn things you will never even use. Wasting 4 years of your life to be stuck at a paycheck that grows slower than the rate of inflation.
"Average income has increased 5x over the last 40 years while cost of college has increased 18x. You're spending thousands of dollars to learn information you won't ever even use just to get a piece of paper."
Willson blasted universities for requiring students to take general education courses stating that much of the information they will never use, while countering that they should educate students on more practical lessons such as "MARRIAGE and HOW TO DO YOUR TAXES."
A study first reported by U.S Uncut corrected the math by Willson, stating that between 1980 and 1995, average tuition at 4-year public colleges for in-state, full-time students increased 234 percent. Meanwhile, median household income increased 82 percent, the study said.
The study also reported that federal student aid has not kept pace with tuition levels, meaning that students and their families are turning to loans, if not personal finances, more so than ever.
Nearly 43 percent Americans with student loans were made default this last year, the study reported. And because national laws don't forgive allow student loan debt to be forgiven through bankruptcy, generations of students will likely be in debt for decades to come.
So maybe Willson has a point.
After friending Willson on Facebook, my interested in his case soared.
I learned that Willson attended his first semester at Kansas State with intentions in majoring in engineering. The first year of his education, he told reporters, was covered entirely by scholarships and federal grants, but he still feared that he would soon be burdened with debt that he estimated to grow at a pace of $20,000 per year.
Willson clarified that he received a freshman scholarship from K-State for his high school academic transcript, he also received another scholarship from a private donor on top of federal aid.
He said his personal complaints were not about money, but time.
"My main concern was with the time I was spending learning things I felt to be pointless," he told The Sunflower.
Willson plans to venture out of engineering and into entrepreneuring. His girlfriend, who followed in his footsteps, dropped her intentions of being a dentist plans pursuing a job as a professional YouTube vlogger.
Willson wasted no time. Two days following the viral post, he shared a link to buy a T-shirt he designed. The T-shirt shows a middle finger with "college" written underneath. It sells for $16 with 10 percent going to the Boys and Girls Club of America. The shirts reportedly started selling at $30 before Willson unleashed a special discount.
While he claims this is a cause to continue to raise awareness to future generations of "the scam" that is college, this really is just his first line of revenue.  
I'm not impressed.
Willson has been successful in one thing: creating a forum for thousands to weigh in.
By Tuesday, the initial post has more than a thousand shares, 26,000 likes and more than 7,000 comments.
Sam Wayne Edwards, a senior at K-State, was the first to weigh in with a long-form response. His post as since went viral, too.
"YOU ARE NOT BEING SCAMMED," Edwards wrote. "I've spent 4 years of my life learning how to think critically, act strategically and grow dynamically all to be stuck with a paycheck that will pay for things like food and gas and other important stuff because I am not an 18-year-old that doesn't understand how the world works.
"You know what that diploma says? I have potential. There are about a million more ways you could have used your time at K-State to benefit not only yourself but the community around you, and no video I watch will tell me otherwise."
So who's really right here?
The concern Willson has is one none can disparage.
Willson told reporters how he hates the concept of general education courses. To be fair, I do too.
"To have students learning more history after 12 years of history in primary and secondary education makes absolutely no sense to me," Willson told reporters. "And having students being forced to pay for a class like college algebra when they are in a major which will never use high-level math is a complete waste of their money and time."
I too quivel with this.
I'm a journalism major. In 124 credit hours to sustain my degree from Wichita State this summer, 45 credits fall under the umbrella of the Elliott School of Communication.
Is it even remotely fair to not have any more than 36 percent of my credits at Wichita State fall under my major? No way.
Because the Kansas Board of Regents wants me to, I should rather learn skills in areas other than my intended focus because that will help mold me into a well-rounded intellectual. It's as though you're offered nothing more than a fast start.
This saddens me.
Fortunately, I have found many experiences outside the classroom have propelled my skills far greater than most of lessons I've spent cramming for.
Willson's proclamation that you learn more on your first day than four or five years of college is probably a true tale, if not the truest of them all.
Student fees, the dollars that you pay for admittance, have benefited myself and others with these opportunities.
By clear observation I know college isn't for everyone; for me, it was.
In January I start my eighth semester, and unlike Willson I won't be dropping out.
There's problems with our education system, sure; but dropping out only to stir up a social media frenzy is far from a logical answer.
We're only taken advantage of when we stop challenging ourselves and challenging our institutions.
So maybe Willson did us all a favor.
He started the conversation. Now, we finish it.
Join me in wishing Billy Willson the best of luck. I for one hopes Billy succeeds me in life, but I'm not slowing down to reconsider the big question. You shouldn't either.
About the Contributor
Evan Pflugradt, Sports Editor
Evan Pflugradt is the former Sports Editor of The Sunflower.

Pflugradt past served as the publication's Editor in Chief, Opinion Editor and a reporter....