Pet monkey found dead
Owner: 'It was the first and last time she escaped'
January 25, 2017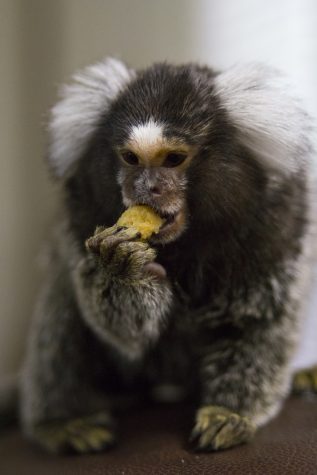 It was like losing a loved one, Muhamad Mansour said, hearing of the death of his pet monkey, Beba.
After escaping from her owner Tuesday, Beba the marmoset — wearing a pink diaper — was found unresponsive Wednesday morning outside Eck Stadium and was taken inside to warm up. After being transported to a local veterinary clinic, Beba was pronounced dead at 11:45 a.m., a spokesman for the university said.
"I'm not sure people understand," owner and international student Mansour said. "This is not a dog. They're like humans.
"I've known her since she was two days old."
Beba was 2-years-old when she died.
Beba escaped from Mansour late Tuesday afternoon.
Mansour said Beba jumped out of his hands as he approached his car Tuesday, the first time she had attempted to escape.
Mansour kept the monkey in his car when he couldn't take her somewhere with him. She had free roam of his house when Mansour was home.
Mansour took Beba with him anywhere he could: Eisenhower airport to greet incoming international students, the campus bookstore to see friends. She would sit on his shoulder. Marmosets, native to South America, average 8 inches in length.
He never used a leash, he said.
"The very one time I did put her in a cage for a day, I noticed some changes in her personality, negatively – just like a human being," Mansour told The Sunflower in August.
Mansour said Beba didn't want to get in the car, so she jumped on top of the car, jumped to another car and disappeared.
"It was the first and the last time she escaped."
The WSU policies and procedures manual states: "All domestic animals must be leashed and or under the personal control of the owner at all times" and "are not to be left unattended."
Beba had been missing since 5:45 p.m. Tuesday.
WSU spokesman Joe Kleinsasser said it's likely the monkey died from exposure.
The university emailed students Wednesday telling them to keep their eyes out for the loose marmoset.
"In my 30-plus years it's the first time I've heard of something like this," Kleinsasser said. "By all accounts (Beba) was friendly, tame and well behaved."
Animal control supervisor Dennis Graves said marmosets are illegal to have in Wichita. They are considered an exotic pet, he said, and — per chapter 6 of city code — are not allowed. 
"
By all accounts (Beba) was friendly, tame and well behaved."
— WSU spokesman Joe Kleinsasser
If Beba had survived, Graves said, she would have to be taken to a location where marmosets are legal. If not, Mansour would be charged a fine and taken to court. Beba would have been confiscated.
"Make sure you check with local authorities before you acquire a pet that might be questionable," Graves said. "Saves you a lot of disappointment and heartache later."
Mansour said he owned Beba for about two years. He bought her in Florida.
He described the marmoset as "friendly and curious."
"Sometimes kids cried because (Beba) had to leave," Mansour told The Sunflower in August. "One of my friends had a four-year-old, and, when I left, she started crying really bad and she's like, 'The monkey is leaving!' So I had to go back and sit a little bit longer to calm her down before I left again.
"There's many stories like that."
Mansour buried Beba in his yard Wednesday.
While still shocked, Mansour said he is coping.
"This is life. This is a reminder of death, to me at least."
As for the questions from curious and concerned individuals: "It's too much for me to handle, perhaps."