Beach: 'Live by Night' vastly underrated
Critics and fans are wrong about "Live by Night."
This film received zero Oscar nominations and is getting little recognition this winter.
Critics say this movie is boring, that the story doesn't go anywhere. They say Ben Affleck's direction places the story's pieces together too carefully.
Wrong. "Live by Night" is not boring.
Directed by Affleck, "Live by Night" is led by an all-star cast.
Affleck stars as the main character Joe. Sienna Miller, Chris Cooper, Zoe Saldana, Elle Fanning and Chris Messina join him.
The story begins in the 1920s with Joe committing crimes, running from cops and fighting rival gangs in Boston. He moves to Florida and becomes involved with the liquor bootlegging business that gained prominence during Prohibition.
Initially, I thought there were too many characters to adequately be addressed. But every character plays a significant role.
Affleck's character has a relationship with Miller and Saldana's characters. Cooper plays a cop in Florida and he and Joe agree to ignore his crimes. Fanning plays Cooper's daughter.
Yes, the plot is a little bit jumbled, but it's nothing an attentive watcher with an appreciation for a good film can't enjoy.
The film is shot beautifully. Legendary cinematographer Robert Richardson does a phenomenal job at making Florida look beautiful and exciting, yet gritty.
The performances were pretty good. Affleck leads and, as always, is impressive. I enjoyed Saldana quite a bit and Messina playing Affleck's partner.
The performance that caught my eye was Elle Fanning's. The 18-year-old has starred in several polarizing films including "The Neon Demon" and "20th Century Women." Her delivery is impeccable and she is a star to watch for.
The production design was amazing and the costume connected well with the time period. I thought this film had a good chance for an Oscar nomination for cinematography, production design and sound mixing.
It's a shame. Critics got it wrong with the plot. There are quite a few intertwining storylines, but it comes together nicely at the end.
Affleck should pat himself on the back for "Live by Night." There is definitely an audience for this film and people should give it a chance before it leaves theaters.
If you love Ben Affleck, gangster movies and can stay attentive throughout "Live by Night," it's a great choice.
Final grade: B
View Comments(1)
About the Contributor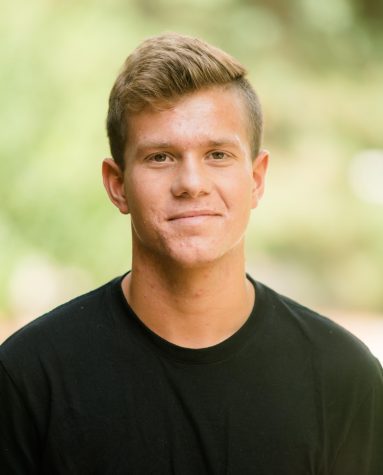 Nick Beach, Former reporter
Nick Beach served as a reporter for The Sunflower. Beach served as a sports reporter and columnist, as well as a movie critic. Beach is from the coastal...