Beach: 'La La Land': The most polarizing film in recent memory
"La La Land" is the most exciting and most talked about film to be released in 2016, and for good reason.
The film is directed by 32-year-old Damien Chazelle, the mind behind 2014's excellent "Whiplash," which I thought that was one of the decade's best films. "La La Land" just might be better.
He loves to make films about music – "La La Land" is no exception. Ryan Gosling stars as an aspiring jazz pianist trying to make a living in Los Angeles alongside Emma Stone who plays an aspiring actress. They keep crossing paths and, eventually, fall in love.
What makes "La La Land" great is that it's so much more than it seems. The production design makes the good, the bad and the ugly of Los Angeles look beautiful. The cinematography is top notch. Seriously, I was gawking at some of the shots — I haven't done that at many movies lately.
The musical numbers are well executed. The film opens with a well-done musical number that lasts a decent while, but it had me wondering if that's what the majority of the runtime would be. It wasn't.
Yes, Gosling and Stone sing and dance a fair share throughout the film, but each time it's placed so well, not to mention the music is good – like, really good. The score is award-worthy.
The storyline is what carries the film, however. Sure, it's about two lovers with hard luck trying to chase their dreams in L.A., but there's much more.
There are scenes when Gosling and Stone rise into the sky for a musical number. Somehow these scenes feel more realistic than scenes from films grounded in reality.
Gosling gives yet another fantastic performance and continues to prove he's one of the best in Hollywood today. He can play any type of role. He can be loveable, witty, and tough. The man is really capable of anything.
And Stone is the standout of this film. She steals the show from the opening scene and delivers a career-defining performance. She deserves to be the Oscar-winning best actress.
Everyone should go see "La La Land." It is a film that should, and likely will, dominate the Oscars. No film can touch it for best picture, and many other awards, in my opinion.
Leave a Comment
About the Contributor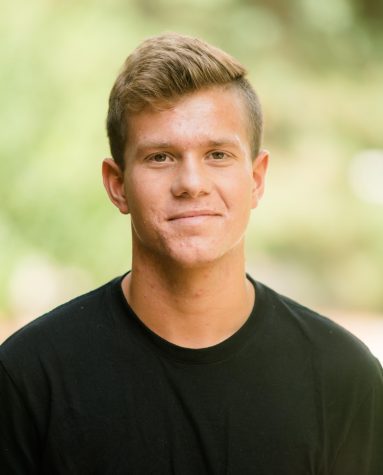 Nick Beach, Former reporter
Nick Beach served as a reporter for The Sunflower. Beach served as a sports reporter and columnist, as well as a movie critic. Beach is from the coastal...