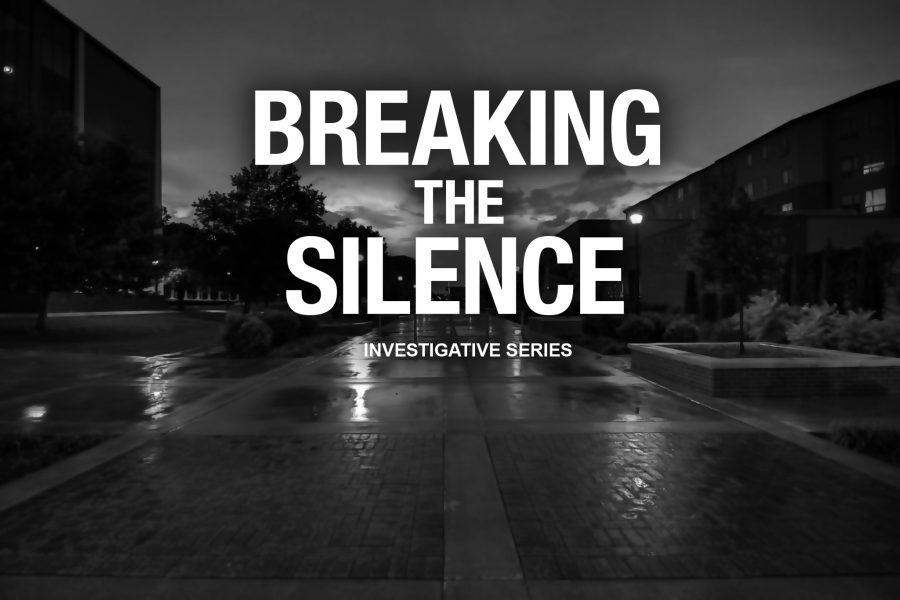 Breaking the Silence
This is an investigative series The Sunflower published throughout the spring semester detailing the life and struggle of a student who dropped out of Wichita State following a series of difficulties in which everyone, including the university, doubted her side of the story.
February 7, 2017
Sasha Doe* said she has a long history of being ignored by people who are supposed to protect her.
The Sunflower granted Doe, a former Wichita State student, anonymity because she said people are after her and because she is a victim of sexual assault.
It started when she was five, at a neighbor's house in west Wichita, in a small room in the basement. She was playing with two boys, childhood playmates.
The two boys, who were both older than her, made her undress. It was a game, they said.
"I was forced to do some sexual things," Doe said.
Doe said she told her parents, but they didn't believe her.
"They still to this day deny it. They said I made that up."
"I remember that happening. Like, the day it happened, I stopped being a kid kind of thing."
Doe said her parents' denial made her feel voiceless, hopeless and crazy.
Doe hasn't spoken to her parents, who both live in the Wichita area, in more than two years.
A lot has happened.
In the past two years, Doe has had ten cell phone numbers, seven addresses, three different jobs, and two orders of protection from stalkers — one from a former-Wichita State graduate teaching assistant, and then-roommate, David Geddam.
She said she thought it had all come to an end — being ignored, being harassed, not being believed — in early January of last year.
Wichita State had found Geddam in violation of the university stalking policy, and Doe was looking forward to her classes in the spring.
But she needed clarification on the wording of the Title IX finding. It seemed her stalker would not receive any punishment, she said. She went to visit with the Title IX decision makers to get answers.
That's when she says she was pushed out of an office and run off campus by Wichita State's then-Title IX Coordinator, Jane Link, an incident she captured on video and reported to university police.
Doe provided a video recording of the incident to The Sunflower.
"And now, even though I have evidence and video documentation of everything, it's so much easier for everyone else if they just lie and pretend it never happened," Doe said.
But the incident with Link wasn't the end. It wasn't the worst the situation could get for Doe.
On the night of May 1, 2016, while staying at a local safe house for battered women and children, Doe was raped.
This is her story.
*The Sunflower follows Associated Press guidelines regarding disclosure of the identity of persons who may have been sexually assaulted.
Part I: The Runaway
Around Christmas in 2014, Doe's parents left her in charge of their home while they went to spend the holidays with extended family at a cabin in Colorado. Her two siblings, who both have children of their own, also joined. Doe wasn't invited.
That was one of the final straws, Doe said. She no longer felt like part of the family.
By the summer of 2015, determined to find a place of her own, Doe had moved into a town home within biking distance of Wichita State with four roommates in July. Rent was low enough — $250 a month — that she could afford it with her part-time job at a pharmacy retailer. She took out student loans and enrolled in night classes.
One of her roommates was Geddam, an international student from India who earned a master's degree in exercise science. It wasn't long before he and Doe formed a friendship. He began giving her rides to work.
"I was friendly with her because we didn't know who she was," Geddam said. "But she didn't have any belongings when she moved into the house. She didn't have a car, so we thought that maybe she was down on her luck."
But Doe began to feel uncomfortable around Geddam one night when he showed up to pick her up and her boyfriend was there. Geddam said he thought Doe's boyfriend should give her a ride and thought it was inconsiderate of her to "use him" for rides.
Doe told Geddam she didn't need a ride — that she would be fine riding her bike home. He insisted. She agreed.
Doe said after that Geddam began getting possessive. He became "uncomfortably invested" in her ex-boyfriend, who was also a Wichita State student. One night he picked her up from work, and once she was in the car he told her that he had been drinking. In an interview with The Sunflower, he insisted he only said that because he wanted to appear cool — as an offhand comment — and that he was not drunk. Doe didn't think it was funny. She said she demanded that he let her out of the car. He didn't.
He began sending her what she would call troubling text messages. He referred to her as his "last resort."
Around this time, Doe received a call from the ex-boyfriend Geddam had been talking about on their car rides. Geddam had spoken to him earlier in the day at the Heskett Center and told him they were living together, Doe said. She said she had explicitly given Geddam instructions not to contact him.
Geddam said the ex-boyfriend was working at the front desk at the Heskett Center and he was showing a prospective student around the facility, and that contact between them was unavoidable. He said the ex-boyfriend pressed to obtain Doe's address, but he refused to give it out.
"I dodged questions I also told him I'm gay (sic)," Geddam said in a text message to Doe, "how awesome is that now the whole heskett center thinks I'm gay (sic)."
The next day, Aug. 12, police escorted Geddam to ComCare after he attempted to fulfill a "premeditated plan of suicide by helium tank suffocation." Geddam told Wichita police he was under stress from his work as a teacher at Wichita State.
After undergoing a mental health evaluation, Geddam was allowed to return to the town home where he and Doe both lived. Doe said she suspected him of coming into her bedroom while she was sleeping when he returned.
"I would wake up to the door closing, or the floor boards creaking," Doe said.
In total, Doe said Geddam entered her room three times without her permission. The third time, Geddam left two letters on the carpet inside her door at the top of the stairs — one addressed to her, the other addressed to her boyfriend at the time.
Included in the letters, Geddam asked Doe: "Would you look over my colour and my form and marry me because I want to rededicate my life to Christ and to you? … These are my genuine feelings."
Doe called the police.
Geddam denied to The Sunflower that he meant what he wrote in the letters. He said he wanted to give Doe an opportunity to say if she had feelings for him without feeling rejected, because he believed at the time that she was interested in him.
Geddam would later tell police he believed Doe to be "a spy sent by his parents" in India, according to the police report filed in the case.
At the encouragement of Wichita police, Doe moved out of the house. Curtis Mitchell had just been sentenced for the murder of local celebrity chef Tanya Tandoc, owner of Tanya's Soup Kitchen, and one of the officers on the scene told Doe he didn't want to see her meet the same end, Doe said.
Aug. 20, Sedgwick County judge granted Doe an Ex Parte Order of Protection from Stalking. Just two months after moving into the town home with four roommates, Doe found herself in a new living situation: she moved into a battered women's shelter.
But that was only the start of her troubles.
Part II: The Title IX Investigation
Sasha Doe* should be preparing to graduate this semester, but after a lengthy struggle to protect herself and seek answers from university administrators and police — to no avail — she chose to drop out.
In the summer of 2015, Doe moved into a house within biking distance of Wichita State with four strangers. After taking a year off, she said she had plans to continue her work toward a bachelor's degree in communications that fall.
But one of her housemates, David Geddam, soon began making her feel uncomfortable and afraid. She said he had started coming into her room while she was asleep, called her his "last resort," made suicidal threats, became "uncomfortably invested" in her ex-boyfriend and asked her to marry him in a handwritten letter.
Within a month, she had moved out of the house and secured an order of protection from stalking against him. In the next year and a half, Doe would get another order of protection against a different man, file a police report against WSU's Title IX coordinator for battery and, off campus, report a rape that was never prosecuted.
This is her story.
Doe's plans to resume her education at Wichita State were now mired in fear. By the start of the school year, she contacted the office of student conduct to alert them her situation with Geddam, who was a graduate teaching assistant at the time. According to university records, Geddam taught 110 students in the fall of 2015.
A Sedgwick County Judge had ordered that Geddam not "follow, harass, telephone, contact or otherwise communicate with" Doe, either directly or indirectly. He was not allowed to come within 100 feet of her.
At the advice of Wichita police, Doe said she had moved into a safe house for battered and endangered women.
By Sept. 3, Wichita State had contacted Doe back about her Title IX complaint about Geddam, according to university emails. Title IX is a federal law forbidding discrimination based on sex at universities that accept federal financial assistance, including Wichita State.
Three weeks later, Sept. 24, Mandy Hambelton, director of student conduct and community standards and deputy Title IX coordinator for students, notified Doe she and Jane Link, then-Title IX coordinator and current Director of the Office of Equal Opportunity, had interviewed seven witnesses for the investigation into Geddam's behavior.
It wasn't until Nov. 25 that a decision was made — more than two-and-a-half months after Doe made the complaint. No interim measures were taken by the university.
Between the dates Doe filed the complaint with Wichita State and a decision was made, Doe said Geddam violated the order of protection.
It happened in the library. Doe was at the information technology desk, asking a question, when Geddam walked through the doors.
"I looked over and there he was," Doe said. "He looked me right in the eyes and he walked toward me. He knew he wasn't supposed to be that close to me. He could have turned around and gone the other way."
Instead, Geddam approached her, passed her and entered the computer area of the library.
Geddam said he didn't know it was Doe in the library when he first entered. He said he was staring at her because he wasn't sure it was Doe.
"I don't know how far away it is," Geddam said, "but by the time I reached the computer — the printer — I was sure that was her. And I don't know how far that is, but it could have been in violation.
"But I didn't do it intentionally, and I thought that running back — running out would be basically running towards her and running in would be like running into the computers, so it didn't make sense."
Doe said she was "petrified" as he walked in her direction.
"He came very close," Doe said. "I didn't know what he would do."
She reported the violation of the order of protection to university police on Nov. 2.
On Nov. 25, the Title IX office sent Doe a copy of the decision letter, which found Geddam in violation of the university's stalking policy.
As a result, Geddam faced a set of "consequences and remedies" imposed by the university, which included a no contact order, coordination of schedules through the Title IX office at the beginning of each semester and a deferred suspension.
The terms of Geddams deferred suspension are as follows:
"David will be officially suspended from the University, but the suspension will be deferred, meaning that he may continue to attend classes at this time. His deferred suspension is effective from Nov. 25, 2015 through the duration of his enrollment at Wichita State University. The suspension will be automatically enforced for failure to complete and/or comply with any assigned consequences by the deadline and/or for any subsequent violation of University policy, unless determined otherwise in exceptional circumstances.
"If David is found responsible for any additional violation of Section 8.05/Student Code of Conduct and/or 8.16/Sexual Misconduct, Relationship Violence, and Stalking Policy for Students, he will be automatically suspended for the length of the original deferred suspension in addition to the other consequences imposed for the subsequent violation."
Doe said it was the wording of this consequence that landed her in Link's office on Jan. 14, 2016. It seemed to her the university had delayed a decision and set aside any consequences for Geddam's stalking until after he graduated — Geddam graduated Dec. 13 with a master's of education — which meant no consequences at all.
The decision, which was signed and sent by Link, included what is commonly known in Title IX investigations as a "gag order."
"You are not to discuss this matter with anyone other than the University staff or law enforcement," Link said in the letter.
Both Geddam and Doe formally appealed the decision, and Christine Schneikart-Luebbe, then-Dean of Students, dismissed both appeals. Doe found out her appeal had been dismissed on Jan. 12.
Doe scheduled an appointment with Schneikart-Luebbe to better understand what the decision meant. Schneikart-Luebbe, in a video taken by Doe, appeared unable to answer her questions with a satisfactory level of clarity. She took Doe to Link's office to "better answer her questions."
In a recorded interview Doe provided The Sunflower, Link continued to refer Doe to the language of the code of conduct and would not answer Doe's questions.
Link eventually asked Doe to leave her office, which she appears to do in the video. Once outside the office, Doe alerted Link she was recording.
That's when Doe said she was pushed, clawed, scratched and her fingers were twisted back. Doe provided The Sunflower with a copy of the video, which dates Jan. 14, 2016.
In the video, which takes place outside Link's office in the Rhatigan Student Center, Doe can be heard saying, "I'm sorry. You're on camera," as she points the camera at Link.
The video then gets shaky and Doe can be heard saying, "You can't do that to me — you can't do that to me — you're hurting me," as Link's chest fills the frame and she appears to grab Doe by the hand and twist back her fingers.
You can hear Link say, "Call the police right now" and what sounds like "Get off campus."
Doe says, "You are in trouble, and you can't physically touch me."
Doe then appears to back away and enter the elevator. The footage continues as she runs off campus. There appear to be several witnesses to the incident.
According to a police report filed that day, Link reported an incident to university police. It appears in the crime blotter, filed under "Information," as "Female was causing staff members problems" between 9 and 11:21 a.m., Jan. 14, 2016.
Doe waited to report the incident until Feb. 24, when she said she told a university police captain, twice — once in person and once on the phone — that Link battered her. Doe provided video footage of that conversation to The Sunflower.
Doe said she waited so long to report the battery because she was afraid of university police and the office of student conduct after being chased off campus by Link.
However, the reported battery did not appear on the police blotter until Mar. 28 — 29 days later. The blotter reads: "Female reports being grabbed in an angry manner by another female," with no mention of a staff member or student being involved.
According to the Jeanne Clery Act, federal guidelines for crime reporting by campus security, "If new information about an entry into a log becomes available to a police or security department, then the new information shall be recorded in the log not later than two business days after the information becomes available to the police or security department."
The reason for the delay, the police captain told Doe in a Mar. 25 email, was that he misunderstood the intent of her first report. He said he thought she wanted an internal investigation of the battery done by WSU, so he sent the information he received from her to human resources.
In the email, the captain told Doe: "I understand that you need to make an assault report, you can come to the station and they will have an officer come in and take the report from you."
Citing student privacy rights, Link declined an interview for this story. The Family Education Rights and Privacy Act does not apply to personal observations or impressions.
Sedgwick County District Attorney Marc Bennett did not file a charge in the case based on evidence provided by university police.
"Both our charging attorney and the District Attorney looked at the available evidence in this case. Based on that evidence, a decision was made not to file a charge at this time," Dan Dillon, spokeman for the district attorney, said in a statement in July.
This case would not be the last reported by Doe to meet a dead end once it hit the court system.
Part III: Disruptive Behavior
Sasha Doe* dropped out of Wichita State this fall because she didn't feel safe.
"Although I continually tried to convince myself that I was brave, and I truly wanted to be brave, the reality was that I crumbled at the thought of walking on campus," Doe said.
"To this day I love learning," Doe said, "but I dreaded the reality of going to a school where I could not avoid coming into contact with certain members of the administration, campus police and other who had already decided that my story was insignificant."
If anything more were to happen, Doe said, she doesn't think the university would take her seriously, and although education is of "high importance" to her it was coming at the cost of losing her "sense of safety and dignity."
But it wasn't always that way.
Before Doe was stalked, pushed out of an office by the Title IX coordinator or raped, she was threatened with "being trespassed from all Wichita State University property" by then-Vice President of Student Affairs Eric Sexton.
"Staff members on campus have reported that your behavior during visits to their departments has been both concerning and disruptive to the normal processes of the University," Sexton wrote.
Doe had been asking different university staff members about her case, her safety and the Title IX decision letter she received that seemed unclear.
Some of those visits were with the university police and detectives working her case. Doe wanted to know if David Geddam, her former housemate and a Wichita State graduate student, had been reported to the district attorney's office for violating an order of protection from stalking at Ablah Library.
Doe said she could never get a clear answer, which she wanted for her court dates related to her order of protection, and at one point she had a strange interaction with a university police dispatcher that made her feel like she had been put on some kind of watch list by the university.
She said she called the WSU police department and told them who she was. After she told the dispatcher her name they "became very aggressive in refusing to pass my phone call through to anyone," Doe told a university police detective at the time.
University Police Chief Sara Morris replied to her Doe's email to the detective.
"In reference to your situation with one of my dispatchers," Morris wrote, "I have listened to the phone recording. Although, the dispatcher should have told you at the start that I was out of the office, the questions are not unusual to determine information in order to get a caller to someone who can help them with their questions. At no time did you indicate that you had an emergency that you were needing immediate assistance with."
Morris then referred Doe to the District Attorney's office for any further questions regarding her case.
Doe's original Title IX decision letter, written by then-Title IX Coordinator Jane Link stated, "You are not to discuss this matter with anyone other than the University staff or law enforcement."
Nov. 25, Geddam had been found in violation of the university's stalking policy. Dec. 1, Link alerted Doe that Geddam had appealed the outcome of the investigation.
"Please contact my office if you have any questions regarding the appeal process," Link wrote. "A complete explanation of the appeal process can be found on page 19 of policy 8.16 Sexual Misconduct, Relationship Violence and Stalking Policy for Students."
Doe didn't understand the "legalese" of the policy and wasn't sure what the proper way to respond to Geddam's appeal.
In Title IX decisions, both parties are given 5 business days to appeal the decision, on the following grounds: "1. A procedural or substantive error occurred that significantly affected the outcome of the case. 2. There is new, relevant information that was not available at the time of the investigation that, if available, could have significantly affected the outcome of the case. This does not include statements from a Complainant or Respondent who chose not to participate in the investigation."
Sexton, who resigned after 26 years last summer, sent Doe an email Dec. 3, 2015, encouraging her "to communicate in an appropriate, respectful manner to address any concerns that (she) might have with either Jane Link or the University Police."
"These two offices need to be your points of contact for resolving the complaints you have filed, and they will assist you with contacting on-campus or community-based entities as necessary," Sexton said in the email.
That email and the wording of the Title IX decision, directing her to speak only to the university or the university police, Doe said, sent her a clear message.
"They didn't want me on campus and they didn't want me asking questions," Doe said. "They wanted to shut me up."
Morris, Sexton and Link all either did not respond or declined requests to comment on this story.