Six years after Les Anderson's death, his work lives on
Six years ago, Wichita State lost one of its greatest professors, Les Anderson.
He was the heart of the Elliott School of Communication. He was a mentor, a newspaperman, a friend. He loved his students and his students loved him.
Through his work at his newspapers, as The Sunflower adviser, as a journalism professor, and his ability to affect students' lives outside of the classroom, Les Anderson's reach into the local journalism scene is immeasurable.
Six years later, I still feel his presence.
People who respect him include people from all walks of life throughout this community.
I never met Les Anderson, but people tell me I would have loved him. It seems to me that people who share enough of themselves with the world, who pass on so much knowledge and make such a positive effect on the world — as Les Anderson did — never really die.
Les Anderson led by example, and that's something we should all strive to do.
A 1981 opinion piece that ran in The Sunflower about Les Anderson's creed: "Teach, don't preach" exemplifies the way his students felt about him. And, six years after his death and 36 years after its publication, it's still relevant.
Almost everything written there about Les Anderson applies to The Sunflower's current adviser Amy DeVault, who learned first-hand from Les Anderson the importance of putting students first.
When your life's work is teaching, your work outlives you by a long-shot. Thank you, Les Anderson, for setting such a good example for us all. Your work is still being done.
Teach, don't preach: Paper adviser's creed
Reprint: The Sunflower, February 11, 1981
It takes a special kind of man to love a newspaper. He has to enjoy hard work, long hours, short pay and loads of controversy.
Our adviser is that sort of fellow, and even though Les Anderson's never written a word in the Sunflower, he's proven his friendship more times than any of our young staff can remember.
We aren't an easy lot to work with. We usually arrive as green as any boot camp recruit and graduate just when we have learned our jobs. We are volatile, full of quirks, ambitious and touchy about criticism.
But our unpaid adviser has a compassion that is longer than any list of our faults.
He's never easy on us, always seeing through the paper-thin alibis to the sloppy work beneath.
"Beef it up and work it over," he says. "You're not trying hard enough unless your eyes look like road maps."
So we try harder, not just because he tells us to but because we know he does it himself. Every year, Les' two newspapers, The Ark Valley News and Maize This Week take honors at the Kansas Press Association meetings. He's a journalism teacher, a father of four and a gentle and humorous man who you hate to disappoint.
He has every reason to complain about us, to take us over or to abandon us with our squabbles and indecision.
He's seen the same red-faced Sunflower editors who groused about outside interference grow weak in the knees when a tough decision had to be made.
He kids us, corrects us, refuses to tell us what to do, but he never lets us down. For all the good or bad we've done, he's never budged an inch.
He's living proof that a good example is better than a sermon.
View Comments(1)
About the Contributor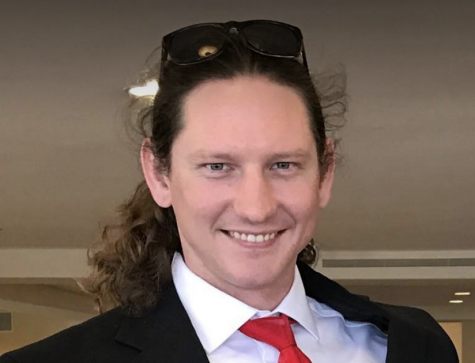 Chance Swaim, Former Editor in Chief
Chance Swaim was the Editor in Chief of The Sunflower from fall 2017 to spring 2018.

Swaim was a graduate student in the English Department working...