"Hear Our Vote:" Women's March on Air Capital takes to City Hall
Kansas leaders and activist groups joined protesters Saturday at Wichita City Hall for the Women's March on Air Capital.
Guest speakers stood before the protesters to raise awareness for issues such as women's health and safety, intersectionality, diversity, and voter participation.
Among the speakers was Kristi Brungardt, founder of Jana's Campaign, a non-profit organization to prevent gender and relationship violence.
Brungardt founded Jana's Campaign with her husband Kurt Brungardt after their daughter was murdered by an ex-boyfriend in 2009.
"[Jana] served for several years in Lawrence as a volunteer advocate for victims of domestic and sexual violence," Brungardt said. "She was known in Kansas for advocacy of women's rights.
"I'm filling in for Jana today because without doubt, she would be here," Brungardt said.
Brungardt explained that Jana originally attended the University of Kansas on a vocal music scholarship, but found her true passion in women's studies.
After receiving her undergraduate degree, she lobbied in Topeka for three years over women's issues.
"Kurt and I believe that it is our responsibility to use the story of Jana's life and the story of her death to reduce gender violence," Brungardt said.
Lacey Cruse, a local singer and co-organizer of the march, kicked off the rally with the song "I Am Woman," written by Helen Reddy.
The lyrics read:
"I am woman, hear me roar
In numbers too big to ignore
And I know too much to go back an' pretend
Cause I've heard it all before
And I've been down there on the floor."
Cruse also read a list of the names of individuals who died due to domestic violence last year in Sedgwick County, and held a moment of silence in their honor.
Following each speech, she led the crowd of protesters in chanting, "Hear our vote."
"We're here to prepare for the Kansas mid-term election," Cruse said. "In November, we get a new governor, a new secretary of state, and 125 House seats are up."
Another guest speaker was Elle Boatman, an Air Force veteran and member of the Wichita Transgender and Community Network.
"Trans people can be denied a job, housing, and healthcare in Kansas," Boatman said.
"When I see things that say, 'All women welcome,' I often wonder, 'Do they mean me?'"
Lavonta Williams, the first woman elected to the Wichita City Council for District 1 and first black woman to serve as vice mayor, spoke about the importance of voting.
"If we are 51% of the state representation, as women, then we need 51% of our names on the ballot."
Carole Neal, a member of the League of Women Voters, said that there were thirty-two volunteers with federal registration forms at the march.
Guest speakers also celebrated feminist movements across the United States, such as the #MeToo campaign, that have grown prominent since a series of women's marches last January.
Julie Burkhart, founder and CEO of Trust Women — an abortion and reproductive rights foundation in Kansas and Oklahoma — said that the rally served as a healing process for women after President Donald Trump's first year in office.
"One year ago today, millions of us marched in protest of Trump's maniacal policies and statements," Burkhart said. "[We] stood shoulder-to-shoulder resisting hate, homophobia, bigotry, misogyny, and xenophobia."
Burkhart said that she founded Trust Women after her boss and mentor, physician and abortion provider George Tiller, was killed in 2009.
"[Tiller] used to say, the only way for evil to triumph is for good people to do nothing, but you have not bowed in the face of evil, of hatred, and of bigotry." Burkhart said. "And we will continue to move forward together."
Kathlynn Short, a freshman at Wichita State, is an intern for Trust Women and has aided in their lobbying efforts in Topeka.
"We want to repeal laws against abortion," Short said.
"This rally is important to me because it shows me that I'm not alone in my beliefs in Wichita," she said.
Danielle Johnson, program coordinator for Wichita State's Office of Diversity and Inclusion, attended the rally with her family.
"The best way to civically engage is to vote," Johnson said. "It's also important to encourage women to run for office, that's how your voice can really be hard."
Johnson said that it was empowering to see members of the Wichita community gather for a common goal.
"[The march] shows that we have more similarities than differences."
Leave a Comment
About the Writer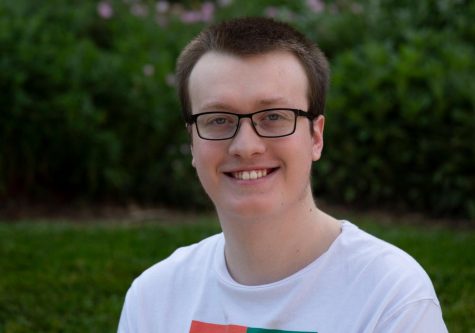 Daniel Caudill, Former Editor in Chief
Daniel Caudill is the former editor in chief for The Sunflower. A staffer at the paper since 2017, Caudill first covered Student Government Association...