Student-curated exhibit 'We the People' gives new purpose to Ulrich archives
Drawing from the nearly 7,000-piece collection that make up the archives of the Ulrich Museum, a class of 11 students curated the "We the People" exhibit. Pieces on display speak to the message of societal injustices from the mid-nineteenth century to present day.
Accompanying each piece is a student's interpretation and historical contextualization providing insight on why the piece fits in the exhibition.
"The pieces we chose are all about a social injustice," said Kacey Green, a graphic design senior. "All of the pieces in here are pointing to that whether it be social injustice, gender, rich or poor."
The fall 2017 course gave graduate and undergraduate students the opportunity to learn and practice curating art with the guidance of professor Brittany Lockard.
Green explained how the class went through creating the exhibit, which was structured in two basic parts. First, students learned through art history lectures and then practiced the curation process by researching what pieces in the Ulrich archives best fit into the exhibit's theme.
"We were divided into groups, and each group chose sections," Green said. "The sections of what we came up with were not cookie cutter, but a flow of unified pieces."
The pieces transitioning from each decade appear side by side, each speaking to art's relevancy in modern culture with similar issues of social concern.
The largest focal piece of the gallery, Benny Andrews's mural "Symbols," runs colorfully across three walls in the middle of the gallery.
"There is so much going on, that even if you look at it multiple times you'll see something differently," Green said. "This is my favorite because it hits on all of the diverse issues in one piece."
Green said the most challenging part of the show was focusing on a range of injustices. While featured pieces span across different time periods, they still relate to each other through common themes of inequality.
"Curating the show opened my eyes up to different lanes of artwork that can be viewed by people," Green said. "All of this artwork has different elements in it, but everyone who likes artwork about a certain subject can still like the whole show."
Accompanying the "We the People" exhibit is a portion of the D.J. Scanlon Political Button Collection. The buttons span presidencies from Truman to Reagan to Bush, showing how Americans have expressed political views. The rest of the collection is housed in Lindquist Hall, while a portion is outside of the exhibit in the Polk/Wilson Gallery. Both will be on display until March 25.
Leave a Comment
About the Writer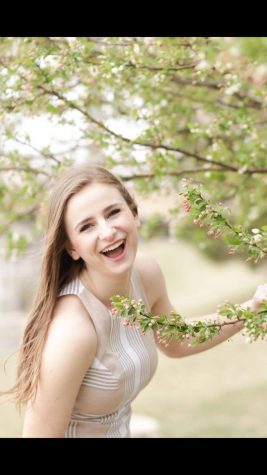 Abigail Faflick, Former reporter
Abigail Faflick was a reporter for the Sunflower. She is from Wichita, Kansas.