Musical challenges actors to connect imperfections with faults
Twisting the rules of love, dating and the classic novel "Pride and Prejudice" by Jane Austin, the characters of "I Love You Because" come together to love each other for their faults and not despite them.
Set in New York City, the show follows a group of family and friends through one complicated love story. Seasonally appropriate, "I Love You Because" by Ryan Cunningham with music of Joshua Salazar, shows at 7:30 p.m. from Feb. Wed. through Fri. in the Welsbacher Theatre and at 2 p.m. on Sunday.
Unique to the small cast of six and limited space of the theatre, the show provides an intimate atmosphere as audiences are invited into the love lives of Diana, Marcy, Austin and Jeff.
"[Marcy] just got out of a rough relationship and is trying to find a rebound, but instead, she finds Austin and falls in love with him," Katie Robu, playing Marcy, said. "I connect with her in a number of ways; we're very similar in our sense of style, mannerisms and overall energy."
As actors connect with the characters they portray, they are also challenged to reflect personally and within the plot.
"I connect with Austin because his character coincides with my personality really well," Jackson Dorris, playing Austin, said. "We both love to dress nice, and have a lot of the same tendencies of just loving everything about life.
"The most challenging part of the show for me has to be when I sing 'Goodbye' because throughout that song it is just Austin going between Catherine and Marcy in his mind, trying to choose between this new life with Marcy, or his past life with Catherine which he thought to be perfect."
The show also challenges the actors singing and acting abilities. The performance has no microphones because of the venue, so finding a balance between belting and saving voice is key.
"My most difficult part is my math formula rap in Act I," Brittnee Hill, playing Diana, said. "My character is an actuary; so, she thinks very mathematically and has a precise formula for dating in which Marcy needs to date Mr. wrong to get over her ex."
Ultimately, the ideals of perfection continue to drive the plot on all sides of the relationships portrayed.
"The reason the show is called 'I Love You Because' is cause throughout the show, the characters realize the differences they share with each other and they are willing to 'love' each other despite all the flaws they have," Lucas Lowry, playing Jeff, said. "This changes when they realize the reason they love each other is 'because' of their quirks and shortcomings, and that is what really drives the plot of the show."
Leave a Comment
About the Writer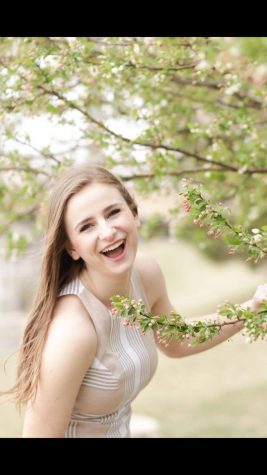 Abigail Faflick, Former reporter
Abigail Faflick was a reporter for the Sunflower. She is from Wichita, Kansas.