WSU Model UN brings home nine awards at Midwest conference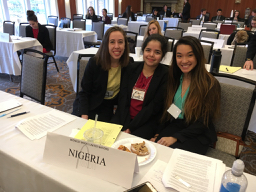 Wichita State's Model United Nations received nine awards at the Midwest Model UN Conference in St. Louis.
Throughout the four-day simulation of the real-world United Nations, regional colleges represented UN countries on committees in order to draft resolutions for global issues.
Wichita State students delegated on behalf of Nigeria and Sweden. Participants served across eight different UN committees, generally based on their interests.
"We have a lot of different people from different majors that join Model UN, and it's not just restricted to political science or international relations majors," Stella Yang said.
As an economics major, Yang represented Nigeria on the International Labour Organization (ILO), which primarily deals with global labor and business laws.
"The ILO works with countries and businesses to work together to come to consensus on different labor issues," Yang said. "Our main topics were multinational corporations, international labor standards, migrant labor, and remittance loans."
Yang, Cynthia Matson, and Shivani Nagrecha, were all recognized for "outstanding delegation."
Yang said that each participant in the conference aimed to accurately represent their respective nations on issues, and not make decisions based on their personal beliefs.
She said it was tough to represent the nation because doing so did not always align with her real-world beliefs.

"As a delegate from Nigeria, I had to remember what a real delegate from Nigeria would say," Yang said. "They would probably say that we should be cautious when it comes to giving too much leeway in international labor standards."
Yang said that gaining experience at the conference raised her awareness of global issues.
"Even though a lot of information is readily available, it's difficult to pay attention to certain specific issues because you just hear about the big ones that go on," she said. "It makes you look at different issues that you have maybe never thought about, and consider it from a completely different perspective."
Yang also said that participating in a large-scale legislative process like the model UN better prepared her for contributing her own ideas in formal discussions.
"As a senator from SGA, I've been put onto a lot of committees where I'm with a bunch of faculty, and I'm the only student representative," she said. "Sometimes I'm intimidated because they're all building off of each other, and I have an idea, but I'm not sure when to insert it."
"When you're in a group of like 60 people, you find a way to get into the conversation," Yang said.
Carolyn Shaw, chair for the Political Science department, has been faculty advisor for the Model UN at Wichita State for 17 years.
Shaw said that students that participate in Model UN learn "consensus-building" skills.
"Trying to figure out how to find common ground and move people forward in a common direction is a very good skill to have," Shaw said.
"That's not really anything that you get in any other class."
About the Contributor
Daniel Caudill, Editor in Chief
Daniel Caudill is the editor in chief for The Sunflower. A staffer at the paper since 2017, Caudill first covered Student Government Association and general...