A son's promise
Six thousand miles separate Gary Kinard and the last link to a life and family in Yokohama, Japan, to whom he swore a promise 28 years ago. Kinard, a WSU graduate, now 64, intends to track down his mother's family in Japan and make good on a promise made to a cousin nearly 30 years ago.
Via his native Japanese mother's niece, Masoko Sanada, Kinard plans to renew ties to his roots abroad. In spending the upcoming spring semester studying Japanese at Aoyama Gakuin University, Kinard will have the ideal setting to do just that.
During his first stint in college at WSU, Kinard's cousin Masoko came for a visit to Wichita from Yokoyama. During her stay Kinard extended a promise to her which would determine the course of his later adult life.
"I promised her that I would visit her and give a return visit in Japan," Kinard said.
This was 1980.
Kinard extended this promise to his mother in her dying days in 1992.
How Gary Kinard got here
Kinard was born to Taeko Koyanagi and U.S Airforce operative Graze Kinard in Japan in 1954.
Kinard recounts his early childhood in Japan and playing with cousin Masoko.
"We didn't understand each others' language," he said. "But when we played, there was no language barrier. We all fit right in."
Kinard's childhood was marked by constant moves. At six, his father was re-stationed to Taiwan. The family would return to Japan intermittently over the years. However, the Kinards finally returned to Graze Kinard's hometown: Wichita.
At a young age Kinard realized a certain humility in his mother's native language.
"The mannerisms are polite," he said. "It's not like when I'm speaking in English. There's just more politeness when I'm trying to speak to somebody."
After graduating from West High in 1972, Kinard joined the Navy as an aviation electrician. He served at Atsugi Naval base in Japan working in avionics. Later he served a stint in the Philippines and just before being medically discharged, aided in Operation New Life, receiving Vietnamese refugees at Orote Point Guam after the fall of Saigon in April of 1975.
When Kinard was discharged, he enrolled at Wichita State. By 1982, he had earned a bachelor's degree in electrical engineering. While a student, Kinard worked as a DJ for KMUW and played a part in petitioning the station to bring the first Soul and R&B radio time-slot to Wichita.
After college, Kinard worked for Boeing until being contracted by aerospace defense contractor Northrop Grumman in Los Angeles, Calif. There he contributed to testing on explosives and even the Stealth B2 bomber until retiring in 2012.
As with the passing of time, comes the passing of the ones who gave us life. Kinard's mother Taeko fell ill in 1992. Immediately he flew home to Wichita to accompany his mother before her passing.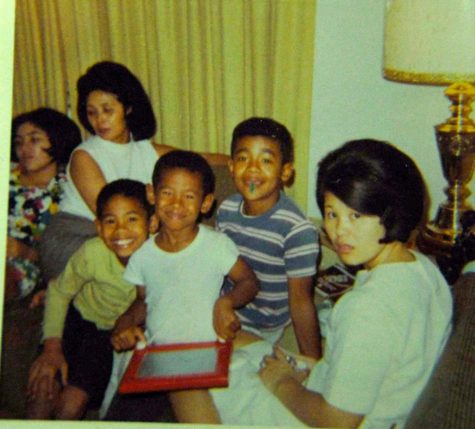 Kinard, with a solemn countenance, tells of his sense of cultural disconnect after his mother's death and how in her wake, his connection to Japanese was severed.
"When my mother passed that knocked out all communication," he said.
After witnessing his mother's last breaths Kinard developed a resolve which to this day he has not lost.
"I want to keep my promise to Masoko," he said while holding back tears. "I want to keep my promise to my mother and to my cousin."
Awaiting departure for home
Despite military service, a full career, travels all over the world and a well-rounded education, one task remains for Kinard.
In 2016, Kinard enrolled at WSU with one goal: Learn Japanese and get back to Japan and Masoko.
Since then he has taken four Japanese classes and is now comfortable with the basic mechanics of the language.
Kinard commented on his esteem for WSU Professor of Japanese Yumi Foster.
"She has been a wonderful teacher." he said.  "She has inspired me to continue."
With this new-found connection, Kinard traveled to Okayama Japan in the Summer of 2017 as a part of the WSU study abroad program. He studied there for three weeks and is determined to return.
WSU Director of Study Abroad Ann Burger commented on Kinard's will to make his promise to his family a reality.
"[He] is very passionate about learning the Japanese language and culture", Burger said. "After a lot of perseverance, he has made it happen."
Now, Kinard prepares for an even gutsier endeavor. During Japan's spring semester, which begins at the end of March, he will attend Aoyama Gakuin University in Tokyo.
"I just want to be able to talk to my relatives," he said. "I want to find Masoko."
Masoko, Kinard's only connection to the maternal side of his family, will be the first person he wants to track down while abroad at Aoyama.
Kinard plans to travel to Okayama City and present officials at city hall with all of his family documentation: Births certificates of himself and his mother, social security cards and his Visa.
All of Kinard's effort comes at a risk that Masoko and the rest of his mother's family may no longer be in Yokohama or Japan at all. Nonetheless, Kinard will attempt to make due on his word.
"Now I have my chance," he said. "I've been waiting for this for a long time and my family is in Yokohama."
Kinard's hope is that this information will lead him to his family.
Burger said Kinard's journey should act as an example for other students with lofty goals.
"Gary is an inspiration to all students that you should never count yourself out, regardless of the odds," she said.
'It's part of me that I notice…'
Kinard doesn't feel weary of relocating to Japan. He noted that he already feels a comradeship there after studying at Okayama.
"It's part me that I notice," he said. "I already do some of the same sort of things."
Kinard being a man of many thank yous and excuse mes, it's hard not to imagine his mother Taeko impressing upon him the Japanese ethos of humility, gentility and a higher level of politeness which he ambodies.
After telling his story and making plans to find Masoko and the rest of his family, Kinard outlined one simple vision for their first meeting in over 30 years.
"I would just like to take them out to dinner," he said with an excited smile. Maybe I'd do something really nice for them and share my mother with them. I'm just going to let myself be in the moment."
Kinard departs for Japan in two weeks, in the hopes of recapturing another version of home which has been up to now, lost.
Leave a Comment