UPDATE WITH EDITOR'S NOTE: Tax documents shed light on Wichita State's financial investment in nonprofit
EDITOR'S NOTE: This story, which was published in print and online, included information from tax documents from 2014 and 2016, not 2015 and 2016, as it erroneously claimed in its first version. The story has been updated with information from 2014, 2015, and 2016 here.
The Sunflower prides itself on providing clarity to its readers. Reporting incorrect figures regretably clouded an already opaque topic. It's important to be transparent with readers and admit when we make a mistake, and for that reason we have added this note to this version of the story and removed it from social media, where the feature image included the uncorrected figures. The updated story, with more complete information, is available here. 
This version of the story ran with incorrect information:
Wichita State has been tightlipped about what it spends on a nonprofit managing Innovation Campus — an attorney for both the university and the nonprofit wouldn't say if WSU contributes any money at all, and another attorney for the university tried to charge The Sunflower $1,500 for records of the nonprofit's financial transactions — but tax documents show the university has put a lot of money into the Innovation Alliance.
WSU contributed more than $4.3 million to Innovation Alliance in 2015 and 2016 through grants and loans, according to Innovation Alliance's latest available Form 990s, which are required to be filed with the IRS and made available to the public on request for certain nonprofits.
The Form 990s provide a broad sketch of financial transactions involving Innovation Alliance, which leases land from WSU and subleases it to private businesses on Innovation Campus.
Last week, The Sunflower reported that Bardo signed a nondisclosure agreement between WSU, Innovation Alliance, and Innovation Alliance Investment Corporation that limits what university employees can say about Innovation Campus development.
The investment company is a for-profit corporation formed "to own and manage commercial interests regarding research," the tax documents say.
Innovation Alliance's attorney said the sole member of the for-profit company is President Bardo.
WSU tried to charge The Sunflower $1,500 to release financial records tracking incoming and outgoing financial transactions to or by Innovation Alliance, including those going to the for-profit company. WSU's General Counsel David Moses said the public records include at least 400 documents. The Sunflower declined to pay that amount for public records.
Innovation Alliance leases ground from the university and then leases that ground to private developers on Innovation Campus, a campus expansion project doubling the size of campus by building on what used to the university golf course directly east of campus. The nonprofit also recently leased a university building to a Koch family-funded private elementary school. Several university administrators, including President Bardo, comprise the nonprofit's board of directors.
Innovation Campus projects discussed behind closed doors
Many projects on Innovation Campus have been leased to the closely-held nonprofit Wichita State Innovation Alliance and then sub-leased to third parties without a public discussion, vote, or a competitive bidding process normally required for state-owned property.
Questions about Innovation Alliance began at a Faculty Senate meeting following an announcement, through the Wichita Eagle, that a Koch family-funded private school would be leasing a building on campus. That lease agreement had already been signed by Innovation Alliance well before the decision was announced.
Innovation Alliance President John Tomblin, who is also WSU's vice president of research and technology transfer and the executive director of the National Institute for Aviation Research, had been in discussions with the Koch family about bringing the private school called Wonder to Wichita State since last spring. On Dec. 19, he signed a lease agreement with Wonder. On Feb. 4, the university found out about the deal through a Wichita Eagle article.
Similarly, last spring, student government was asked to vote on a proposal to substantially increase student fees to fund a YMCA on Innovation Campus. Tomblin had been in discussions with the Y for 18 months before giving student government two weeks to vote on the fee increase.
Tomblin said if the student government did not approve of it, the project would not go forward. Student government opposed the fee increase for the Y, but President Bardo said in a written statement that "These facilities (the Y) are important enough to the future of the university that I've asked members of our team to keep exploring the idea despite a vote last week by Student Government Association to oppose it."
The new session, led by student body president Paige Hungate, who was one of eight senators to vote in favor of the Y in the previous session, and Breck Towner, who had worked in President Bardo's office prior to seeking the office of vice president, quickly passed a resolution in favor of the fee increase before the school year ended.
Last summer, WSU closed its own dorms to move about 300 students into a private apartment complex on Innovation Campus after fewer than one in five beds at the expensive complex had been filled about a month before move-in day. WSU leases the land where that complex is located to Innovation Alliance, which leases it to the private company that runs apartment, which then leases the space inside the building back to WSU. Next year, WSU plans to pay more than $2.5 million to the private company, which is owned in-part by the chairman of the Kansas Board of Regents, David Murfin.
In September, the Wichita Eagle reported Airbus, the first partnership on Innovation Campus, was well below expected student involvement on Innovation Campus. Innovation Alliance drafted a resolution as part of its justification to lease the area to Airbus that projected as many as 200 engineering students would work at Airbus. This fall, 11 WSU students were employed at Airbus, down from 14 students last spring.
In President Bardo's March newsletter titled "The truth about Innovation Campus: A crucial collaboration for WSU's survival," he said these types of "collaboration with industry and community partners is now crucial for public universities to thrive."
President Bardo said universities' motivations for developing research parks, such as Innovation Campus, include "the possibility of financial gain associated with technology transfer, the opportunity to have faculty and students interact at the applied level with research organizations, and a desire to contribute to regional economic growth."
President Bardo said Innovation Alliance was created "as a vehicle to focus attention on Innovation Campus and pursue partnerships to benefit the university and its students."
In the first two years of Innovation Alliance, according to its tax filings, WSU put more than $3.36 million into the nonprofit than it got back.
View Comments(1)
About the Contributor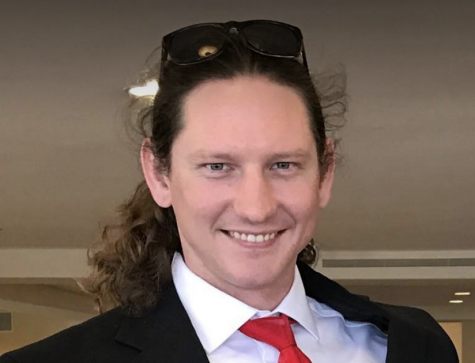 Chance Swaim, Former Editor in Chief
Chance Swaim was the Editor in Chief of The Sunflower from fall 2017 to spring 2018.

Swaim was a graduate student in the English Department working...