The Keeper of Elliott Hall
If you've ever popped into the second-floor office in Elliott Hall to inquire about a vacant room or to take the GSP test, you were greeted by a 6-foot-tall biker ­­— a Harley Davidson hat covering grey hair, a fading scorpion tattooed on his forearm.
Bill Molash, 64, has been with Elliott School of Communications since it was in Wilner Auditorium. Six directors and a building later, he is close to retiring. He is anticipating retiring when he turns 66.
Molash attributes the students in Elliott with keeping him young.
"I always like working with the students," Molash said.
In his current makeshift office, which he calls a "glass case of emotions," Molash works behind two screens — making sure the classroom schedules are in order or that the building's supplies are stocked.
Next to his keyboard adorned with Wu Shock is a knob that controls the volume of the music. He listens to anything from Dolly Parton to Chicago, The Mavericks to Tanya Tucker, the Doobie Brothers to Elton John.
The seemingly surly man is actually a gentle giant who has seen Elton John in concert 75 times.
Aside from helping students succeed, music is what Molash loves. When he's not ordering the books for communications classes, he's attending concerts — any concert.
Long hair concert
Molash moved around a lot as kid — his dad spent 20 years in the Air Force. He lived in Arkansas until first grade before moving to England for four years. It wasn't until they moved to California that he saw his first live performance.
Molash's fifth grade teacher took his class to see the symphony orchestra. He called it a "long hair concert."
"I thought 'that's pretty cool,' I like this," he said with a smile on his face.
"I just thought it was great."
From then on, he was hooked.
Cigarettes in an 8-track player
It was in Belleville, Arkansas — a dry county that remains dry to this day, with a population of 300 — that Molash went to his first rock concert.
It was Johnny Rivers and Jimi Hendrix performing about 35 minutes northeast of Belleville in Mount Nebo
It was the first time he had a beer — his friend had three.
He doesn't remember leaving the concert. He remembers being in Jimbo Murphy's red Pontiac GTO, trying to put a pack of the cigarettes in the 8-track player, wondering why it wasn't playing.
His friend in the backseat, throwing up out the window, but he forgot to roll it down. The previously pristine interior of the GTO was never the same after that.
When Molash goes back to his hometown, Jimbo still jokingly tells him to "stay away from my car."
Post-Elton
As soon as Molash graduated high school, he joined the Air Force. He first saw Elton John while stationed in Altus, Oklahoma.
He was only stationed in Altus for a year and a half before he was ordered to move to England. But before he went, he married his high school sweetheart, Susie.
She had her sixteenth birthday on Dec. 14. He married her on Dec. 16.
"I had to wait until she was legal, but her parents signed for her," Molash said with a chuckle. It still tickles him after 44 years of marriage.
In England, Molash was afforded the opportunity to see a ton of concerts for cheap.
Any day he had off, he'd hop a train to London, then take the tubes to the venues.
Front-row tickets to see the Eagles were $3, and they let him take a cooler.
In 1973, Elton John played a weeklong engagement in England — a show a day, from Monday to Saturday.
"I stayed in London and went to every one of them."
Knee surgery
After decades of concert-going and being the "keyboard operator" in Elliott, Molash realized he needed knee surgery.
The Fleetwood Mac concert in Sprint Center was the final straw. He couldn't get his knee comfortable, so he went to an empty section of seats to stretch his leg out.
He decided it was time to get knee surgery.
Now it's time to get the other knee operated on, and he's scheduling his surgery around concerts.
"It's going to have to be after June 20, 'cause I've got a concert," he said. "Chicago and Doobie Brothers. "
He has a list of concerts he wants to go to before his surgery, and hopes he doesn't have to miss any while he's rehabbing his knee.
"I told my wife 'I hope Elton stays away for this year, at least until a few months after my surgery.'"
You can bet if Elton John decides to stop anywhere in riding distance after his knee surgery, Bill will have tickets. He'll swing his leg over his Harley-Davidson Road King and hit the Yellow Brick Road to see the Rocket Man.
Leave a Comment
About the Writer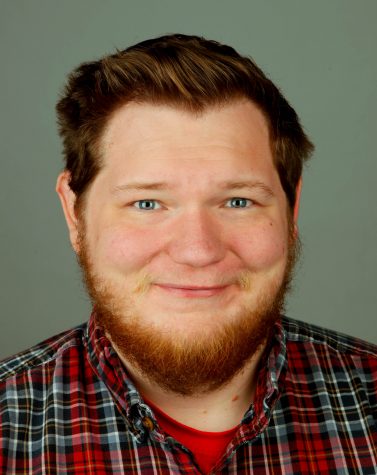 Brian Hayes, Former Photo Editor
Brian is the photo editor at The Sunflower. Hayes is a junior majoring in mass communication with an emphasis in journalism. He is from Wichita. Hayes enjoys...