Meet the WSU police officer who lip-synced his way into students' hearts
Superheroes fascinated Brandon Dorion as a child.
Superman had his strength, Batman his stealth and gadgets, Spider-Man his friendly charm. The heroes had different skills, but collectively, they made a team.
Their goal? To answer the call to crisis, and to fight crime.
Dorion wanted to be like those superheroes. So he became the closest thing he could think of — a police officer.
He's just wearing a uniform and badge instead of a cape and tights, Dorion said.
And just like all the superheroes had different powers, all of the officers at the WSU police department bring something different to the table.
Dorion's role within his department? Community engagement. He's the department's community liaison, in many ways.
Dorion spends a large amount of time monitoring campus events.
Police officers at these events usually aren't the most animated attendees. They tend to stand away from the crowd, observing the happenings, talking amongst themselves.
But officer Dorion goes all in.
Take, for example, last October at the student-run Cut H8 event in the Rhatigan Student Center courtyard.
Dorion isn't a good dancer, he said. But when the "Wobble" came on, he cut loose — and the crowd loved it.
"That was the first time I danced at an event," Dorion said. "When everyone was doing it together, it became more than just dancing … We were united, and just having fun."
The moment was immortalized on Facebook, and has racked up hundreds of likes and dozens of shares.
It was a fun, funny moment for the WSU police department. But Dorion wasn't done there.
The Fourth of July means fireworks, but for Dorion, it meant one specific "Firework" — the one sung by Katy Perry.
Wearing his police uniform, Dorion — a blonde-headed, boyish-faced 24-year-old bearing a passing resemblance to the rapper Macklemore — lip-synced his way through the 2010 Katy Perry hit, wagging his finger, bobbing his head, pumping his fists, and opening his jaw wide as he fake-belted: "Baby, you're a firework/c'mon show 'em what you're worth!"
The video has over 66 thousand views, 650 shares and nearly 1,000 reactions. For a police department, it's the kind of virality you want.
"When I saw the lip-sync challenge, I saw an opportunity to show people we're more than police officers — we're human beings," Dorion said. "We like to have fun, just like everybody else. I thought this was an opportunity to give everybody a laugh, and to see us behind the badge and uniform."
That's the goal for Dorion. He wants better interactions between students and officers. He wants conversations. Laughs. Memories. He doesn't want to just hand out tickets, or be the authority figure silently brooding in the corner. He wants to be a part of it all.
It wasn't long ago that he was just a student dreaming of being an officer. A Wichita native, Dorion got his first taste of law enforcement while still in high school at North High. He did ride alongs, learned about law enforcement, and then decided to chase his dream at Wichita State. He graduated in four years with a criminal justice degree, and was hired on by the department shortly after. Now he's been there just over two years — and he doesn't plan on going anywhere.
"Right here is where I want to be," Dorion said.
And his department is happy to have him.
"You've seen how outgoing and engaging he is," Police Captain Corey Herl said. "We want somebody that finds it easy to talk to people and interact with them … not just on law enforcement, but more along the lines of having that familiar face, that contact, and that connection."
Dorion doesn't know a stranger, Herl said.
He might be chatting with students in the RSC. Or he might be providing security at any number of campus events.
And it's not just WSU students Dorion spends time building relationships with. The kids at WSU's Child Development Center have gotten to know him well — just ask CDC director Jillian Hoefer.
"He's talked to the kids, played with the kids, read stories to the kids," Hoefer said. "They love him. He's a police officer, and he's not shy. They're asking him crazy questions, and, you know, he's answering the questions for them. He's been great with them."
Hoefer said she distinctly remembers Dorion coming over one afternoon, about a year ago, and saying, "Hi, I'm officer Dorion. I want to be your community partner from WSU. I want to come over and interact with the kids. I want to be a positive force for them."
Prior to that, she said, the CDC had little interaction with the WSU police department. Dorion took the engagement to the next level, she said.
"It shows a commitment beyond his job, because his job is completely different from that," Hoefer said. "He doesn't have to come over here. He doesn't have to interact with kids on that level. I think it shows a man who's committed to WSU, his job, the community, and kids."
As a kid, Dorion dreamed of being a superhero. But unlike those heroes who thrived on fighting crime, he'd rather things on WSU's campus stay tame.
"I want to make positive interactions, rather than meeting somebody on a call or at their worst," Dorion said. "Normally, when people call the police it's not for something good. If I can change that and give them an interaction that's positive and something that they normally don't see a police officer doing, for me, that's building a better relationship with our students, staff, and anybody else who's on campus."
Leave a Comment
About the Writer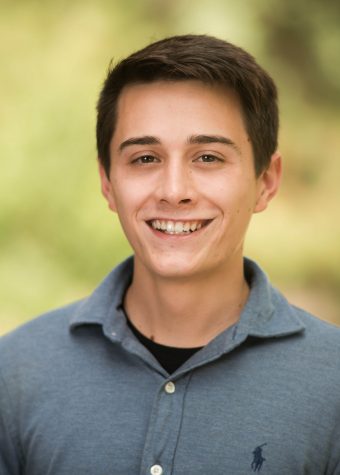 Andrew Linnabary, Former digital managing editor
Andrew Linnabary was the 2018-2019 Digital Managing Editor of The Sunflower. He studied journalism and minored in English. Linnabary is from Wichita, Kansas.