Trump ally Kris Kobach seeks governorship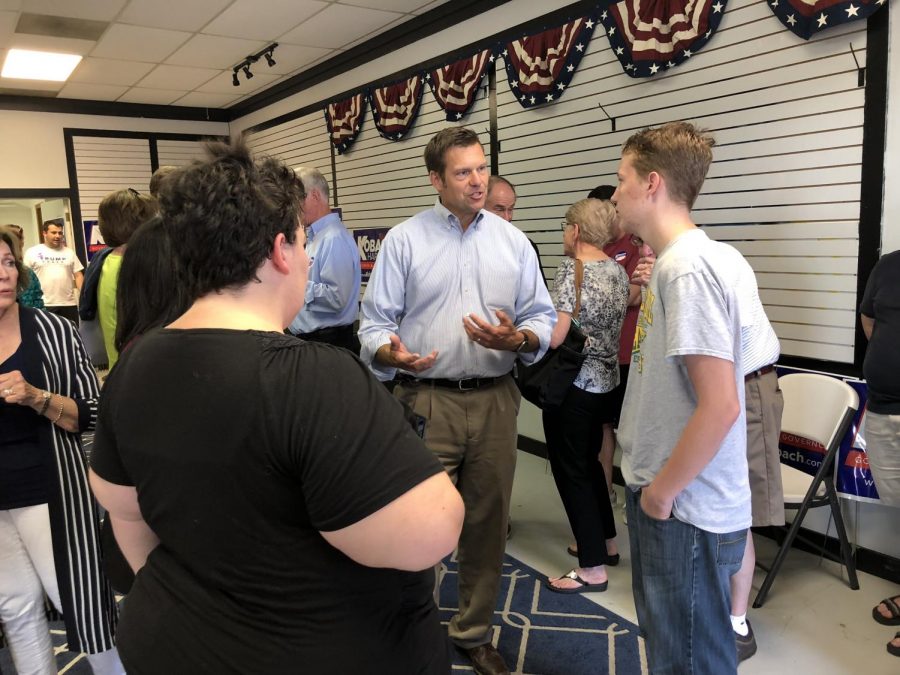 The Sunflower contacted Kobach's campaign repeatedly and was not granted a candidate interview.
Secretary of State Kris Kobach won a historically narrow Republican primary over sitting Gov. Jeff Colyer to secure his party's nomination. Kobach, who now finds himself in a dead heat with Democrat Laura Kelly, has already welcomed both President Donald Trump and Vice President Mike Pence to Kansas to campaign for him.
Kobach has been in the sphere of Kansas politics for almost 20 years, starting with a fellowship for President George W. Bush at the Department of Justice, where he focused on immigration policy. Kobach was elected to the Overland Park City Council in 1999, served as chairman of the Kansas GOP from 2007-2009, and has been secretary of state since 2010.
As secretary of state, Kobach has made national headlines for his hardline positions on illegal immigration. In Kansas elections, Kobach has championed strict voter ID laws.
In the 2016 presidential election, Kobach was an early supporter of then candidate Donald Trump. After Trump was elected, Kobach became the president's informal adviser and served on his voter fraud commission before it was disbanded earlier this year.
Kobach also authored Alabama and Arizona state laws cracking down on employers who hire illegal labor.
In June, Kobach claimed that rising tuition at Kansas's public institutions could be stemmed by repealing a law that allows undocumented high school graduates to receive in-state tuition. He argues that such funds should be redirected towards legal residents, thus lowering their tuition.
"If we weren't giving somewhere between three and four million dollars of subsidy to illegal aliens, that subsidy could be redistributed so that maybe Kansas in-staters don't have to see a hike after hike after hike," Kobach told The Sunflower in August.
Tuition increased for state colleges and universities by $10.2 million last school year and $12.9 million this school year. The Wichita State Student Government Association released a statement saying they support undocumented students receiving in-state tuition.
Kobach has been in legal battles with critics of his immigration and voter ID policies who challenge the policies' legalities — including groups such as the ACLU and League of Women Voters. Kobach even got into a public feud with former presidential candidate Hillary Clinton and her campaign over his voter ID policies.
Kobach writes for the conservative media outlet, Breitbart, and appears as a frequent guest on Fox News.
The secretary of state grew up in Topeka — attending local Washburn Rural High School before moving on to Harvard University. Once he achieved his bachelor of arts degree, Kobach would go on to earn a master in arts and PhD at Oxford University in England. He went on to attend Yale law school.
On the campaign trail, Kobach has promised to cut sales taxes, cap appraisal property taxes, protect gun rights, and set out a plan to spend 75 cents of every tax dollar spent for education in the classroom. Kobach boasts endorsements from groups including Kansans for Life, the National Rifle Association, and the Kansas State Council of Firefighters.
Leave a Comment