Military student finds voice through service
Riley Jones found his voice by shouting over roaring Humvee engines and giving reports to rooms full of high-ranking officers.
Jones always had a weak voice growing up, he said. At 18, he joined the Air Force, where he worked as a radio operator. Now 25, Jones is in the Air National Guard — and less than a year away from completing his business management degree at Wichita State.
A strengthened, confident public speaking voice came in handy while chasing that degree.
"I was and still am terrified [of public speaking]," Jones said. "It's just I'm a little more effective at it."
He became more effective because of pressure. There's a constant weight on your shoulders, Jones said, to perform well in front of your peers and superiors in the military.
"It's making you work a little bit harder on it because you're wanting to do the best you can."
That extra work paid off.
Jones joined the military as an "absolute couch potato," he said. He quickly learned that wouldn't fly in the Air Force.
"There's very high physical standards — a lot of attention to detail," Jones said. "I learned to roll my socks perfectly. Stuff like that."
He quickly learned discipline. The motivation and drive he acquired through training and repetition are what stuck with him most, public speaking skills aside.
"Having an attitude where you can't quit, won't quit — it puts that in your mind."
Quitting wasn't really an option for Jones. He made a commitment when he enlisted, he said.
"Most people won't sign up for a two-year cellphone contract, but these are people that have given away four years, six years, even more of their life to a huge commitment," Jones said. "Not just a job, but essentially a lifestyle, a culture, knowing that hey, you may get sent halfway across the world."
'Real camaraderie and brotherhood'
That lifestyle and culture — one defined by "dedication, motivation, and maturity" — is one he grew to love.
Thankfully, Jones said, he was able to find that same culture here at Wichita State.
"It took me a little bit to find [the Student Veteran Organization]," Jones said. "Once I did, I ended up gravitating toward it."
Jones spends his free time in the SVO. Veterans hang out, share meals, tutor each other. It's their home away from home.
"There's real camaraderie and brotherhood, which I know is sort of cliche, as much as it gets mentioned," Jones said. "But [the SVO] really just creates a good community for everyone here."
He began volunteering as the SVO's secretary after getting involved. Now he volunteers as the organization's vice president.
'Be the best you can be'
Jones didn't know he'd ever find the SVO, let alone find himself finishing a college degree. But he was put on the college path by his dad, he said.
His dad started the family at 18, and began working at Boeing. Fifteen years later, he went back to school. Then he got his masters in business.
"He's told me ever since then, 'The choice is yours, but getting a four-year degree is the best — pretty much smartest thing you can do," Jones said. "I believe him. I've seen the good things he's done with his degree."
What good things will Jones do with his degree? He's not yet sure.
"I might hang it up on the wall, be real proud of myself, and then go become a firefighter," Jones said. "I could end up working for Koch or Cargill. I want to have options."
Wherever he ends up, he'll take the skillset the military taught him with him.
"You kind of pick strange things that scare you," Jones said. "For me, that was speaking in front of a large group, whether that was peers or leadership.
"[The military is] always working on making you become a better soldier, or airman, or sailor — to be the best you can be."
Leave a Comment
About the Writer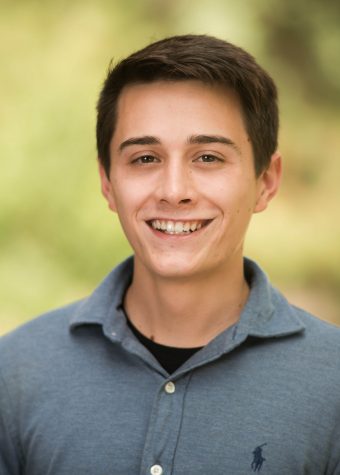 Andrew Linnabary, Former digital managing editor
Andrew Linnabary was the 2018-2019 Digital Managing Editor of The Sunflower. He studied journalism and minored in English. Linnabary is from Wichita, Kansas.