Tommy Newport: an outsider success story
Tommy Newport sees himself as an outsider in the Wichita music scene.
He's been playing guitar and making music for four years. His debut album, "Just To Be Ironic," dropped today.
You might not know of Newport, or of his new album. Newport's a nineteen-year-old from Andover; his birth name Oliver Milmine. He's bigger, he said, in California than he is in Kansas.
Maybe that's because his music doesn't really fit in here, he said.
"It's a niche thing," Newport said about the Wichita scene. "I don't know if I would say behind the times, but I feel like a lot of the stuff coming out of here, it's been heard before, and it's been heard a long time ago."
He respects that, he said. But not when his name gets trashed for trying to do something different.
"I respect anybody that's just trying to do what they love, so if that's what they want to sound like, that's beautiful, they should keep doing it," Newport said. "But as soon as I start hearing people talking s*** on my music when I'm just minding my own business, doing my thing, I'm just kind of like . . . I try to keep my mouth shut, but."
Newport tends to let the music do the talking, he said.
His music talks in a bluesy, guitar-driven way. He creates it all from scratch, he said — usually starting with guitar. Sometimes bass.
"I have a little spot in my basement where my computer and everything is set up — my guitar and all that," Newport said. "And I usually start out with just the guitar, and I'll write sort of like a progression or a melody, and then I kind of loop it in the software and throw other layers to it like bass, and maybe some drums.
"If I enjoy it or if I feel like it could go somewhere, I start to really sit down and structure it better."
Newport said he tries to make something every day.
"Because why not? If I don't make something today, I could've missed something I really liked," said Newport.
Inspiration often strikes, he said, when listening to his favorite artists — the Arctic Monkeys, Dan Auerbach.
Sometimes his influences slip in without him noticing.
"When people tell you, 'Oh, you kind of sound like this or that,' I'm like, well, it would make sense because I listen to that. So it's weird how it works. Because when you sit down and write, you don't think about mimicking anyone, but subconsciously, sometimes you do," Newport said.
Newport said he tries not to overthink anything — whether that's what other artists think of him, what his music sounds like, or where he's headed in the future.
His end goal? To have as many people hear his music and enjoy it as possible.
"I feel like there's definitely a lot of possibilities of it taking off in the next six months, but you know you can't really predict anything," Newport said. "You have to keep doing what you do, and hopefully something happens."
Leave a Comment
About the Writer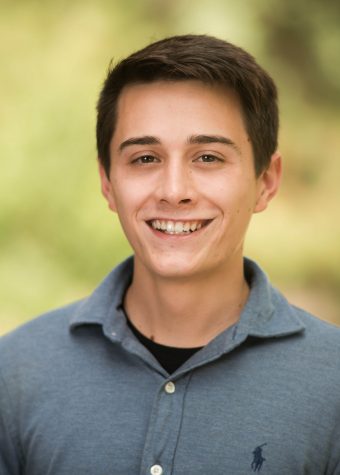 Andrew Linnabary, Former digital managing editor
Andrew Linnabary was the 2018-2019 Digital Managing Editor of The Sunflower. He studied journalism and minored in English. Linnabary is from Wichita, Kansas.