Honors Baccalaureate Lauren Rust looks to build up her community through education
When Lauren Rust transferred to Wichita State from Newman University two years ago, she expected to take a straightforward path to teaching English in middle and high school. As soon as Rust stepped foot in a public school, everything changed.
"I started going into classrooms for my practicum, and I realized that I didn't like what was going on, at all, especially in the public system," Rust said.
"So I decided to go to Finland for six months. I just wanted to see what they were doing right."
What Rust saw in Finland was a stark contrast from what she observed in American classrooms. The students were trusted by their teachers. There were no hall passes or locked doors. In nearly every subject, teachers used hands-on, practical activities to help students learn abstract concepts and real skills at the same time.
"After that, I came back and I was like, 'I can't do the program anymore,'" Rust said. "It was my last semester as a senior."
With so little time to change her direction academically, Rust turned to the Honors Baccalaureate program. As a member of WSU's Honors College, Rust could take everything she'd already learned in education and shape it around a degree customized around exactly what she wanted to do after school.
For Rust, that meant completing her education with a 30-plus page thesis on "Sloyd," the fusion of handicraft and education utilized in the Finnish school system.
"In Finland, all kids from what we would consider kindergarten to third grade learn how to use wood, metal, and textiles," Rust said. "These kids learn how to use their hands, but also attach the knowledge in their brains to it. When I was in Finland, I saw math being taught through sewing."
Ultimately, Rust's passion for education is still leading her. She's not simply going into the standard classroom just yet. Before applying to graduate schools or venturing into other career paths, she'll take a gap year working with Americorps, a non-profit organization dedicated to providing resources to underprivileged Americans through a wide range of programs.
Rust will be using her skills to serve an Americorps literacy program called Storytime Village based in the Fairmount neighborhood south of campus.
When looking back on her path from classroom education to community outreach, Rust says she found her greatest support through a network of lasting relationships she built along the way. Even after she left the education program, her old advisor continued to provide guidance. After completing her semester in Finland, Rust still talks to and works with her old friends from the study abroad program, even though many of them live across the Atlantic Ocean.
Yet no group of people has given Rust quite the level of constant support as her sorority, Kappa Delta Chi, she said. They've given her political insight, emotional support, and even academic guidance, she said.
"Just having those people in your life who know you well enough to say, 'Hey, I think you're going in the wrong direction,' or 'Hey, move more this way,' is so important,'" Rust said. "Because sometimes you don't see it."
As she moves forward, Rust knows that she'll continue to be a part of her sorority. She holds a chair role and an executive role to give back to the organization which has supported her. She said a key saying in Kappa Delta Chi is that the sorority isn't for four years, it's for life. That bond, Rust says, has defined her time at Wichita State and will continue on long after she's graduated.
"They're my family," Rust said of her sorority sisters. "Every day that I'm here, even if I see other people in other chapters, I say oh — that's my family too."
Leave a Comment
About the Contributor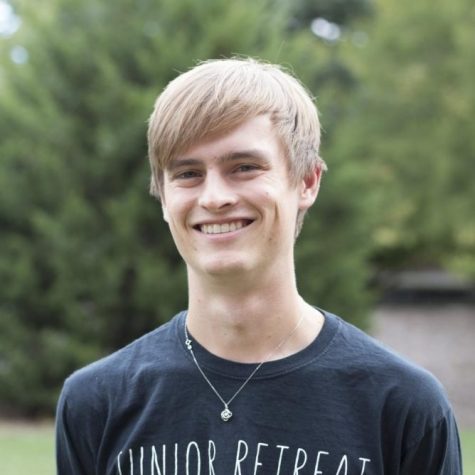 John Darr, Former culture editor
John Darr was a reporter for The Sunflower. His main interests were local art, student life, experimental literature and ambient pop music.