'A true passion project': Gratefill is grateful to offer sustainability
Two years ago, Maddie Brown was working as a case manager in the foster care system and around the nonprofit world. Now, she is the owner of Wichita's first refill shop, Gratefill.
"I saw refill shops in LA and Denver and the big cities," Brown said. "I was like, 'Oh, that's so cool.'"
Comparatively, Wichita has no zero-waste stores, according to the Sustainable Collective.
"I just couldn't let the idea go and just decided to go for [opening up the shop]," Brown said. "I didn't come from a business background or anything. It was not something I ever expected. [It was] definitely a true passion project."
While Brown has been trying to live a sustainable lifestyle for a while, when health issues began to arise for her, she took a look at the products she was using in her everyday life.
"[Gratefill] started in March of 2021," Brown said. "I started digging deep into the ingredients and the products I was using and just realizing that these products that we all think are good for us actually contain a lot of chemicals that aren't. That became a huge passion of mine, like non-toxic living and trying to remove those toxic chemicals from my life."
Gratefill is set up in sections. The refill station is in the middle of the store and other low/zero waste replacements for parts of a daily routine can be found on assorted tables around the store.
"Our products are all organic and natural products so their [prices] are best compared to more natural products like Mrs. Meyers or Seventh Generation," Brown said. "It is very, very cost effective just to do it by the ounce. You're saving a lot of money. Our products are also very concentrated so you don't need to use as much. You might pay a little more upfront, but it will last you way longer."
Since opening Gratefill, a sign in their shop claims they have saved 14,512 plastic bottles. According to Brown, this signifies the number of refills at their refill station. She estimates that the amount of actual plastic saved is much higher.
"It's solely based off our refill station," Brown said. "It's however many refills we've done. Our Square system keeps track of it and just anytime someone refills our bottles, it counts as another bottle saved."
According to the 2021 United States Sustainable Development Report, Kansas ranks 28th in the country in meeting the Sustainable Development Goals (SDGs) set by the U.N.
"There's a million things that our state can do," Brown said. "We're pretty behind. You see cities like Portland or these other cities that are already like a lot more sustainable and then you just take one step into our grocery stores and there's like plastic everywhere and trash everywhere on our roads."
In comparison, the city of Wichita is one of 120 Leadership in Energy and Environmental Design (LEED) certified cities and communities, according to the U.S. Green Building Council (USGBC).
"From a consumer standpoint, I feel like there's even more [we can do],"Brown said. "We vote the most with where we spend our dollars. That will show the government what we care about."
Leave a Comment
About the Contributor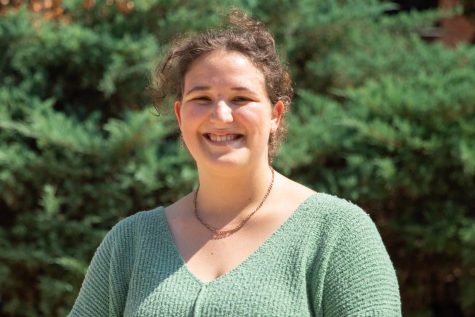 Trinity Ramm, Managing Editor
Trinity Ramm is the managing editor and former sports editor for The Sunflower. This is her second year on staff. Ramm is a senior English Lit major and...