Lockard brings personal experience to political artist talk
Over the centuries art has displayed powerful men, harmful ideas of beauty and the mistreating of victims. Assistant Professor of Art History and Creative Industries at WSU, Brittany Lockard, shared her narrative on sexual assault and beauty standards at the Ulrich Museum on Tuesday. 
Donald Trump's belittling comment towards his accusers "Look at her! I don't think so,"  which the event was named after, was discussed. She presented the number of victims who spoke against him and how his comments hurt women who aren't the ideal beauty standard of the time. 
Following the example of the former president, Lockard continued to list injustices towards sexual assault victims by politicians. 
"The Brett Kavanaugh confirmation hearing, which ultimately declared him deserving of the honor of sitting on the bench of the Supreme Court, also shows how little progress women have made in the decades since the last alleged sexual predator, Clarence Thomas, was nominated as an injustice," Lockard said. "In both cases, men face their assault victims and an open hearing and despite substantive, compelling questions about their behavior and moral character, emerged with the lifelong appointment to the highest court in the land."
Recently, U.S. citizens voted whether or not abortion should be kept legal in their state. Lockard referred to the recent controversy and tied it into her ideas about the people put in positions of power in the government. 
Lockard presented the following question to the audience: "Why did they not shave with rage at the idea of an attempted rapist gaining almost unlimited power, including power over what women were legally allowed to do with their own bodies?"
Tying into Trump's quote, Lockard continued to discuss the impact of beauty standards on society, specifically the large number of victims of sexual assault. 
"Our treatment of women who share their stories in this country is appalling on every front," Lockard said. "But as accused men's reliance on the idea that only conventionally attractive women become victims shows, we particularly shame and silence the lived experiences of fat women, elderly women, ugly women, disabled women, of anyone who 'wouldn't be their perpetrators first choice,'" Lockard said.
American singer Usher was sued by several people because of allegedly spreading the herpes virus knowingly to partners. One of these women was Quantasia Sharpton. Following a press conference in 2017 delivered by Sharpton's attorney, Lisa Bloom, the internet quickly shifted their focus to the victim's appearance.
Lockard brought attention to Aubrey Gordon's book "What We Don't Talk About When We Talk About Fat" and recommended listeners to read it. She could relate to feelings the author shared and brought attention to issues women of all types are living with. 
"Reading Gordon's book, it saddened me that I didn't even need pushback from another person in order to find my story discounted," Lockard said. "I had internalized so deeply that anti-fat stigma in Western Culture that I struggled to believe my own lived experience. I interrogated and silenced myself asking, 'who would want to grope you?'"
During the Spring semester of Lockard's freshman year of college, she enrolled in her first art history class. The course took place in Furman Hall, the only white building on a brick building campus, that centered on Western art. The art they studied was from the Renaissance period to the present day at the time. 
"And the class changed my life in profound ways," Lockard said. "It was the only course that I never skipped that semester, sorry, Mom and Dad."
Lockard was intrigued by how sexual assault was ingrained in art history.
"It was both inescapable and mentioned with astonishing casual illness," Lockard said. "Sexual violence, especially told from the perspective of and to the purpose of men haunts Western art history."
Leave a Comment
About the Contributor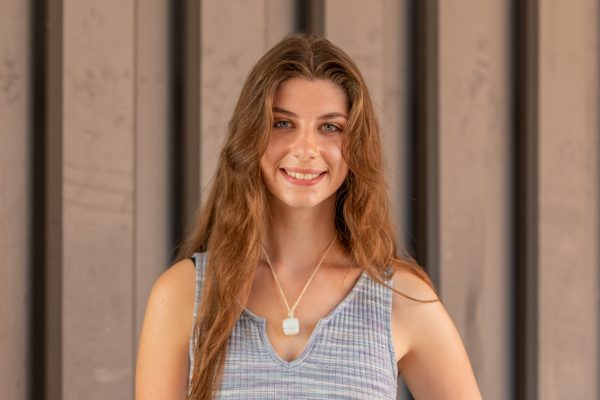 Piper Pinnetti, Reporter








Piper Pinnetti is a reporter for The Sunflower. Pinnetti previously designed content for The Sunflower's Instagram. Pinnetti is a junior...