REVIEW: Rockazilla's second leg sweeps you off your feet
For those into punk rock music, Hartman arena hosted some big names on Feb. 16. 
People drove from all over to see Escape the Fate, Hollywood Undead, Falling in Reverse and Papa Roach live in concert. I drove 20 minutes to see Papa Roach and Hollywood Undead — The other two were just a bonus. 
Escape the Fate was the first act, and though I hadn't listened to much of their music before, they did a pretty good job with crowd work and performance. I was bouncing along and head banging to their songs. 
Hollywood Undead was next, and their crowd work was incredible. They brought a fan on stage to shred on the guitar and kept him up there for a couple songs. They took time out of the show to see whose first time it was, and thanked them for coming. Considering it was my first show of theirs, I felt appreciated as a fan. 
Falling in Reverse performed next, and I'm a pretty big fan of their older stuff, but they only played their new music for the show. If you're into the 'the world hates me so I hate the world' or 'cancel culture is bad' music, then their new stuff is for you. Unfortunately, it was not for me. 
Papa Roach closed the show, and though I knew the least about their music, I had the most fun watching them perform. The lead singer, Jacoby Shaddix, actually walked through the venue while performing and made his way through the audience. He got close enough to my section for me to be able to almost reach out and give him a high five. 
Overall, it was a great concert and Hartman prices aren't too bad, about $60 a ticket. I'd definitely go again with the same line up.
Leave a Comment
About the Contributor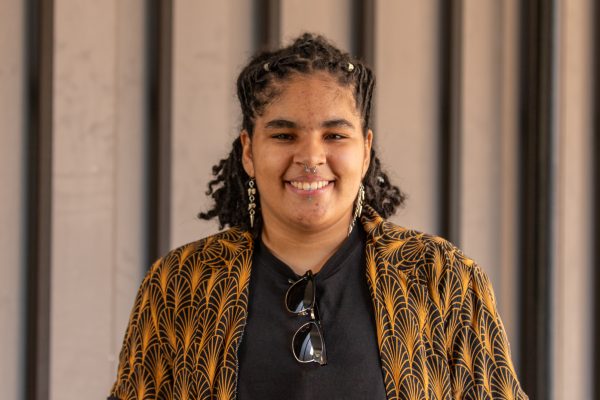 Maleah Evans, Reporter
Maleah Evans is a second-year reporter for The Sunflower. They previously worked as a copy editor. Evans is a sophomore, majoring in history with a minor...