'Redefining what success looks like for artists,' from motherhood to gun history
The Ulrich Museum presented another Artist Talk before wrapping up for Spring Break. A pair of faculty members from the School of Art, Design and Creative Industries shared their artistic practices as well as their personal experiences as creators. Amanda Pfister and Jennifer Ray spoke at the event.
Pfister, the first artist to speak, partnered her photographs with words from poet April Pameticky. Together they created art that shares experiences with monotony, motherhood and feminism. 
"I'm a mother of three and had our first child in 2013 and then my next in 2017," Pfister said. "I thought 'good, I got two kids, I'm done.'"
Two months later, she was pregnant.
The plan altering news brought up a conflict with her career and her job as a parent. The workload of working full time as a photographer with three young kids adds to more hours spent awake and working than hours getting sleep. 
"I thought 'aw, man, I'm not going to be an artist anymore, I have kids,'" Pfister said. "What does a studio practice look like for a photographer?"
Harvester Arts, an art center in Wichita, works to build creativity in the community with experimentations in the arts, public art projects, artist residencies and professional development. 
"At this time, Harvester Arts was trying to get artists down to Wichita, and would always say 'you should apply,'" Pfister said. "(I thought) 'I'm fine, I have three kids, I don't have time.' But then I applied, and then I got accepted."
Within the job, Pfister was able to connect with artists outside of her field, including musicians and dancers. 
The project Pfister started required her to take photos everyday for a year. Started around June of 2018, the project helped her tackle her struggle of being committed to projects.
"It was great because I got to slow down, notice the world around me, finding beauty in the mundane and bottles and the dishes in the house," Pfister said. 
Her commitment to the project and the new perspectives she gained helped her achieve a new level of balance in her life. 
"You either need to be a really good artist and not a great parent, or you're going to be a good parent and not a great artist," Pfister said. "For some people, success might be you're in MoMA, or some artists want to get a management studio. I ended up redefining what success looks like for artists and also an artist that is also a parent."
Photographer Jennifer Ray's unconventional project also redefines success for artists. She is an associate director and professor of photo media in the College of Fine Arts. 
Ray shared photos in the Ulrich that cover themes of violence in both the past and present of the U.S. 
"It's been shown (in) biennial exhibitions before, but it's basically photographs of objects that have been used and sort of improvised," Ray said of her project. 
Ray explores shooting ranges, searching for subjects to photograph. 
"Everything is like, pretty wild. Nobody's sort of regulating the space at all … so there's a lack of principle out there," Ray said. "I come in the summers (to) photograph, and kind of sift through what's there."
Photographs in the Ulrich's exhibit include snakes, instruments, flowers and a variety of different colors. All elements in each photo play a part in Ray's narrative. 
"I think my command is actually really dominant in these images, which is something that people don't always understand is just how much of it is sort of a narrative," Ray said. "That's about what I want to say."
Over the years, Ray has researched history regarding the Second Amendment, and specifically how guns affect the United States and the division of political views among citizens. 
"A lot of the rhetoric around guns is so rooted (in) just absolutely blind hypocrisy," Ray said.
Ray's photo of the snake, ran over and shot at, resembles the "don't tread on me" coiled snake that has been used to champion gun rights. 
Both artists will be featured in the exhibit "Transmissions: The XXIV Faculty Biennial" until April 22 in the Polk/Wilson Gallery.
Leave a Comment
About the Contributor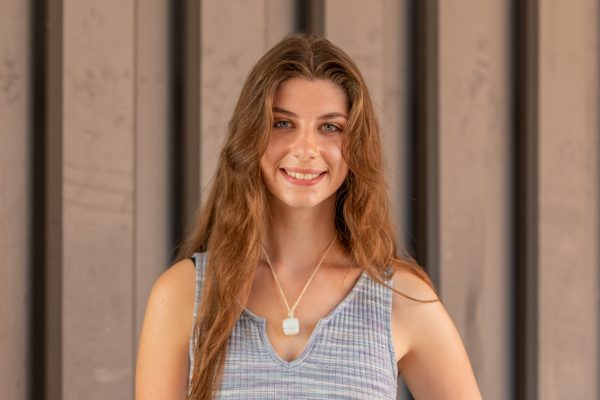 Piper Pinnetti, Reporter








Piper Pinnetti is a reporter for The Sunflower. Pinnetti previously designed content for The Sunflower's Instagram. Pinnetti is a junior...