Poet explores the human experience during quarantine in her unique writings
From high school physics teacher to writer, Cindy Juyoung Ok visited the Ulrich Art Museum on Thursday to share her past and present writings in an Artist Talk.
Author and associate professor and director of creative writing Sam Taylor spoke about the use of Artificial Intelligence in the arts, though Taylor would soon take a step back for the main show.
"The other day a colleague in the art department told me he was having his students write artist statements with the help of AI because he could write them better," Taylor said. "The thought that artificial intelligence could write artist statements better than the artist disturbed me for hours."
To begin the event, Ok presented her soon to be released chapbook, "Syntaxed." The publication is a small collection of poetry she wrote within a year. She also discussed writings included in her look-inside styled collection, "House Work."
The unique foldable shared her work about the house coming alive and working through chores and roles of the home during a time where a majority of people found themselves stuck in their house.
"I wrote these poems in 2020 and 2021. So, like a lot of people, I was mostly locked down; it was quarantine. I didn't leave my house a lot," Ok said. "I had this huge privilege of being sort of working and teaching creative writing on my computer all day. I was kind of obsessed with this mood of the house."
During this time, she had two others in her life. Living with her was her partner, and the other person would visit them despite the pandemic.
"All I really came to care about and think about was just waiting for this person. All day I would wait," Ok said. "It was the postman, and I just wanted to say 'hi' to them every day as my daily interaction."
Throughout the presentation she shared older poems of hers such as "Shakeout" that focuses on idioms and word play. Additionally, she shared the poem "Provisions," which was inspired partially by the mail person as well as a few other themes.
"I saw him as this carrier of provisions," Ok said. "He's the one who has information. So (the poem) is called provisions."
Throughout the poem, Ok never specifically stated a delivery person, and used her human intelligence to describe the connections she was making figuratively.
"So even if it's not something that jumps out at people in a conscious way, we're taking something from the text that maybe was not put there to be noticed," Ok said.
Following her older poetry, Ok read aloud some of her new works, such as "Petrichor's Periphery," then "The Estuary as Parenthetic." She also included a reading of "Ponte di Scalia in January," a poem of hers that includes all hyphenated phrases in each verse.
More information about Ok, as well as her other works, can be found at cindyjuyoungok.com.
Leave a Comment
About the Contributor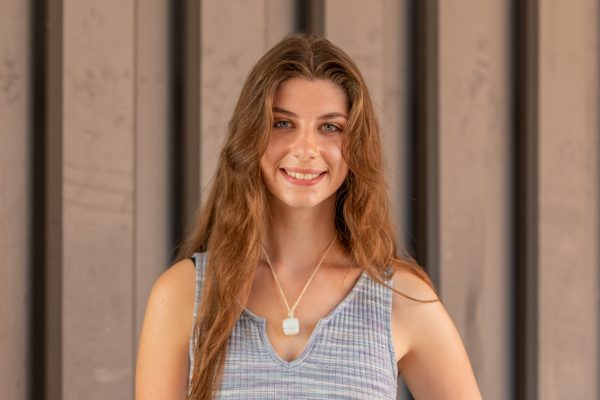 Piper Pinnetti, Reporter








Piper Pinnetti is a reporter for The Sunflower. Pinnetti previously designed content for The Sunflower's Instagram. Pinnetti is a junior...