Culture beyond borders: Eastern European professors take the floor at the Ulrich
Graphic design professor Irma Puškarević rides her bike to class. She starts her day with a spoonful of honey, something that she's been told to do since childhood. She learned it in the country she was born in, in a country that can no longer be found on any world map.
The Socialist Federal Republic of Yugoslavia, split in 2003, contained six different republics: Serbia, Croatia, Slovenia, Montenegro, Macedonia and Bosnia and Herzegovina (home to Sarajevo, where Puškarević was born). Puškarević covered her experiences as an immigrant in an artist talk in collaboration with painting and drawing professor Levente Sulyok on Tuesday.
Growing up in Socialist Eastern Europe, Puškarević experienced a great political divide, even within her own circles.
"(I grew up) in a country that was condemning the past on one hand and romanticizing the past on the other," Puškarević said. "(My mom and I) love each other but we have our differences."
Her artworks are very much informed by her experiences as an immigrant, especially from a country in conflict. Her works on display at the Ulrich right now are a series of letterforms with controversial political undertones. Only two of the languages used are still in use today.
If these works were presented in Eastern Europe, "(the reception) won't be nice," Puškarević said.
"My work is about borders," Sulyok said. "I think about nationalism and the politics of Hungary … and the cultural implications of that."
Both having grown up in a country marked by conflict, Sulyok was born in a border town between Serbia and Hungary. The Soviet Union held control over Hungary before troops left from 1990 to 1991.
"In 1985, (my father) lived a life that did not fit into a communist era context," Sulyok said. "We didn't have very much money, but I lived a life that didn't look like what you would imagine the late '80s being in Eastern Europe at all."
Sulyok has turned his experiences into art, namely two intricately painted chairs that greet visitors at the front of the exhibition. Many of his artworks explore the relationship between two objects.
"In some ways, I was always between two places," he said. "I also like the idea of thinking about two things, because there's also a gap between them, which is a third thing."
Hungary lost about 70% of its territory following World War I, leading to a huge spread of Hungarians around Eastern Europe.
"There are about five million Hungarians living outside the current borders," Sulyok said. "Culture tends to not obey national borders."
Leave a Comment
About the Contributors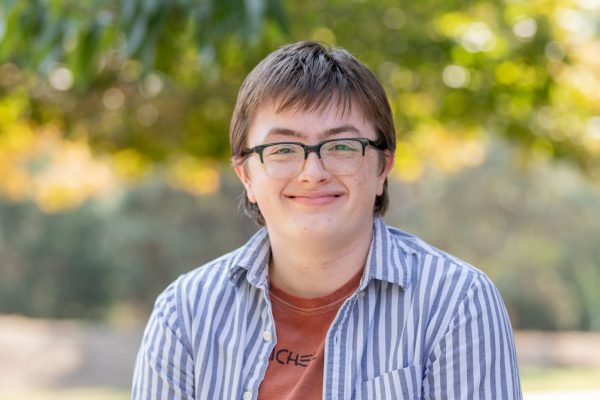 Sascha Harvey, Opinion Editor
Sascha Harvey is the opinon editor for The Sunflower. A junior majoring in graphic design, this is Harvey's third year on staff and second year as a section...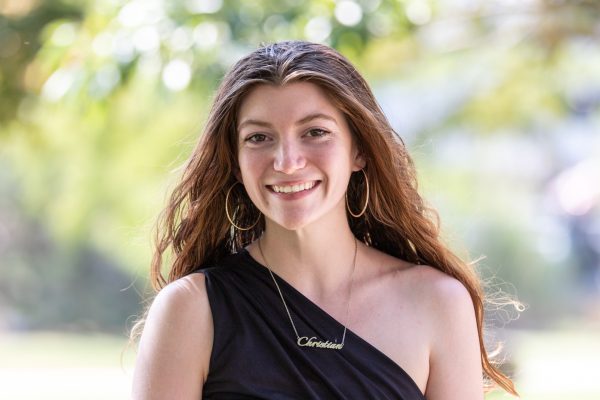 Kristy Mace, Photo Editor
Kristy Mace is the photo editor for The Sunflower. She's majoring in psychology. Currently a junior, Mace hopes to go on to get her Ph.D. and become a...