Art professors talk immigration, the pandemic and dog fur
"I was born in Mexico and, at the age of three, my family and I immigrated to the United States illegally," Marco Hernandez said on Tuesday. "It wasn't until the Dreamer Act that I was able to get documented."
Until he was 22, Hernandez, now a printmaking professor, was unable to obtain a driver's license, a job with above board pay or social security until this. He spoke of his upbringing as a Mexican-American and how it has impacted his printmaking at the Ulrich, accompanied by a talk from Robert Bubp. 
"In my heart, I wanted to show that I'm proud to be Mexican, proud of my experiences living in this country or being from Mexico," Hernandez said. "I use a lot of symbolic imagery … of anything that relates to Mexican culture." 
Both of his displayed prints feature snakes, which are pictured on the Mexican flag. Hernandez uses imagery related to his heritage to connect himself to his roots while in America. 
"I like that my artwork allows me to stay connected to a culture that I don't have as much anymore but I'm still really interested in," he said. "This past year, for the first time in 22 years, I was able to visit the house I lived at for the first few years of my life (in Mexico)."
While in Mexico for two weeks, Hernandez was able to connect with extended family members, some of which he did not recognize. He also dived into the art scene of Mexico, visiting the National Printmaking Museum, known as The Museo Nacional de la Estampa. His visit not only developed his relationship with his family and heritage but his artwork as well. 
"I started to notice that even the Spanish language I'm starting to forget because I don't use it as much as I used to," Hernandez said. "My work allows me to have that connection. It also forces me to do the research."
Professor of Painting and Drawing Robert Bubp explores a loss of connections with his work. His pieces on display at the Ulrich process the cultural trauma that took place during the pandemic. 
"COVID was a cultural movement," Bubp said. "As we all know, (it was) very traumatic."
His displayed works explore the widespread loss caused by COVID-19 as well as his personal relationship with the pandemic. His grandfather and a lifelong friend passed away from the illness.
"I was still trapped in this house," Bubp said. "COVID is a special kind of thing. It certainly affects your mentality."
While under quarantine, Bubp found that one of the only refuges from cabin fever was walking his dog. A clip of his footsteps with a leashed dog is edited in with video piece alongside a helicopter circling a blue sky, a ceiling fan and footage from a Black Lives Matter protest following George Floyd's death in 2020.
"These two works are about me rethinking what a place could be … with a cultural trauma (from COVID) and the reckoning we had with the 2020 George Floyd protests," Bubp said. The helicopter pictured is a police copter from the Kansas City Black Lives Matter protest he attended.
While his video is a collection of majority outside elements, his other piece is more personal to his home. 
"This is just what was physically (and) literally in my space," Bubp said. "The circularity of all this is related to that idea of being trapped in a room." 
His mounted piece contains everything from old artworks and spilled coffee to garden dirt and dog hair. Some of the paper used was planted in a creek bed in George for a while before he fetched it.
"Sometimes we just sort of make something, see what comes of it and then move to the next step," Bubp said.
Leave a Comment
About the Contributors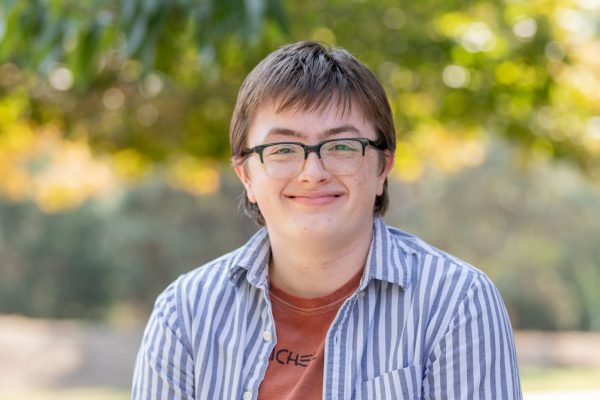 Sascha Harvey, Opinion Editor
Sascha Harvey is the opinon editor for The Sunflower. A junior majoring in graphic design, this is Harvey's third year on staff and second year as a section...
Garima Thapa, Photographer
Garima Thapa is a second-year photographer for The Sunflower.