Kansas State professor reads award-winning novel, shares writing advice
When giving a reading at Wichita State, author and Kansas State professor Daniel Hoyt only read chapter one from his novel — a whole chain of them.
Hoyt gave a reading of his award-winning novel, "This Book Is Not For You," on Tuesday. Profanity peppered his prose and speech as he frankly discussed his writing process and doled out advice.
Hoyt said his fragmentary writing inspired the string of first chapters in "This Book Is Not For You." He began penning his book in the early 2000s, stopping and starting across years. After publishing a short story collection and becoming a K-State professor, he committed to his novel.
"If you're going to write a novel, write a fucking novel," Hoyt said. "Which is what I tell my students, and I'm always a cautionary tale: 'Do not do what I did.'"
The end result, "This Book Is Not For You," follows 19-year-old Neptune, haunted by his parents' death as he encounters trouble and his mentor's murder. The book won the inaugural Dzanc Fiction Prize in 2017.
Since then, Hoyt has played around with writing methods. In 2020, he wrote a book on Twitter, unable to edit as he drafted.
He wrote every single day.
His habit lasted for a year, but Hoyt acknowledges he and most people usually can't write each day because "life's too hard."
Instead, he encourages discipline and grace for one's circumstances and writes about the hard aspects of life.
"I don't believe in waiting for the muse," Hoyt said. "You got to sit down and do it sometime, but do it when you can …. We talk about the hard stuff in life. We try to create art around it when the world's crumbling."
Hoyt recommended that writers record their ideas. Before phones, scribbling on the backs of envelopes and bar napkins were fair game to Hoyt.
"If you're in Shakespeare and have a great idea for your story … write it down in your notes," Hoyt said. "They'll never know."
Hoyt also discussed that Clarkesword, a science fiction and fantasy magazine, closed in February after being inundated with AI-generated stories.
The concept amazed him.
"We want the computers and the robots to dig ditches," Hoyt said. "We want to write the stories. That's the fun part."
Hoyt plans to keep doing the fun part. His forthcoming novel "Shitlist" is a satire of the Trump administration.
"Before I begin (reading an excerpt), I would like you to know that I have never, ever been indicted for a Class E felony," Hoyt said. "Not 34 times. I'm proud of that."
Hoyt said he is unsure of the release date for "Shitlist," but he hopes he can attend book fairs and writing conferences. He also mentioned other authors in Kansas City might protest Kansas bills related to transgender people and drag shows.
"I think a lot of people will be reading in drag and protest," Hoyt said. "So the book better be out, so I have something to read."
Leave a Comment
About the Contributor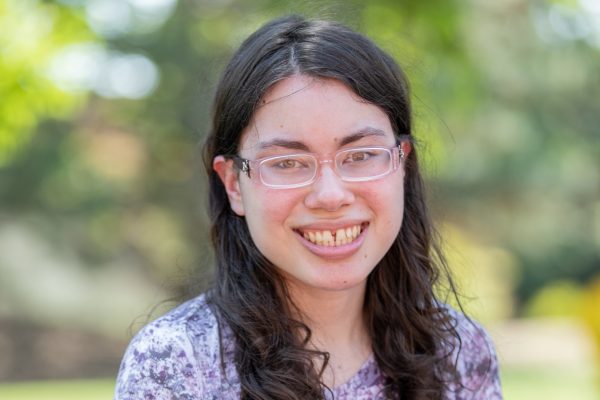 Courtney Brown, Investigative News Editor
Courtney Brown is the investigative news editor for The Sunflower. Brown previously worked as a reporter and assistant news editor.