Cartoonist Roz Chast talks aging, grief through humor
Despite her parents' death over a decade ago, Roz Chast still doesn't know what the grieving process is supposed to be.
When her mother died, Chast said she was alone with her mother's body for 15 minutes and coped how she knew best; she drew her mother one last time.
"If you've ever been through this, you know that people are rushing around and all this official stuff happens," Chast said. "I did not think I was going to be drawing her, but I guess I draw to process things."
As part of the National Endowment for the Arts Big Read in Wichita — an annual event hosted by the Wichita Public Library that helps communities understand new perspectives through reading — Chast came to Wichita State to talk about her graphic novel memoir "Can't We Talk About Something More Pleasant?"
The memoir received the National Book Critics Circle Award upon its release in 2014 and details Chast's experience of "not being a great caretaker" to her elderly parents who she said "weren't great at being taken care of."
"I can see that they're slowly leaving the sphere of TV commercial old age," Chast said, reading from her memoir. "Moving into that part of old age that was scarier, harder to talk about and not a part of this culture."
Despite how daunting her parents' aging and deaths were, Chast tried to find the humor in their lives when writing the memoir.
As an example of this, Chast read a panel from her memoir about an oven mitt in her parents' apartment that is patched together with a skirt she made in a home economics class.
"There were funny things (that happened during this time)," Chast said. "With my mother's patched oven mitt, that can be incredibly sad or funny. There are a lot of things that can go either way."
Since 1978, Chast has been a cartoonist for The New Yorker where she sends her weekly "batch" of six to seven cartoons in a cycle of about 1400-1500 cartoons from across the country.
She compared the process to a Roman emperor deciding whether or not a gladiator gets the ax.
"The first many years I worked at the New Yorker, we went in person," Chast said. "The art editor at the time would look at (the cartoons) in front of me, and it was a nauseating experience. It's this quiet process, and you just sit there and die."
Her advice to budding cartoonists is — if it is the only thing you can do — do it. If you can do anything else, do that thing instead.
Chast's next book, "I Must Be Dreaming," is scheduled for an October release this year. It recounts some of her dreams while incorporating many theories about what dreams are and why people have them.
Sharing one of the cartoons for this next book, Chast, along with the audience, couldn't stop laughing.
"This one is (called) 'To Save Humanity,'" Chast said. "'There's a water shortage on Earth, but I had a genetic defect where I made tons of saliva, and I kept people alive by drooling into their mouths. Everyone was grossed out but it was either take my drool or die.'"
Leave a Comment
About the Contributor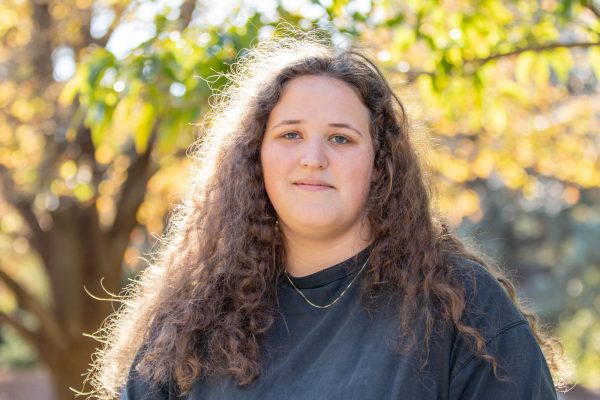 Trinity Ramm, Managing Editor
Trinity Ramm is the managing editor and former sports editor for The Sunflower. This is her second year on staff. Ramm is a senior English Lit major and...