Escape, adventure, exploration: Curator visits Wichita to talk the 1960s paper dress phenomenon
The most important part of wearing a paper dress is to not get it wet, and not because it'll dissolve — because it's flammable. 
Helen Jean, Jacquie Dorrance Curator of Fashion Design at Phoenix Art Museum, visited the Wichita Art Museum on Friday as part of the Howard E. Wooden Speaker Series. Jean discussed "Generation Paper," the time for the fashion fad of "paper dresses,"which lasted from 1966-1970. 
"Now, this is the 1960s, so we have the rise of leisure activities, really having lots of backyard picnics," Jean said. "Lots of events with flames, everybody smoking everywhere. So this was a very, very risky fashion moment."
Jean started the lecture by explaining some of the purposes of fashion, such as to protect and cover, but said there's a lot more fashion can do.
"It's an escape. It's an adventure. It's an exploration. It's curiosity, it's technology. It's the future," Jean said.
Paper fashion blends with other industries such as chemical companies and paper manufacturers. The dresses weren't actually made out of paper, like copy paper, but materials very similar to it.
"Paper's the exciting word," Jean said. "Because to say, 'oh, I'm wearing a paper bikini to the beach today,' that caught everyone's attention."
The collection in the Phoenix Art museum was gifted by Kelly Ellmen, a longtime supporter of the museum, who spent about 25-30 years collecting about 85 paper garments. 
"She understands that it is a record of our experiences," Jean said. "That it ties us to one another, that it links us to our activities. It is a record of our finances, of our technology, of our automotive, of our industry, of our architecture, fashion records all of that."
Jean said fashion also records special things from individual people. 
"If you ever sewn a patch onto a military uniform for someone, you're stitching protection with every stitch," Jean said. "If you've mended something for somebody that you care about, you put that time into it, you're investing love into those textiles."
The paper dress moment started as a way for chemical and paper companies to experiment and show off their materials. 
"Fashion was the playground they chose to experiment in," Jean said. 
Scott's Paper Company was a paper producer and started a mailing campaign where you could send in $1.25 (which includes your return stamp) and pick from the red bandana or the black and white pop art dress.
Jean said the dresses would come with instructions such as to not get them wet, iron on cool, don't wash, but you can cut it shorter. The dresses were only supposed to be worn 3-5 times.
"This is a gimmick," Jean said. "It's a moment. It's not intended to be what you wear forever. This is a flash in the pan moment. It's a moment of experimentation."
Jean said this wasn't a trend because it was too short lived.
"This is a very short moment that just happened because it was the right art, the right aesthetic and the right user," Jean said. "They were willing to jump on this highly risky, exciting opportunity."
Some of the companies were "The Disposables," "Wastebasket Boutique" and "Candy Wrappers." 
The clothes created were rompers, dresses, hats, earrings, childrens clothes, menswear, bathing suits (that you couldn't swim in) and more. 
The clothes were "walking billboards," with Campbell's soup on some, and presidential candidates on others. 
However, this trend was quickly in and quickly out because of the rise of the environmental movement, the rise of craft and the fact that the garments  weren't comfortable or practical. 
Jean ended the presentation with a quote from the president of the Palawan Corporation in 1967. 
"Paper fashions are, at best, a conversation piece. To put on a paper dress is like taking that first step towards the moon."
Leave a Comment
About the Contributor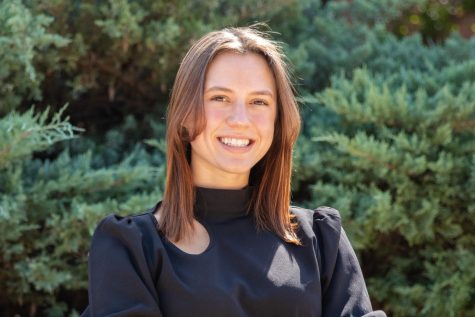 Jaycie Nelson, Reporter
Jaycie Nelson was the Editor-in-Chief for The Sunflower during the 2022-2023 academic year. Before becoming editor, Nelson was opinion editor. The reporter...