'I want to try everything': Film major embraces opportunities at Wichita State and to come
Inside an old church with stained glass windows in Topeka, Kansas, senior Alyssa Pfeifer shot part of a film she's longed to create for years.
"Seeing her face as she realized her dreams are coming true … it was really incredible," Emery Downs, fellow film major and close friend, said.
Pfeifer is majoring in media arts with an emphasis in filmmaking and minoring in graphic design. Her film for Media Arts Practicum III, the program's cumulative course, brought her to the church, but Pfeifer has worked on many projects at many locations while attending Wichita State.
'Breathtaking': Pfeifer's start in film
Growing up in Lee Summit, Missouri, Pfeifer planned to study astrophysics. The self-described "space nerd" said film was an outlet while taking stressful classes. She only changed career plans after her teacher submitted her project to a New York film festival—and it was accepted.
Alongside filmmakers from her high school, Pfeifer watched her film in the AMC Theatre near Times Square.
"It was a breathtaking experience," Pfeifer said. "If it wasn't for my teacher seeing that potential in me, I would not be here doing the things I'm doing today."
While Pfeifer initially wanted to study outside the Midwest, she "fell in love" with Wichita State's film program upon visiting. Since starting in fall of 2020, Pfeifer has collaborated on professors' films and worked on projects with the dance and theater programs.
"It's constant work, and it's constant being on set and having late nights, but I wouldn't have it any other way," Pfeifer said.
Outside of school, she does wedding videography and works in sports media with Wichita Wind Surge and Butler Community College.
"She is so incredibly professional," Downs said. "She loves what she does, and she's good at it."
'A celebration of joy'
While balancing projects, Pfeifer works to bring her practicum film to life as director, wrapping her first shooting in the Topeka church in March. Pfeifer said each chapter of "Prism" follows a different LGBTQ+ character and their journey, which she plans to interweave in the finale.
The project is personal to her as a queer woman in film, one she's planned to create for years.
"I have a lot of queer friends who have very unique stories," Pfeifer said. "I think it's important that those stories get showcased just as much as your typical coming out story or 'you're in love with your straight best friend' (story)."
To create the film, she drew inspiration from her journey and those close to her. One chapter follows a transgender character exploring sexuality and gender expression with their family. Another chapter, mental health. And another, asexuality.
"I identify on the asexual scale spectrum, and I have never really seen that depicted in media," Pfeifer said. "It's very hard for the general public to be accepting of something where they aren't necessarily aware of it."
While Pfeifer said religion and sexuality often "butt heads" in queer media, she wanted her film to convey that religion isn't always negative.
"I have a lot of friends whose religion and spirituality brings a lot of peace (with) their self-identity," Pfeifer said.
Pfeifer takes portraying diverse stories seriously. Downs said before Pfeifer started making "Prism," she sent out a survey, asking people about their identities and what stories and tropes they wanted to see more of.
"She really wants to create media that she feels reflect everyone as opposed to just the same story told over and over again," Downs said.
Pfeifer said the film's conclusion will be "a celebration of joy," which would've helped her with her identity growing up. As a filmmaker, she hopes this story can help generations, young and old, be authentically themselves.
"I want to make stories that I connect to, that people will connect to," Pfeifer said.
Embracing new challenges and experiences
While Pfeifer hopes to finish shooting "Prism" in October and editing before her December graduation, her recent work can be seen in "Compendium," an anthology of four short films the School of Performing Arts premiered in April. Pfeifer served as director of photography for two films and edited a third, which clocked in at 25 minutes.
That film was the longest project she edited so far — a challenge, Pfeifer said, but the result was "top-notch," according to Justin Rorabaugh, the director of School of Digital Arts and Shocker Studios.
"Alyssa is very dedicated and hardworking," Rorabaugh said. "She's one of those students that will put in the extra hours and go the extra mile to make something that much better."
Pfeifer isn't afraid of challenges. In March, she participated with a team in Take 36, a Tallgrass Film Association contest where participants must write, produce and edit a short film in 36 hours.
She also stepped into the position of Director of Media for Student Government Association this year, an offer that took her by surprise when approached by a mutual friend of hers and former SGA President John Kirk.
"I immediately jumped for it, because I think that's what you have to do in media arts," Pfeifer said. "You just have to go and say yes to anything and see what can become of it."
Apart from her projects, Pfeifer takes time to help others. Downs befriended Pfeifer while attending a digital media technology program in high school together, and, as a year younger, Downs said Pfeifer is always patient and helpful for answering questions.
"Alyssa is endlessly uplifting and inspiring to me, and she's a wonderful teammate," Downs said.
Pfeifer encourages other filmmaking students to embrace discomfort and connect with professors and peers.
"It's so scary to be approached by an upperclassman and be asked to be on a film set when you have never been on a film set before," Pfeifer said. "(But) you start making those connections, you start learning."
With graduation approaching in December, Pfeifer said she doesn't have concrete plans, but her greatest passions are cinematography and editing. Some options she'd like to pursue include working in sports entertainment overseas, editing a feature film and working on shows.
"Really, I want to try everything," Pfeifer said. "I think that this industry is scary because there's not a lot of stability, but I think that it's also so much fun because you can try anything and everything and just see what fits."
Leave a Comment
About the Writer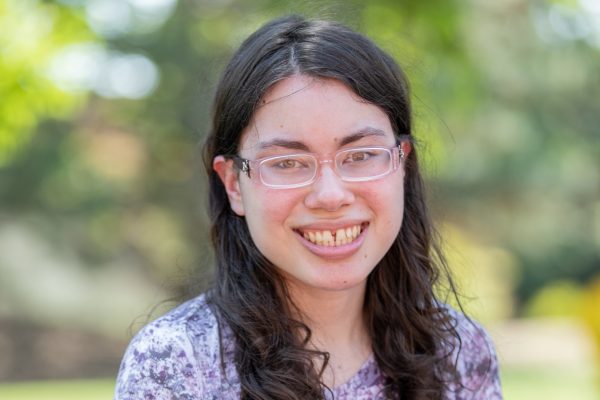 Courtney Brown, Investigative News Editor
Courtney Brown is the investigative news editor for The Sunflower. Brown previously worked as a reporter and assistant news editor.