Born, raised, staying: Theater major hopes to show what Wichita has to offer
When senior Gabi Johnson started going to Wichita State, her freshman year got interrupted by the COVID-19 pandemic. Pursuing a BA in theater with a certificate in directing, a lot of the connection with others was lost by doing theater through Zoom.
Nearing the end of Johnson's sophomore year, she and the rest of the theater department could put on live shows again. Johnson was able to play Victoria in "The Monty Hall Problem," which was a filmed play. The performance followed all of the COVID protocols, such as wearing masks between takes and taking them off only when the director said action.
"COVID school was tough, but I still feel like I learned a lot," Johnson said. "It was a lot of self-motivation, so it made me more self-reliant … to push myself forward rather than relying on people around me."
After things started to return to normal, Johnson was able to assistant direct "Pippin" and direct both "The 25th Annual Putnam County Spelling Bee" and "Vanities," with "Vanities" being her senior capstone project. Johnson is an actor and director and is equally passionate in both.
"Now that I just directed 'Vanities,' I realized that I've been really missing performing," Johnson said. "I just auditioned for The Crown because I was like, man, I just miss performing so much."
Johnson currently works at Piatto Tanya's, and at the Andover Dance Academy as an Acro teacher in Wichita and does not plan to leave soon after graduating,
"I love Wichita. This is my town," Johnson said. "There's a lot of really amazing opportunities here that I kind of want to milk before I leave."
Johnson had made lots of friends during her time at WSU. One of those friends is Sophie Pickett, who has worked with Johnson on almost all of the same projects. Pickett said how much of a pleasure it is to work with Johnson.
When asked where Pickett sees Johnson in 5-10 years, Pickett didn't want to imagine a world without Johnson at first.
"She said she wanted to leave Wichita. Which I could totally see, I feel like I could see her staying here for a year or so, then I know she said she wanted to go to New York," Pickett said. "I see her living in a different country. I believe she could be in Japan or Canada, like anywhere and still be working and performing."
On the stage and off, Johnson does her best to make sure everyone is heard and cared for.
"I think I'm a fun person to work with," Johnson said. "(I) try my hardest to make everyone in the room smile."
Leave a Comment
About the Writer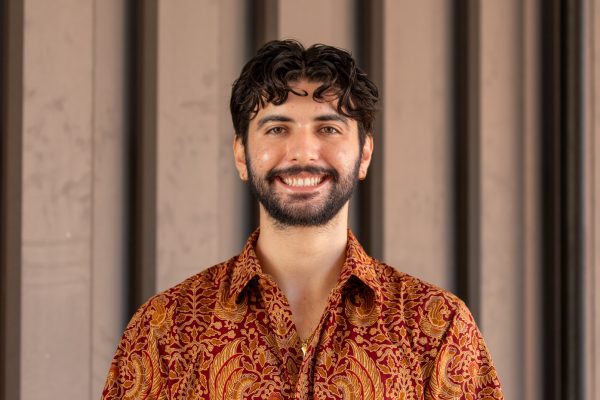 Victor DiMartino, Reporter
Victor DiMartino is a second-year reporter for The Sunflower. DiMartino is pursing a degree in creative writing with a certification in digital animation.