'You can learn something from everyone': Student battles cancer during college
When Piper Prichard came to Wichita State four years ago as a filmmaking major, she was unaware that her education would soon be tilted on its head.  
In between her sophomore and junior year, Prichard was diagnosed with thyroid cancer. She feared the impact her diagnosis would have on her college career.
"I thought that was like gonna be a major thing that stopped me from continuing college," Prichardsaid. "I didn't know what was going on." 
While she still attended classes, she felt as though she was not retaining any of the information being presented. She was present but unfocused. 
"So I'm still catching up to things I'd probably would've retained better if I had not dealt with what I dealt with," she said. 
Despite the difficulties and challenges she has faced, due to her diagnosis and treatments, Prichard said she wouldn't change anything. 
People in the school of digital arts helped Prichard, especially professors and faculty. She feels that if she didn't have the support system through Shocker Studios, she wouldn't have succeeded. 
"I had the support I needed to be able to come to school and still go and do treatment or surgery," Prichard said. "When I had to take this last fall semester off, which is what pushed me back a semester for graduating, there wasn't a moment that I felt like I was going to be left out of anything." 
She said there was one professor who helped her the most with her educational journey. 
"Justin Rorabaugh … has been the most understanding and helpful (professor) I've had," Prichard said. "I can easily go to him and talk to him and say 'this is a problem I'm having,' and he's able to help me with that." 
Rorabaugh, director of Shocker Studios, said that Prichard has been a hardworking and dedicated student. 
"When faced with major obstacles, she conquered them to keep moving forward with her goals," Rorabaugh said in an email.
During her time at Wichita State, Prichard has taken part in the Take36 competition. In the competition, competitors have 36 hours to write, film and edit a short film. 
"I've done it two times now, and both times (my team) made it into the top 10 and been shown at the Orpheum," she said. "It's really exciting because for a long time I didn't think I'd be able to (because) I'm more of a writer." 
Prichard said she has found her passion in listening to and telling other people's stories and hopes to be able to utilize this in her career. 
"It gives you a different perspective in everyday life," she said. 
After she graduates, Prichard does not have a solid plan but expressed interest in wedding videography. Her dream job is to be a screenwriter. 
But no matter what she does, being in a room full of other creative individuals is something that she loves.
"There's something different about being able to work with a group of like-minded individuals," Prichard said. "I feel like no matter who you meet in life, whether you get along or not, you can learn something from everyone you encounter."
Leave a Comment
About the Contributor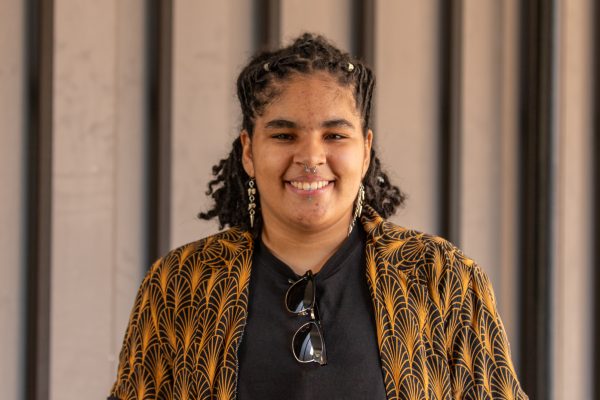 Maleah Evans, Reporter
Maleah Evans is a second-year reporter for The Sunflower. They previously worked as a copy editor. Evans is a sophomore, majoring in history with a minor...