'I'm just gonna take my chances': Former agriculture major explores identity in her artwork
Senior Sam Gales switched her major to applied drawing because of something that, alternatively, pushes students out of the arts school to other careers: money.
Gales started college as an agriculture major. She switched to a biology major for a little, and then was briefly an art education major. Now, she's getting ready to graduate as an applied drawing major. 
"I wanted to (pursue) a job that involved money. But then I was like, 'this is stupid and hard. I don't want to do this for the rest of my life,'" Gales said. "I was good at it, but it wasn't something I wanted to do."
Art education was better than her prior majors, but still wasn't the right fit. She was worried about the climate of teachers, especially art teachers, and disliked having to use "cheap" materials.
"We had to use (things) like crayons and, like, cheap-o materials, because my teacher would say … 'you need to use stuff that the kids will use.' And I was like, 'I bought all these nice materials, I can't even use my Prismacolor pencils,'" Gales said. "Yeah, I'm gonna just take my chances as a freelancer." 
From that point, she switched her major to applied drawing.
Gales' loved ones have been supportive of her career change. If you see a social impact and a communications major at an art show featuring Sam Gales, chances are, they're her two best friends of more than 10 years. 
"They come to like every one of my shows," Gales said. "They're always there. And it's nice that they come even though they don't understand the art."
Within artists' spaces, though, Gales has found an environment she flourishes in. She draws inspiration from Jean-Michel Basquiat and Trenton Doyle Hancock for their illustrative techniques and use of color.
Gales, and other art students, went to New York City in fall of 2022 with drawing and painting professor Robert Bubp. 
"Along with many other things, we went to a major Jean-Michel Basquiat exhibition. Sam and I (and others, of course) were moved by his work, but for Sam, there was a relationship to his life and art to some of their own experiences," Bubp said in an email. 
After returning, Bubp said Gales began making "some of the most interesting work she had yet made."
"I did this series … a year and a half ago … about identity. That's kind of where it all started," Gales said. "Now all my stuff is based on that one series about being mixed." 
That series sparked her inspiration for the rest of her works, with shared themes throughout.
"Before that (series), I didn't know what the hell I wanted to do," Gales said. "That is my favorite series where I started using a lot of black and white and mixed media."
Within her unconventional supplies, Gales is pushed to source materials out of necessity. 
"I'm like a scavenger," she said. "I have to just find trash and use it."
Gales has experimented with everything from fabric and skateboards to more common art materials like ink and acrylic paint.
"I usually like to use unconventional stuff that you don't see a lot," she said. "I think that it makes more of a compelling piece, rather than just painting it on canvas."
Her classes have pushed her to experiment with her style in a creative environment. The higher level skill the class requires, the more Gales enjoys it.
"I'm in an advanced class right now. It's very much like independent study," she said. "You can do whatever you want."
Gales has been heavily inspired by her art professors, specifically Bubp and professor of painting and drawing Levente Sulyok. 
"Sam Gales has been a terrific student to work with," Bubp said. "She's been one of the most dedicated and inquisitive students we've had in the art program, and because she works hard and wants to get better, she's always a pleasure to have in class and she's very respected by their peers."
Gales' art leans more towards stylized than naturalistic, meaning the form is not meant to be representative of real life but rather tailored more toward the artist's own themes or interpretations. 
"There's always gonna be somebody that's always better than you," she said. "You just have to be confident in your own skills and believe that you will make it as an artist."
Leave a Comment
About the Contributor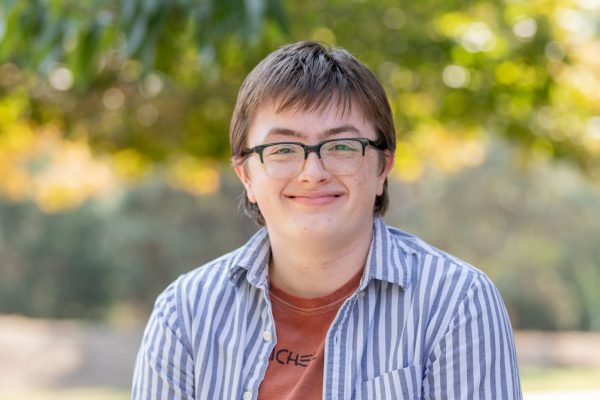 Sascha Harvey, Opinion Editor
Sascha Harvey is the opinon editor for The Sunflower. A junior majoring in graphic design, this is Harvey's third year on staff and second year as a section...